The Funny Way Jessie James Decker and Eric Decker Met
Jessie James Decker has a lot going on with her husband Eric. Both are successful in their own careers. He's a retired NFL football player, and she's a renowned country music singer.
Together, they have a family, and their own reality TV show. The pair has three children. They're pretty involved parents. They go on tour together and make their kids home cooked meals. How did this power couple get its start? The answer is surprising.
How did Jessie James Decker and Eric Decker meet?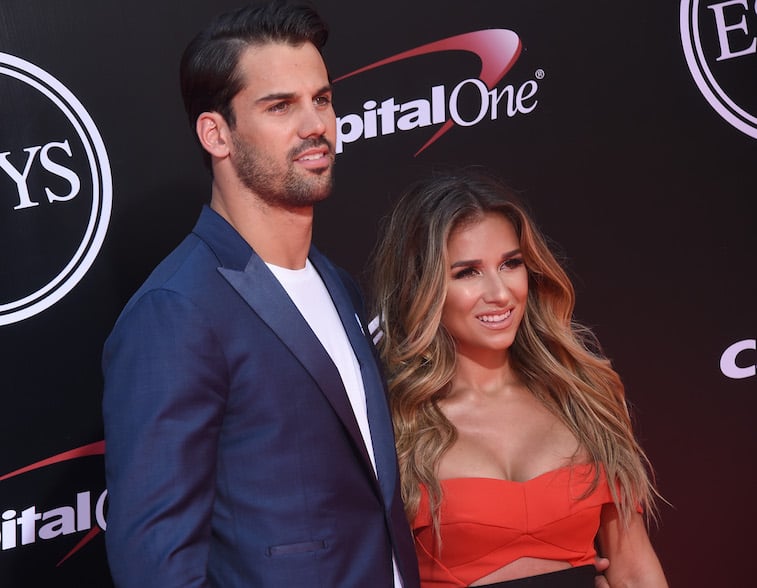 You may think that celebrity couples usually meet in glamorous ways, like on the red carpet. For these two, though, their meeting was kind of normal.
A friend of Jessie's met Eric through mutual friends. When she saw how good looking he was, she immediately texted Jessie. Once Jessie saw a picture of Eric that her friend sent to her, she was in. She sent her own pic for her friend to show Eric. He thought she was cute, and so Jessie's friend gave him Jessie's information.
They dated 'digitally' for a month before meeting in person. Eric went out to Nashville to meet Jessie for the first time, and soon after the pair got married in a beautiful ceremony in Colorado. Next came the reality show, and their first daughter, Vivianne Rose.
What is their relationship like now?
As with all celebrity couples, the two have faced their fair share of nasty rumors. When Eric was accused of cheating on Twitter, though, he shut it down right away. His response left no room for doubt and reaffirmed how dedicated he is to his family.
His accuser said that Eric had been seen in the club with women who were not Jessie. His response? He tweeted that the only club he's rocking in is the "Mickey Mouse Club."
It seems like the two are doing pretty well. They go on tour together, and they're both really invested in their family. All in all, they seem like a pretty normal couple.
How many kids do they have?
After Vivianne, the couple continued to grow their family. In addition to their oldest daughter, the pair had two boys, Eric Jr. and Forrest. Vivianne is 5, and her younger brother Eric Jr. is 3. Baby Forrest turned 1 in March of 2019.
The three siblings are very close. Older sister Vivianne is a big help with her younger brothers, and she and her brother Eric Jr. put on dance performances for their families.
Jessie and Eric are dedicated parents. Jessie wrote the book on parenting, literally. Jessie's book, Just Jessie: My Guide to Love, Life, Family, and Food, covers her philosophy on parenting. She's a big believer in healthy eating. Her kids aren't picky eaters, and eat healthy snacks.
Jessie James Decker and Eric Decker are definitely a celebrity power couple. The more we learn about their home life, though, the more normal and down to earth they seem.
These two are still pretty young. They're both in their early 30s, and they both already have super successful careers and a beautiful family. The two aren't currently planning to have another child, although they won't say it will never happen.
Jessie and Eric claim they would welcome another child, no matter what. Either way, fans will have a great time watching this family grow.