The George Harrison Guitar Solo the Beatles' Engineer Called 'Embarrassing'
There were times when George Harrison didn't get a lot of respect during Beatles studio sessions. This was 1 of them.
When you hear The Beatles called "the Fab Four," you might picture an "all-for-one" scenario in which the band members worked as equals. That was certainly true in some respects, especially early on in the Beatles' existence. However, in the studio, commercial forces tended to take over.
Geoff Emerick, who worked as the Beatles' chief engineer on their greatest albums, summed it up in his book, Here, There and Everywhere. "Even from the earliest days, I felt the artist was John Lennon and Paul McCartney, not The Beatles," Emerick wrote.
On top of the Lennon-McCartney compositions fueling the band's stardom, Emerick cited the regular mistakes George Harrison and Ringo Starr made in the studio. While Emerick acknowledged George's eventual growth as a guitarist, he wasn't impressed by his playing on numerous dates.
One example came during the sessions for Beatles For Sale, the band's fourth record released in December 1964. Looking back to that date, Emerick called George's brief guitar solo "downright embarrassing."
George's 'I'll Follow the Sun' solo didn't impress anyone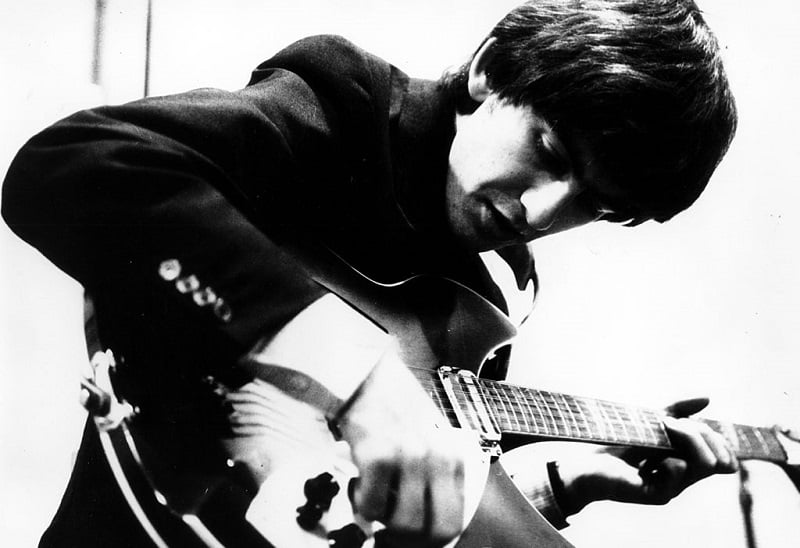 As Fab Four albums go, Beatles For Sale won't rank as the favorite album of most fans (or critics). Highlights include "I'm a Loser," "Eight Days a Week," and a cover of Chuck Berry's "Rock and Roll Music." Paul's "I'll Follow the Sun" is another standout track.
According to Emerick, the vocals by Paul (lead) and John (harmony) on "I'll Follow the Sun" came off without much trouble. And John's solo on acoustic guitar seemed to complete the arrangement nicely. But George had a problem with his small part on the track.
Emerick said George went to the control booth and told the band's producer (George Martin) he wanted to take a solo on it. "I am supposed to be the lead guitarist in the band, after all," Emerick quoted him saying. So Martin told him to go for it, and George got his electric guitar ready.
George didn't win over any fans with what followed. "I found Harrison's simpleminded eight-note solo — not even a solo, really just the melody line — downright embarrassing," Emerick wrote.
George didn't get another try at the solo that day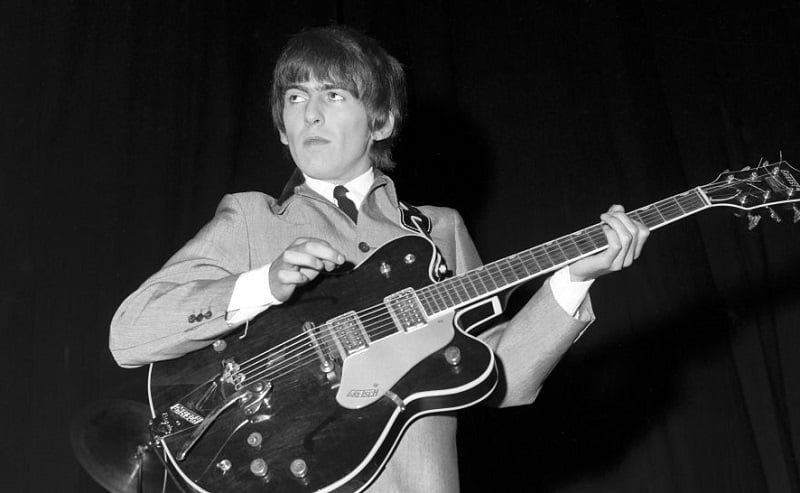 Since The Beatles were plowing through songs as quickly as possible in those days, there weren't many chances for do-overs — especially on parts as simple and brief as George's solo on "I'll Follow the Sun." So though he asked for another try at it, Martin shot him down.
Emerick said it seemed as though George wasn't happy with the solo and that "nobody [else] was satisfied," either. Of course, it's useful to remember that George was only 21 at this point. He'd have plenty of fine guitar moments as his Beatles career went on.
In fact, George seemed to redeem himself later that same day. When the band ran through "Everybody's Trying to Be My Baby," Emerick said George turned it around. "Not only did he sing it with enthusiasm, but he played guitar confidently and well," Emerick wrote.
The Beatles never stopped being a tough band for guitar players who didn't nail their solos right away. Later on, when George struggled with his solos for "Drive My Car" and "Taxman," Paul stepped in and took them instead.
Also see: The 1 Line Ringo Refused to Sing on 'With a Little Help From My Friends'