The Gift Oprah Winfrey Gave 'CBS This Morning's' Gayle King When Her Children Were Born
What did Oprah Winfrey give to "CBS This Morning's" Gayle King as a baby present?
Talk show icon Oprah Winfrey and CBS This Morning's Gayle King have a legendary friendship spanning decades. The two are very vocal about their bond since they met working together at a Baltimore television station in 1976, according to E! Online. The pair has been through many seasons of life together, including the birth of King's two children, Kirby and Will.
The two are currently gracing the cover of Winfrey's magazine along with an interview on their rock-solid friendship. They've spoken on their bond in the past as well – In a previous interview with O, The Oprah Magazine, the BFFs covered several topics where Winfrey praised King's parenting, and shared a gift she gave to King that most moms would dream of.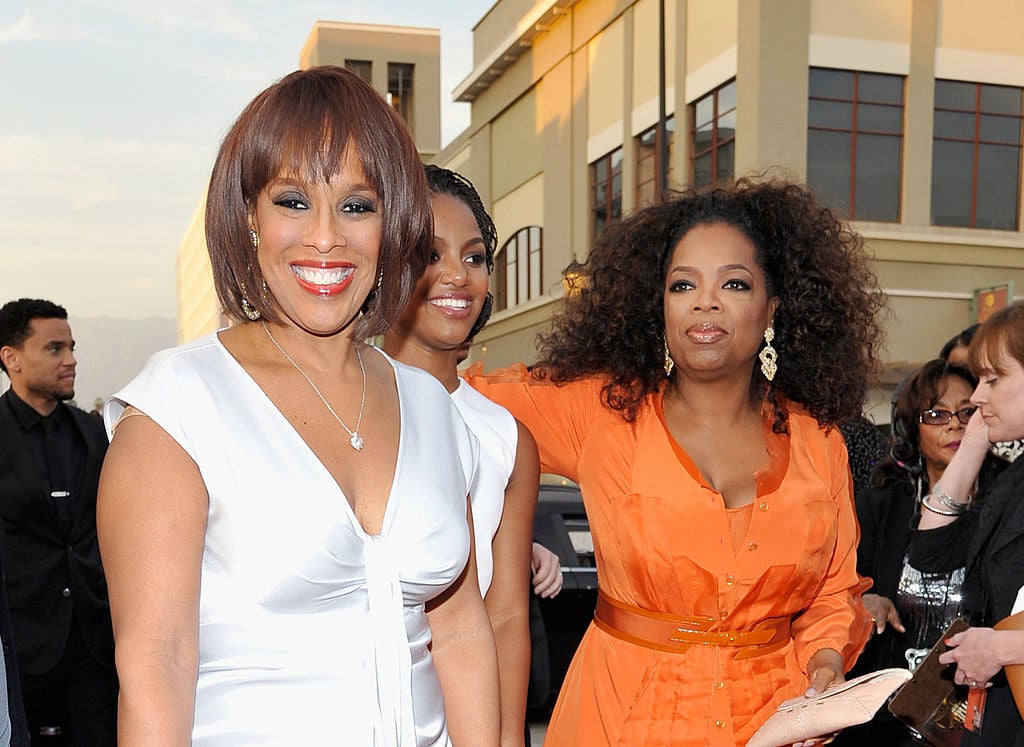 On King as a mom
King, who is lead anchor of CBS This Morning, has been a single mom to her two kids since her divorce from William Bumpus in 1993. Winfrey has never held back on accolades for King's role as a mother. "I admire a lot of things about Gayle. But when I think about the way she raised her kids, that makes me weepy," Winfrey said in the interview. "Gayle is the best mother I have ever seen, heard, or read about. She was always 100 percent there for those kids—to this day."
Winfrey also praised King's strength on co-parenting effectively with her ex. "These kids have grown up with such love and support from Gayle, and also from Gayle's ex-husband," the media mogul said. "I love the way she understood that though the marriage was not going to work, her husband still needed to have a space to maintain a strong relationship with these kids. That takes a real woman. It's always, always, always been about what's best for her children."
Turning down a big offer
King recalled a time when Winfrey was winding down her legendary talk show, The Oprah Winfrey Show, and made King a life-changing offer. "Years ago when Oprah was thinking of leaving the show, she said, 'You should move to Chicago, and we'll incorporate you into the show. And then at the end of the year, I'll pass the baton on to you—but you'd have to move to Chicago,'" King remembered. She turned down the landmark overture so her kids could maintain a solid relationship with their father. "And I said, 'I can't do that because Billy (King's ex-husband) wouldn't be able to see the kids on a regular basis.'" 
Winfrey admitted she was surprised at the rejection of the idea. "I said, "Do you realize what I'm offering?'" she recalled, where King had responded, "And I go, 'Yeah, I do.' But the kids were young, and I just said, 'No, I can't do that.'"
Winfrey saw that scenario as just another example of King's selfless parenting. "That's why she's the best, and her kids are the best. Her kids are my godchildren."
During the interview, the two elaborated on what they think a parent hopes for with their children. "I see a lot of mothers who feel about their children the way I feel about mine," King commented. Winfrey replied, "But they don't always have kids who turn out the way yours have. Everybody wants to raise good people, not just smart people at Ivy League schools and all that but good people. You have to be a good person to raise good people."
A day as great as the 'You get a car!' day
During the interview, the lifelong pals talked about a very special gift that Winfrey gave to King after the birth of her children.
"The kids are 11 months apart, and Oprah goes, 'I got you the perfect gift,'" King shared. "And I'm thinking, 'Oh, good. She's giving me a double stroller.' Back then double strollers were very expensive. But the gift turned out to be a nanny! She said, 'I want to pay the nanny's salary for as long as you feel you need her.'"
Winfrey again commended King on being a hands-on mom despite working full-time and having childcare. "She kept that nanny for like seven or eight years. But what I love is that even as a working-outside-the-home mom, she was always there to put her kids to bed. She said, 'I want my face to be the first face my kids see when they wake up and the last thing they see at night,'" Winfrey said.
The dynamic duo of Winfrey and King is a stellar example for all friendships.