'The Golden Girls': 30 Years After Series Finale Fans Are Still Emotional
The Golden Girls is an iconic TV show. In September 1985, the NBC Network launched a series about four elderly ladies living in Miami. The sitcom became a pop culture phenomenon and remains as popular today as when it first aired. Recently, fans celebrated the 30th anniversary of the series finale, a moment that still makes them emotional.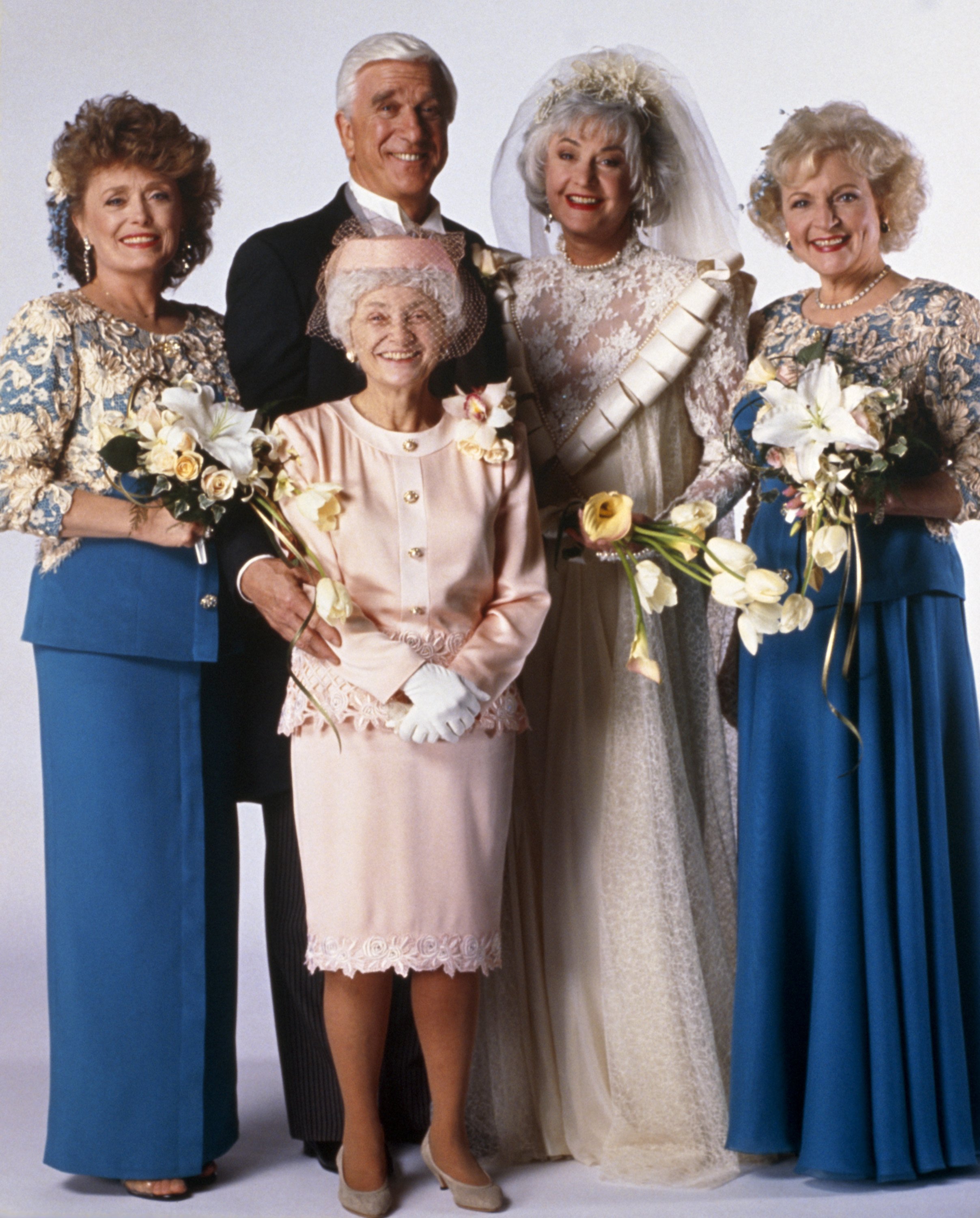 'The Golden Girls' series finale aired on May 9, 1992
After seven successful seasons, it was time to say goodbye to the girls. The Golden Girls series finale aired on May 9, 1992, in a two-part episode titled "One Flew Out of the Cuckoo's Nest." The episode features Dorothy Zbornak's (Bea Arthur) whirlwind romance with Lucas Hollingsworth (Leslie Nielsen).
Blanche Devereaux (Rue McClanahan) sets Dorothy up on a blind date with her uncle. The date is disastrous, and Lucas and Dorothy get revenge on Blanche by pretending to become engaged. However, Dorothy and Lucas fall in love, and he proposes for real.
RELATED: 'The Golden Girls': Fans Hated Dorothy's Wedding Dress from the Series Finale
The couple marries in a big, elegant ceremony and then prepares to move to Atlanta. While Sophia Petrillo (Estelle Getty) initially would move in with them, she decides to stay with Blanche and Rose Nylund (Betty White). Dorothy leaves but comes back in twice to share a group hug with the girls in the final moments.
After Dorothy leaves again, the girls look around, expecting her to come back, but she never does. The women hug each other and cry, realizing Dorothy's gone for good and marking the end of an era.
The series finale always makes fans emotional
The Golden Girls remains as popular today as it was in the 80s. Thanks to reruns on Hallmark, TV Land, and streaming services like Hulu, fans can still watch their favorite gals. There are many funny moments and some sad ones throughout the series. Most fans agree that the series finale is always a tearjerker.
On a Reddit thread, fans discussed their thoughts on the series finale. "That embrace at the end really gets me, especially the way Betty looks at Rue at the very end. Had to be extremely tough for all of them that week," wrote one user.
"The finale where Dorothy leaves always makes me cry and breaks my heart even though I know it's coming," another commenter chimed in.
'The Golden Girls' ended because Bea Arthur wanted to leave
Despite its popularity and high ratings, the series ended after seven seasons. Although there were reportedly plans for an eighth season, Arthur's decision to leave was pivotal in its cancellation. For Arthur's departure, the writers decided to let Dorothy have a happy ending with her finding love.
In an interview with Today, writer Mitchell Hurwitz discussed Arthur's exit and The Golden Girls series finale. "We knew we wanted to kind of give her a fitting tribute and a fitting departure from the show," he explained. Hurwitz said Arthur was "very moved" by the finale and expressed her gratitude by writing him a note.
Out of all the scenes in the finale, Hurwitz says the final moments were the toughest. "It really kind of mirrored reality. I remember there were a lot of goodbyes said that week. And she didn't want to leave. I think Dorothy didn't want to leave, and I think Bea Arthur didn't really want to leave," he revealed. 
"And so the ending, I think, ended up being very affecting, because we really saw, you know, not only the character leaving, but Bea Arthur dealing with the fact that she was leaving."
Most fans will agree that the show did an excellent job writing Dorothy's exit. To this day, there isn't a dry in the house as the girls say their goodbyes.
RELATED: 'The Golden Girls': Debbie Reynolds Almost Replaced Bea Arthur as the 4th Roommate