'The Golden Girls': Why Betty White Was 'Heartsick' When She Found out She Wouldn't Play Blanche
The '80s hit The Golden Girls was perfectly cast with Bea Arthur (Dorothy Zbornak), Estelle Getty (Sophia Petrillo), Rue McClanahan (Blanche Devereaux), and Betty White (Rose Nylund). Each character had a special niche and became iconic in their own way. Since White had some experience playing a seductress thanks to her role as Sue Ann Nivens on The Mary Tyler Moore Show, the part of Blanche seemed like a natural fit. The Hot in Cleveland alum was less than thrilled when she learned she was going to play the naive and innocent Rose.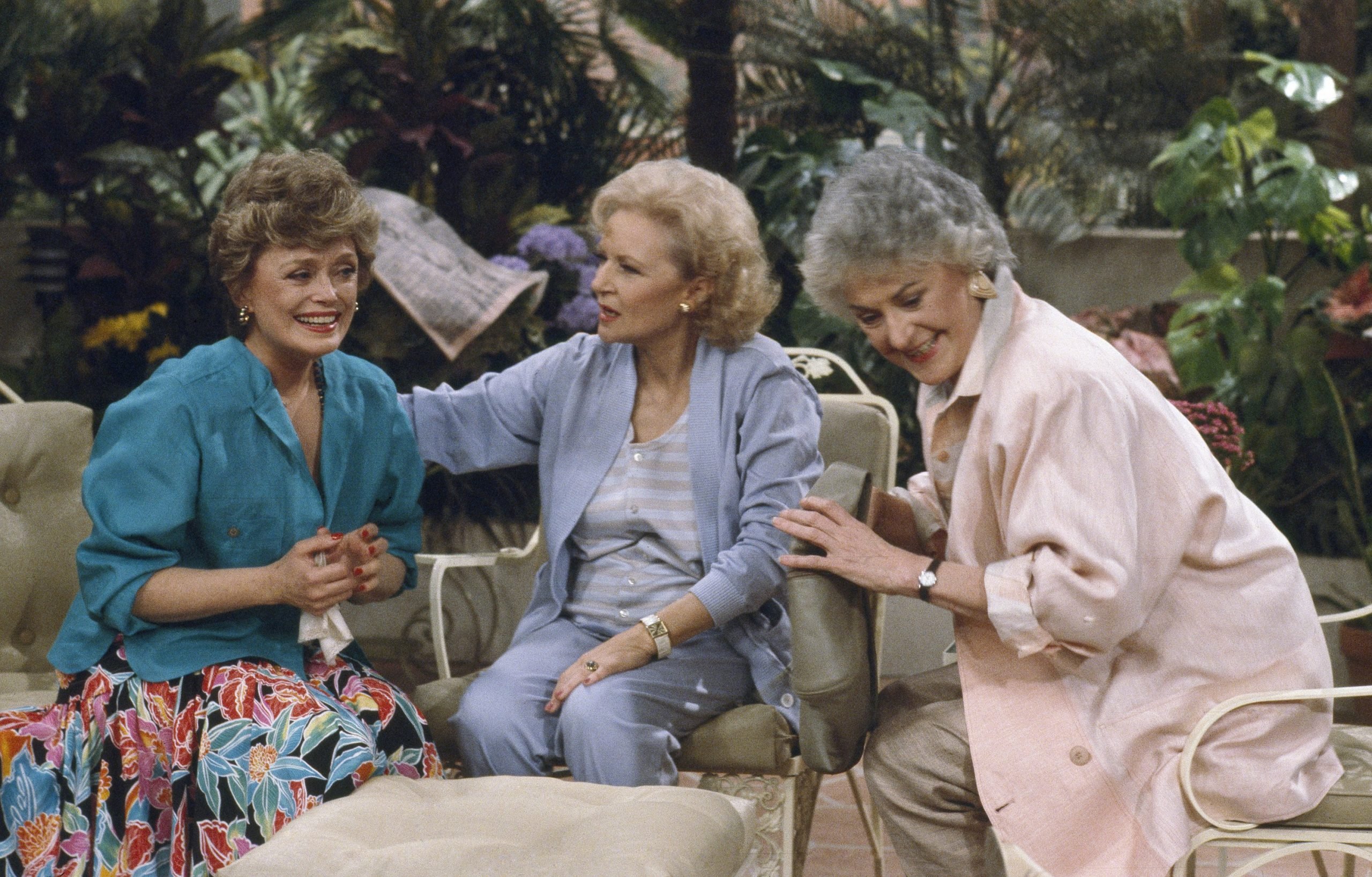 Betty White was immediately impressed with 'The Golden Girls' script
A hit from 1985 to 1992, The Golden Girls wowed White from the start. She recalled being bowled over by the script when she was first recruited for the show.
"This script, entitled The Golden Girls, knocked my socks off. … with some of the best writing I'd seen since Mary Tyler Moore," White wrote in her book "Here We Go Again: My Life In Television". "I learned that Be Arthur would be playing Dorothy, and an actress from New York, Estelle Getty, had been signed to play Dorothy's mother, Sophia."
White thought she was a shoe-in for the role of Blanche and that McClanahan would take on the part of Rose.
"It was assumed that I would be Blanche, the well-to-do Southern woman to whom men were the breath of life," she explained. "The fourth character was Rose, and they had settled on Rue McClanahan. Rue had worked with Bea for five and a half years on Maude, and she and I had worked together for a couple of years on Mama's Family, where she played mousey Aunt Fran."
RELATED: 'The Golden Girls': Rue McClanahan Called Bea Arthur 'Giving and Loving' Even Though They 'Didn't Have a Lot of Relationship Going On'
Betty White and Rue McClanahan's roles were switched
Though White was prepped to play Blanche, she soon found out she was being given a very different character.
"The next report I heard was a call saying a decision had been made to switch parts," White revealed. "I would be playing Rose, and Rue would do Blanche. I was heartsick. From the script we had read, we knew the strong character of Dorothy, and her brutally frank mother, Sophia. We understood the lustful Blanche, but I hadn't a clue who Rose was."
Director Jay Sandrich, who had worked with White on The Mary Tyler Moore Show, made the call to give White the part of Rose. He felt that Blanche was too similar to her former character of Sue Ann Nivens and that viewers would have a difficult time separating the two. Sandrich gave White some guidance on how to embody the part of Rose.
"'She is not dumb – just totally naive,'" White recalled Sandrich telling her. "'She believes everything she is told and in her innocence, always takes the first meaning of every word.' What a great measuring stick to give an actress. It not only helped me find Rose, but love her and keep her on course through the next few years."
'The Golden Girls' had perfect casting
White nailed the role of Rose, garnering an Emmy Award in 1986 for her performance. She described her strategy in portraying the beloved character.
"She didn't understand sarcasm, so the others could say terrible things, but the words all sounded fine to her," the Hot in Cleveland star explained. "[Rose] was so literal in her thinking that if someone said they could eat a horse, she would call the S.P.C.A. But Rose was not weak… she also had a fierce Nordic temper on occasion."
The former Saturday Night Live host gave props to McClanahan for pushing the boundaries as sexy siren Blanche, and credited Sandrich with ideal casting for each actor.
"Rue, on the other hand, took Blanche and ran with her – farther than I would ever have dared to go," White said in praise of her co-star. "She was wonderfully outrageous and outrageously wonderful. The result was, we were all happy as claims with our roles. Once again, thank you Jay."