'The Golden Girls': Did Betty White Really Improvise the 'Great Herring War' Scene?
In the midst of her shocking death, Betty White has been memorialized across the internet. Scenes have been popping up from her long and impressive career, and that has brought up plenty of nostalgic laughs from the comedic star. 
One of these famous moments has come from White's days of filming The Golden Girls, a beloved sitcom that has made her an endearing star to multiple generations. One particular scene — in which White's character goes on at length about the Great Herring War — has been pointed to as a testament to her improvisation skills. But is that really the case? 
Betty White's Rose told a story about the 'The Great Herring War'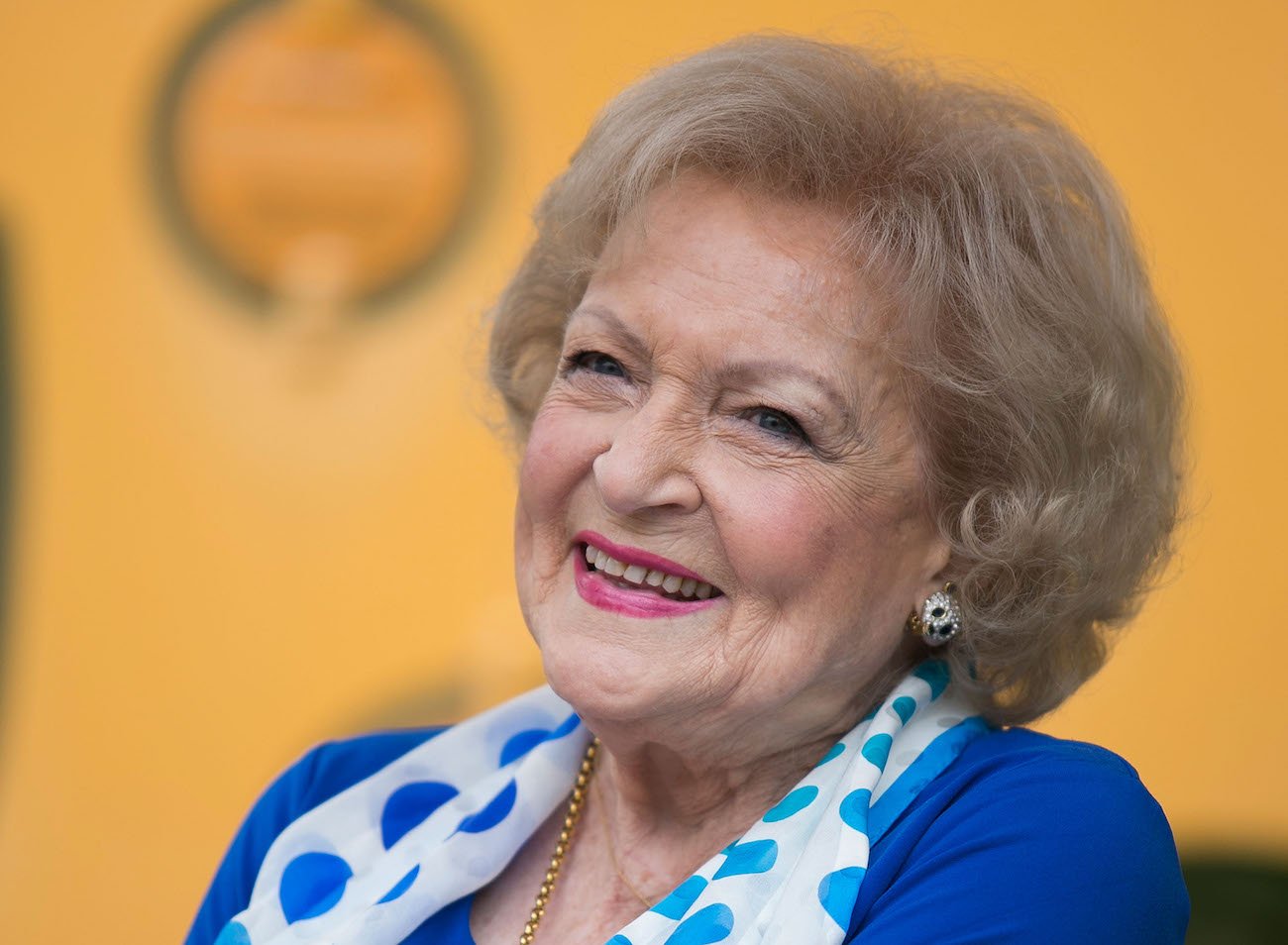 The Golden Girls ran from 1985 to 1992. Over its seven seasons, the series provided plenty of heartwarming and more serious moments, but the comedy at its core has been showcased in the wake of White's passing. White played Rose, a delightfully airheaded character whose out-of-touch commentary provided plenty of laughs.
One of these clips was shared on Twitter by Tim Fullerton, and it has since racked up nearly 19,000 retweets and over 90,000 likes. The scene in question features Rose telling Blanche (Rue McClanahan) and Dorothy (Bea Arthur) about a feud between two families over a herring. The "Great Herring War" gets more and more outlandish as the story goes on, and McClanahan and Arthur apparently have trouble staying in character. Both are seen snickering as they try — and fail — to keep straight faces.
The tweet refers to "Betty White improvising on the spot," and fans pointed to the moment as a sign of her great comedic talent.
Was the scene really improvised by Betty White?
While the thought of an improvising White causing her co-stars to crack up was endearing, another tweet soon threw the moment into question. Kevin Daly shared an image that appeared to be the original script for the episode featuring the "Great Herring War." As Daly put it, "Everything in that scene was written, blocked, and rehearsed." Rather than a sign of White's improvisational skills, Daly pointed to it as "a testament to the strength of the writing and performances on The Golden Girls."
He went on to share a screenshot of a Facebook post from Isabel Omero. Omero explained that in years of rehearsing dialogue with the actors on the set of The Golden Girls, there was never any improvisation. The magic was the work of brilliant writers in the hands of talented actors.
Betty White has many comedic moments
While this particular moment may not be an example of White's ability to speak off the cuff, she certainly had comedic skills that will be remembered for generations to come. As Looper reports, her early role in the sitcom Life with Elizabeth — for which she earned an Emmy nomination — required her to improvise when her co-star forgot his lines.
She also showcased comedic depth on The Carol Burnett Show, a sketch comedy series where White first appeared in 1975. She played Ellen Jackson, a seemingly sweet woman who quickly turned sour. As Looper's Barry Levitt writes, "White peels back the layers of Ellen, revealing a cruel character that takes delight in tearing others down."
Other notable appearances over the years included The Mary Tyler Moore Show, Ugly Betty, and The Proposal. The latter had her starring alongside Ryan Reynolds and Sandra Bullock, two stars who have been quite vocal about how much they enjoyed working with the legend.
It's quite clear that White will not soon be forgotten, and her long legacy of comedic moments will live on in the joy she continues to bring into the world.
RELATED: The 1 Thing That Every 'Golden Girls' Character Had in Common