'The Golden Girls' Penis Cake Pan Mystery Prompts Snopes Probe
Snopes puts to rest the mystery of the penis cake pan on the the kitchen wall on the set of 'The Golden Girls.'
Chances are good that when you hear the theme song "Thank You for Being a Friend," you instantly picture The Golden Girls. Maybe you think back to a funny moment involving a particular character, or you think about all four women sitting around the kitchen table eating cheesecake and hitting each other with one-liners. No matter which part of the iconic sitcom you remember, you probably never noticed the hidden gem on the kitchen wall. However, The Golden Girls' penis cake pan became so contentious it sparked a Snopes probe.
'The Golden Girls' was an unforgettable show
The Golden Girls debuted on September 14, 1985. Its final, much-watched episode aired on May 9, 1992. The sitcom told the story of four women enjoying their golden years in Miami, Florida.
The earliest episodes show Blanche Devereaux (Rue McClanahan) looking for roommates to share her home. She invites Dorothy Zbornak (Bea Arthur) and Rose Nylund (Betty White) to live there. Dorothy's mother, Sophia Petrillo (Estelle Getty), made it a foursome after her retirement home burned down.
Blanche was the flirt, always looking for her next handsome beau. Dorothy was the practical divorcée who kept the group pointed in the right direction. Rose was a country bumpkin who usually ended up saying the craziest things in her infamous "back in St. Olaf …" stories. And Sophia was the picture of a cantankerous senior who didn't mind putting people in their place.
The four friends were hilarious to watch because they delivered plenty of one-liners and weren't afraid to use them on anyone who said the wrong thing at the right time. They often made humorous comments while sitting around the kitchen table.  
Snopes settles 'The Golden Girls' penis cake pan debate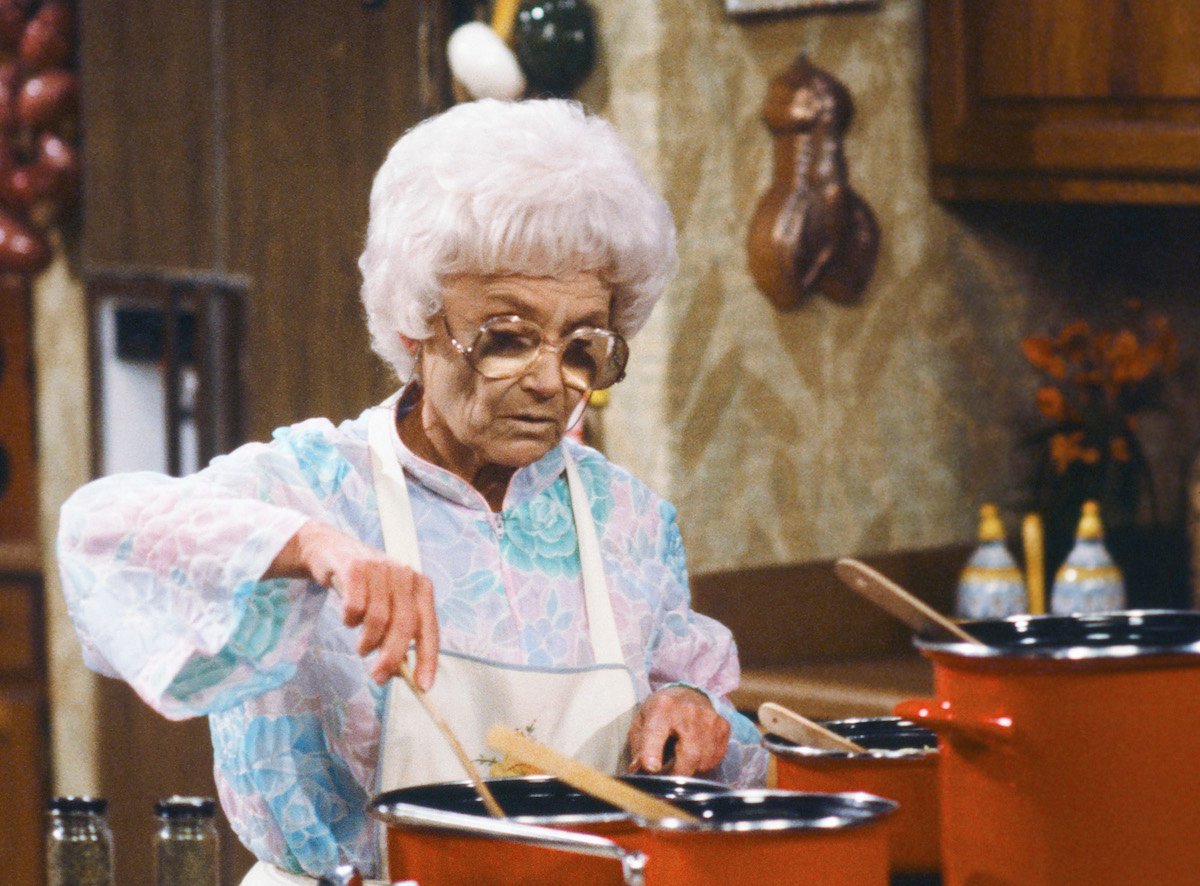 Viewers fondly remember the Golden Girls characters' moments around the kitchen table. But many overlooked the funniest and most perplexing part of all. Most fans were oblivious to one copper cake pan's phallic shape on the wall.
The penis-shaped cake pan made it to BuzzFeed in 2017 and even made it to Twitter in 2020.
With so many fans asking if the cake pan was really what it appeared to be, Snopes stepped in to investigate. It wanted to solve the mystery of what was hanging on the wall. Was it a penis or our dirty minds?
Snopes is a website that debunks many internet rumors. If a story comes across your Facebook page that seems unbelievable, Snopes can tell you if it's fact or fiction. So this past April, when the site investigated whether there was a little hidden humor on The Golden Girls' set, it was a fascinating read.
Snopes found, which some fans already knew, is that although the cake pan looks phallic, the shape is much more innocent. In fact, the supposed penis cake pan is a lobster tin that bakers used in the '70s and '80s. Sure, it isn't a clearly defined crustacean, but that's what it's supposed to be.
The kitchen was the true heart of this home
In The Golden Girls, the kitchen was a place to unwind, converse, and joke. These chats usually occurred at night, when one or all couldn't sleep.
During these scenes, they usually sat around enjoying their comfort food of choice — cheesecake. Though the show's writers thought cheesecake was a perfect choice, one actor hated the sweet dessert.
If you watch these kitchen episodes closely, you might notice that Dorothy (Arthur) shoves the cheesecake around her plate but does little eating. It's also said that Arthur is likely the Golden Girl who felt that the show had run its course after seven years on their air.