'The Golden Girls': Rue McClanahan Called Bea Arthur 'Giving and Loving' Even Though They 'Didn't Have a Lot of Relationship Going On'
The hit sitcom The Golden Girls proved that having four older women as the main stars of the show can bring in ratings. Starring Bea Arthur (Dorothy Zbornak), Estelle Getty (Sophia Petrillo), Rue McClanahan (Blanche Devereaux), and Betty White (Rose Nylund), the comedy series became gold for NBC and was often at the top of the Nielsen ratings in the '80s.
Though the cast mates were BFFs on-camera, McClanahan previously revealed that she never got especially close to Arthur. Yet after Arthur's death in 2009, The Golden Girls alum sang her former co-stars praises.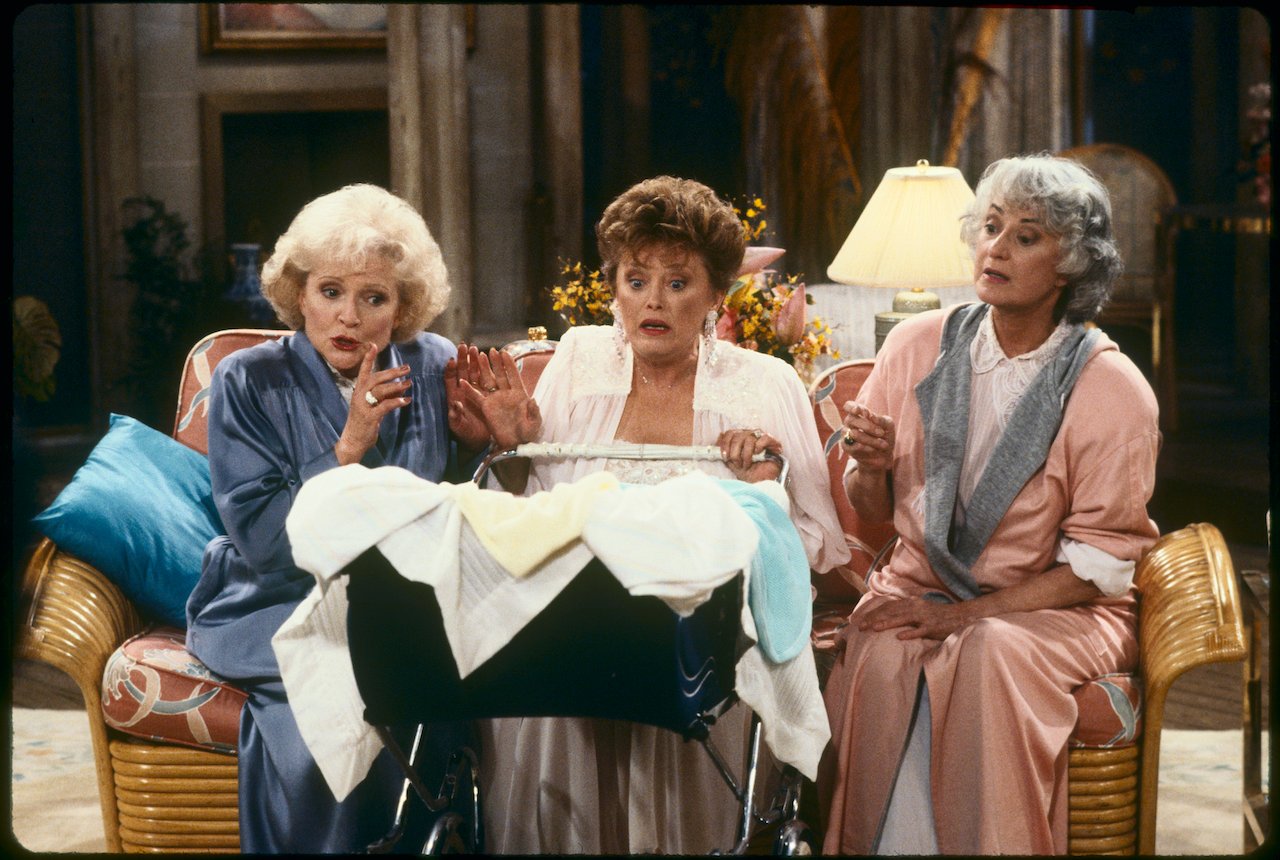 Rue McClanahan noted Bea Arthur's eccentricities
McClanahan reflected on her Golden Girls experience in a 2006 conversation with the Archive of American Television. Though she and Arthur had previously worked together for years on the '70s sitcom Maude, McClanahan admitted that the two weren't close.
"Bea and I didn't have a lot of relationship going on," McClanahan remarked. "Bea is a very, very eccentric woman. For instance, she wouldn't go to lunch unless Betty would go with her. She wouldn't go to dinner between shows in our bathrobes unless Betty would walk across the tarmac with her to the cafeteria. She was very dependent on having everything be as it always had been."
Even years later, the actor remembered Arthur's need for familiarity. "Bea always sat in the same chair at rehearsals, always," McClanahan told Entertainment Weekly. "And she always had to have me on her right, and Betty and Estelle across the table from her. And we could not change seats from year to year, or even from week to week."
Bea Arthur was more sensitive than others assumed
Despite McClanahan's comments on not having a close relationship with Arthur, she praised the star's kindness and warmth after her death in 2009, and noted Arthur's sensitivity underneath that gruff persona.
"As a friend she was giving and loving to me," McClanahan said. "She was a very close, quiet, rather timid person, very gentle. I saw someone say something once that they didn't mean to be a cutting remark, but it hit her wrong, and she immediately burst into tears. That was not seen very often, but those emotions were right under the surface."
Between Arthur's commanding stature and her penchant for tough and sarcastic characters, many assumed she was intimidating in real life.
"When I first worked with her on Maude and came back to New York, actors descended upon me and said 'Oooh! What was it like? Was it scary working with Bea Arthur?'" McClanahan recalled. "I said 'Good heavens! Anything but!' That height — she was 5'10" flat-footed — and that deep voice, and that manner she was able to summon up, made people think she would be difficult. But she wasn't."
Rue McClanahan learned from Bea Arthur
The Golden Girls alum gave props to Arthur for her bravery in comedy, which inspired her to take chances in her own performing.
"What I got attached to, as an actress, was her impeccable timing," the Emmy winner raved. "And I loved playing scenes with her. She taught me, by watching her, even back during Maude, to be outrageously courageous as a comedienne, to go out on a limb, to go farther than I've ever dreamed of going. [On The Golden Girls], Blanche had to say and do things that Rue found difficult. And it would always be Bea who said 'Oh say it! It's funny!'"
McClanahan shared her opinion of Arthur's most significant achievement as an actor, saying of her former co-star, "The thing she did the best and the most of was make people laugh."