'The Golden Girls': These Are the Funniest Episodes of the Series
The Golden Girls kept audiences in stitches from 1985 to 1992, with Bea Arthur, Betty White, Rue McClanahan, and Estelle Getty sassing each other endlessly. With today's TV market more youth-obsessed, the series seems like a throwback.
NBC executive Warren Littlefield said there was nothing trendy about the show — and that's exactly why it worked. Saturday is often a "we're about to be canceled" zone on network TV because many viewers are out and about. This show's core audience wasn't, and they ate it up. So did people in the industry, with all four principals winning Emmy awards and the show receiving the Outstanding Comedy award twice.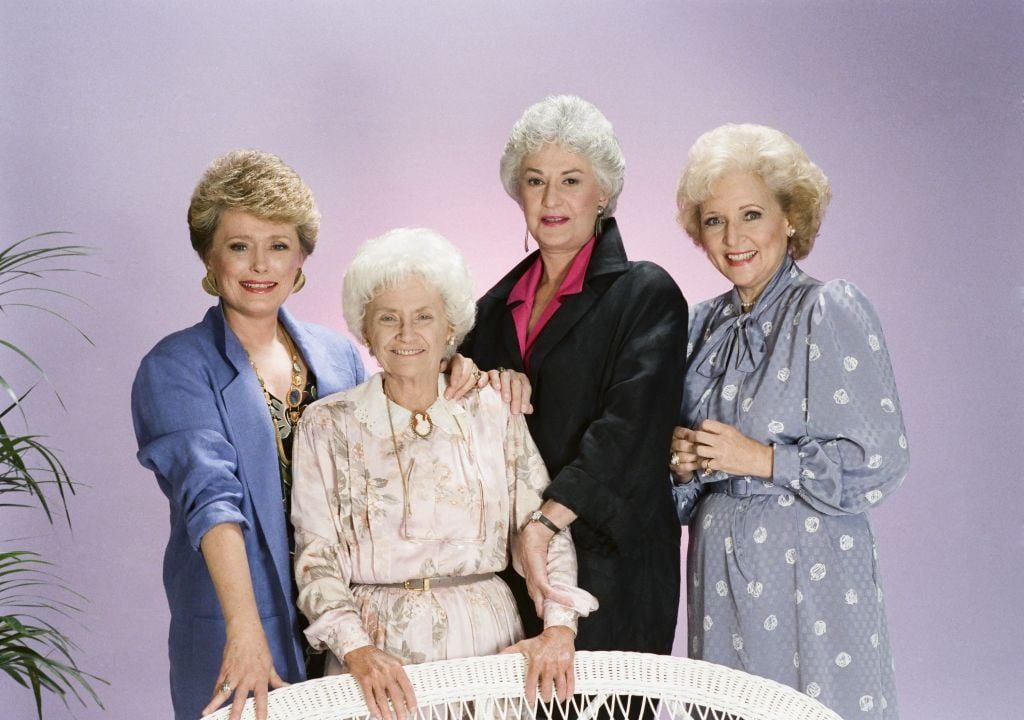 Since all 180 episodes are on Hulu, we sifted through a few lists and came up with the seven best episodes of the series in alphabetical order because we like lucky numbers. For more, check out the IMDB ranking of the top episodes.
Season 7, Episode 2: 'The Case of the Libertine Belle'
Otherwise known as the murder mystery episode, this is the one where the girls to go a murder mystery weekend and find themselves in a murder mystery of their own, with Blanche as the prime suspect. Even so, she still has her trademark rejoinders like: "I'm from the South. Flirting is part of my heritage."
Season 2, Episode 5: 'Isn't It Romantic'
Dorothy's friend Jean comes to Miami and comes out as a lesbian, developing a crush on Rose. This was a bold topic for a primetime TV show in 1986, and it's all the more impressive that the show took it on fairly early in its run. One highlight comes when the usually worldly Blanche finds herself tripping over the word "lesbian" causing Dorothy to explain: "Not Lebanese, Blanche, lesbian."
Season 2, Episode 4: 'It's a Miserable Life'
No, it's not a spoof of It's a Wonderful Life, but the girls have yet another brush with death. It starts with, of all things, an argument over an old oak tree. The tree sits on the property of a spiteful old woman. Rose tells the woman to drop dead — and she does just that, wracking Rose with guilt. The girls agree to organize a funeral for a lonely old woman.
Season 2, Episode 2: 'Ladies of the Evening'
This is a good one to revisit since it revolves around the premiere of a movie with Burt Reynolds, who passed away last year. The girls win tickets to a movie premiere where they can meet him, but on the way, they stop at a bar where they are arrested for being prostitutes. Sound outlandish? Sophia certainly thinks so, saying: "I can't believe these dumb cops would think people would wanna pay money to sleep with you!"
Season 7, Episode 23: 'One Flew Out of the Cuckoo's Nest'
If there's one particular episode that stands out as the very best of the series, it's this one, the two-part series finale. While the finales of Seinfeld and Game of Thrones left people wanting, this one didn't. The show ended with Dorothy being set up on a date with Blanche's uncle Lucas, played by Leslie Nielsen of Airplane! and The Naked Gun fame.
The two decide to seek revenge on Blanche by pretending to get engaged. Dorothy doesn't count on one thing, though. She genuinely falls in love with the man, and Dorothy leaves her beloved roommates behind. The series was ending because Arthur was leaving the series, and by most accounts, it was a great send-off.
Season 3, Episode 1: 'Old Friends'
The episode title would have been a good alternate title for the show, especially considering the Andrew Gold theme song: "Thank You for Being a Friend." This episode, which won Getty her Emmy, features Sophia befriending an old man living with Alzheimer's Disease.