'The Good Doctor:' Have Any Cast Members Dated in Real Life?
The Good Doctor has quickly become one of ABC's most-watched primetime shows. The cast members each portray their characters with immense talent; specifically, Freddie Highmore has formed an incredible ability to accurately play autistic savant Shaun Murphy. But throughout the show, several of the characters have each encountered romance in some form or another. Have any cast members dated in real life?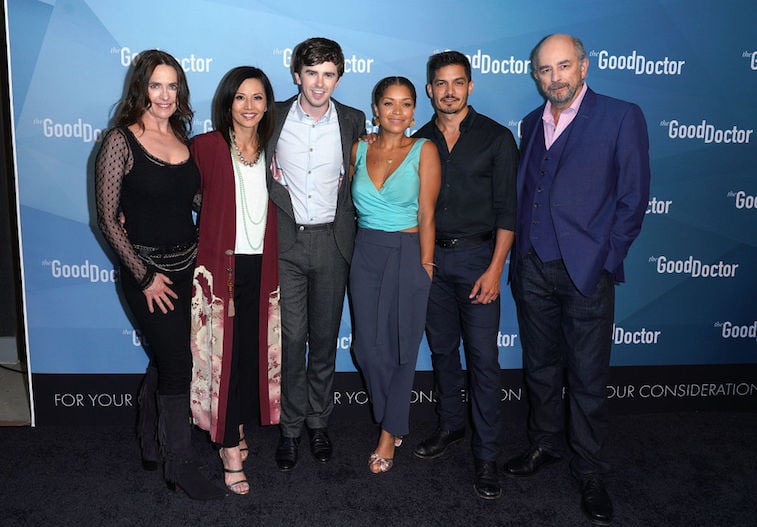 Dr. Shaun Murphy's romance with Dr. Carly Lever is strictly on-screen
This season, the writers of The Good Doctor tackle another aspect of Dr. Murphy's life that isn't easy to cover: His love life. Late last season, Dr. Murphy (Freddie Highmore) started to catch feelings for Dr. Carly Lever (Jasika Nicole Pruitt), who works in pathology at San Jose St. Bonaventure Hospital. This season, the two doctors have gone on multiple dates and spent time together, though Dr. Murphy has had a hard time wrapping his head around the new emotions that come with a relationship. Though they're cute together on screen, in real life, Pruitt married her longtime partner Claire Savage in 2013, and Highmore is single.
Dr. Audrey Lim and Dr. Neil Melendez are married to other people in real life
The relationship between Dr. Lim (Christina Chang) and Dr. Melendez (Nicholas Gonzalez) has intrigued many viewers between seasons 2 and 3. The doctors struck up a romance when a few drinks after work led to a one night stand, which led much further than either of them could have expected. Though they both told the hospital they had ended their relationship at the start of season 3, they're actually still secretly together. In real life, though, they're just friends. Chang is married to IT expert Soam Lall, whom she has been with since 2011. Gonzalez has been married to Kelsey Crane since 2016.
The only true on- and off-screen romance belongs to Dr. Aaron Glassman and Debbie Wexler
The only cast members who have actually dated in real life are Dr. Aaron Glassman (Richard Schiff) and his new wife Debbie Wexler (Sheila Kelley). On the show, the two first met through the hospital; Wexler worked in the café and Glassman was the hospital's president. They started dating around the same time he was diagnosed with cancer and wed in season 3. In real life, Schiff and Kelley met on an audition back in 1983, and the two married in 1996. They're still together and have two children.  
The other doctors have yet to engage in strong relationships
Right now, the writers seem to only be focusing on a few relationships at a time. It makes sense that Dr. Murphy's love life is highlighted on the show, since he is the main character; Dr. Melendez and Dr. Lim's secret relationship adds a bit of suspense to the story line, and Dr. Glassman's life is often part of each episode's focus while he gets things back on track after his diagnosis. However, other characters, such as Dr. Morgan Reznick and Dr. Claire Brown, have love lives that haven't become a big part of the show — but there's nothing to say that won't happen soon.