'The Good Fight': Will Julianna Margulies Return as Alicia Florrick? 'Never Say Never' Says Producers
One of the most underrated CBS legal dramas in the TV/streaming universe is The Good Fight, a direct spinoff from The Good Wife. Following the latter series ending its run after seven successful seasons in 2016, star Julianna Margulies was always intended to guest star. After all, her Alicia Florrick became an iconic character as the long-suffering wife of crooked politician Peter Florrick on the CBS series.
Margulies ultimately became a hot property after the series left the air. The Good Fight was always intended as a showcase for Diane Lockhart (played by Christine Baranski) with occasional cameos of the previous series stars.
Because the series has limited episodes due to airing on CBS All-Access, it also has a tight budget to afford big stars like Margulies again.
A positive word about Julianna Margulies appearing on 'The Good Fight'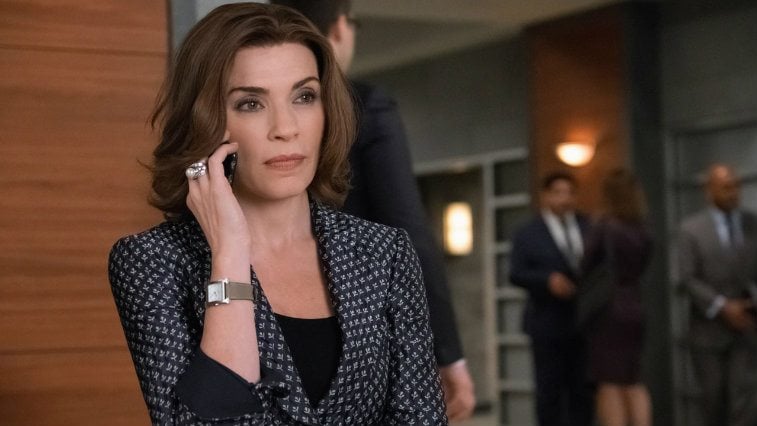 RELATED: 'The Good Fight': Christine Baranski Says Fans Can Expect 'Marvelous Surprises' in Season 4
A lot of fans of The Good Wife and The Good Fight have been hoping Margulies would make a cameo in the current series. Some wonder why she has not considering how close the Alicia Florrick and Diane Lockhart characters were.
While Lockhart initially locked horns with Florrick, former became a close mentor to Alicia after a time. Both characters have gone separate ways, of course, due to various life circumstances. Catching up with what happened to Alicia, though, has been on many fan minds.
Since The Good Wife ended, Margulies has gone on to act in several movies and various top-tier TV shows. More recently, she went back to episodic TV taking the role of Catherine Brant on Showtime's Billions.
Her asking price definitely went way up thanks to The Good Wife, a show that finally took her into the stratosphere after always working in ensembles (like ER) for so long.
A pay dispute occurred last year
Word was Margulies was going to make an appearance on The Good Fight last season. The show balked when her asking fee was just a little too high for their budget, leading to Margulies speaking out about equal pay.
Deadline reports the production team of The Good Fight still holds out hope Margulies can return. When co-creator/executive producer Robert King was asked about her returning, he said: "We've stayed very friendly with Julianna, so never say never. I think the bottom line is it all comes down to what (CBS) All Access can do with the money they have. We don't have Netflix's massive budget. We're always living within our means."
Yes, money usually plays a part in everything nowadays and whether certain celebrities can make appearances in certain media properties. The Good Fight has aired on over-the-air CBS concurrently with the CBS All-Access airings. Unfortunately, this still never meant an increased budget.
Because of the limited audiences, CBS All-Access receives for their shows, they never have the budgets Netflix does. All indications point to The Good Fight working within a tightly controlled money pipeline with few luxuries.
In reality, Julianna Margulies may never appear on the show
Robert King's positive assumption of Margulies returning was doused a bit by another comment from Julie McNamara, CBS All Access Original Content producer. Last summer at TCA, she said: "We love Julianna, and there's a long history there. We wanted her to guest on The Good Fight. There was a different expectation as to what that means. It didn't work out. We have another project in development with her to star. We'd love to see her on the service in the future".
Based on this, it sounds like money really did talk to make a larger point. Regardless, it appears Margulies could do something else for CBS All Access, something not really assuaging fans who want a familiar connection.
That is unless Alicia Florrick returns in her own show again. If so, the chances for a connection with The Good Fight might work out better, if the latter show having to cross over with the Florrick show to make things fair and square.