'The Good Place' Actor Jameela Jamil Defended Demi Lovato After Froyo Social Media Blow-Up
Demi Lovato has been very vocal about her struggles in the past with eating disorders. A run-of-the-mill trip to a frozen yogurt shop last weekend, however, triggered Lovato. She described the experience on social media. Many accused Lovato of trying to "attack" a small business, but The Good Place actor Jameela Jamil stood by the "Dancing with the Devil" singer.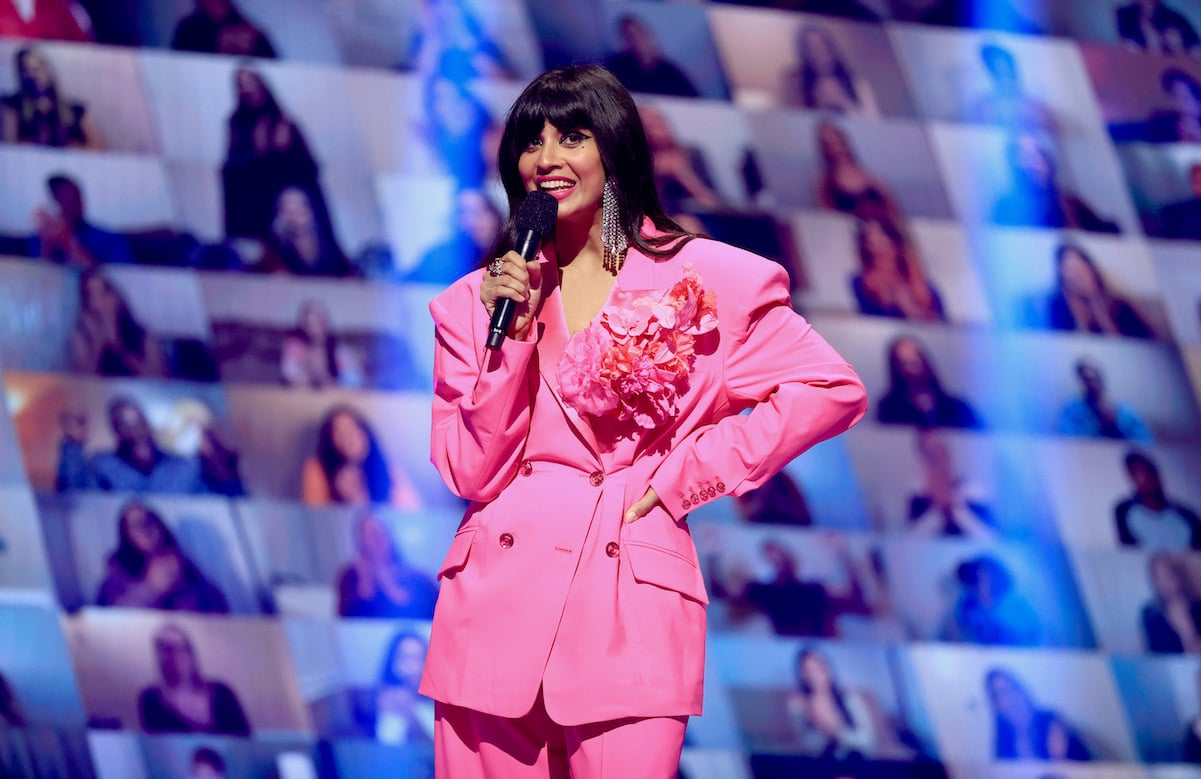 Demi Lovato posted about her bad experience at a froyo shop
Lovato vocalized a bad encounter she had while getting frozen yogurt at local LA shop The Bigg Chill on April 19. The singer explained that she was triggered by the wording on food labels near the froyo checkout counter.
She described labels such as "sugar-free" and "guilt-free" that made her uncomfortable. Lovato later said in an Instagram Live that she was so bothered by the experience, she left the store without purchasing anything. She admitted that eating three meals a day is still a daily struggle for her, and being confronted with the labeling she saw made it impossible for her to go through with her purchase.
But before that, Lovato posted a screenshot of a conversation she had with the store on Instagram. The Bigg Chill claimed that it caters to people of many dietary restrictions, including those with diabetes.
The singer posted a screenshot of The Bigg Chill's Instagram picture showing a "guilt free" snack.
"This screams diet culture and I won't be gaslit by the media or anyone else that say otherwise," Lovato shared on her Instagram story. "I don't need to feel guilt free about eating anything. This is what I was talking about and this is directly from their own page."
On Lovato's Instagram Live that she held later in the day, she apologized for the manner in which she discussed her experience. She opened the door to The Bigg Chill to work with her on a project that would reduce the usage of "diet culture" terminology.
While Lovato's name trended with many shaming her for "hating diabetics," another famous person was vocal in support of Lovato's message.
Jameela Jamil defended Demi Lovato after the posts
Jamil posted an Instagram story on her profile following the pushback Lovato received, per Pop Crave on Twitter.
"If an eating disorder advocate says she sees products that are positioned as guilt free, and it is potentially triggering, that doesn't mean she's too stupid to remember that diabetics exist," Jamil wrote. "It just means we need to change the marketing of products that are for people's medical needs."
"That's all @ddlovato was asking for," she continued. "It doesn't make her a monster. It doesn't mean she disregards people's illnesses. She's just one of few celebrities reminding us to look out for mental illness. Guilt free is diet culture terminology. We need to stop using that f*cking term."
The actor continued to say that words such as "cheat, guilty, naughty, bad, unhealthy" are "problematic terminology" that are used to market foods.
Jamil accused people on the internet for "deliberately" misunderstanding Lovato's statement to vilify her. She said this was "problematic" in that it could discourage others from speaking out against the same issue.
She also shared messages from people with Type 1 diabetes that said "'sugar free' foods are advised against at all costs and not just for diabetics."
Jameela Jamil defended Demi Lovato and she responded
After Lovato's Instagram Live, she said she was going to take a mental health day and lay low from social media. But she did see Jamil's message, and was touched enough to post it on her own Instagram Stories.
She replied: "Thank you queen. Literally so grateful you get me and that I can call you a close friend. I love you."
Later, Lovato showed that she was relaxing beach-side celebrating the "4/20" holiday. So for now, she seems to be in a better place.