'The Good Place' Cast Kept Doing Their Very Last Scene Even After the Camera Stopped Filming
The Good Place cast have all been extremely vocal about how much they enjoyed their time on set. The actors apparently got along famously and truly enjoyed the story they told on screen. Of course, having such an enjoyable work environment made it even more difficult for them to say goodbye to the show after only four seasons. While the cast was in total agreement that The Good Place ended at the perfect time, saying goodbye was certainly a challenge.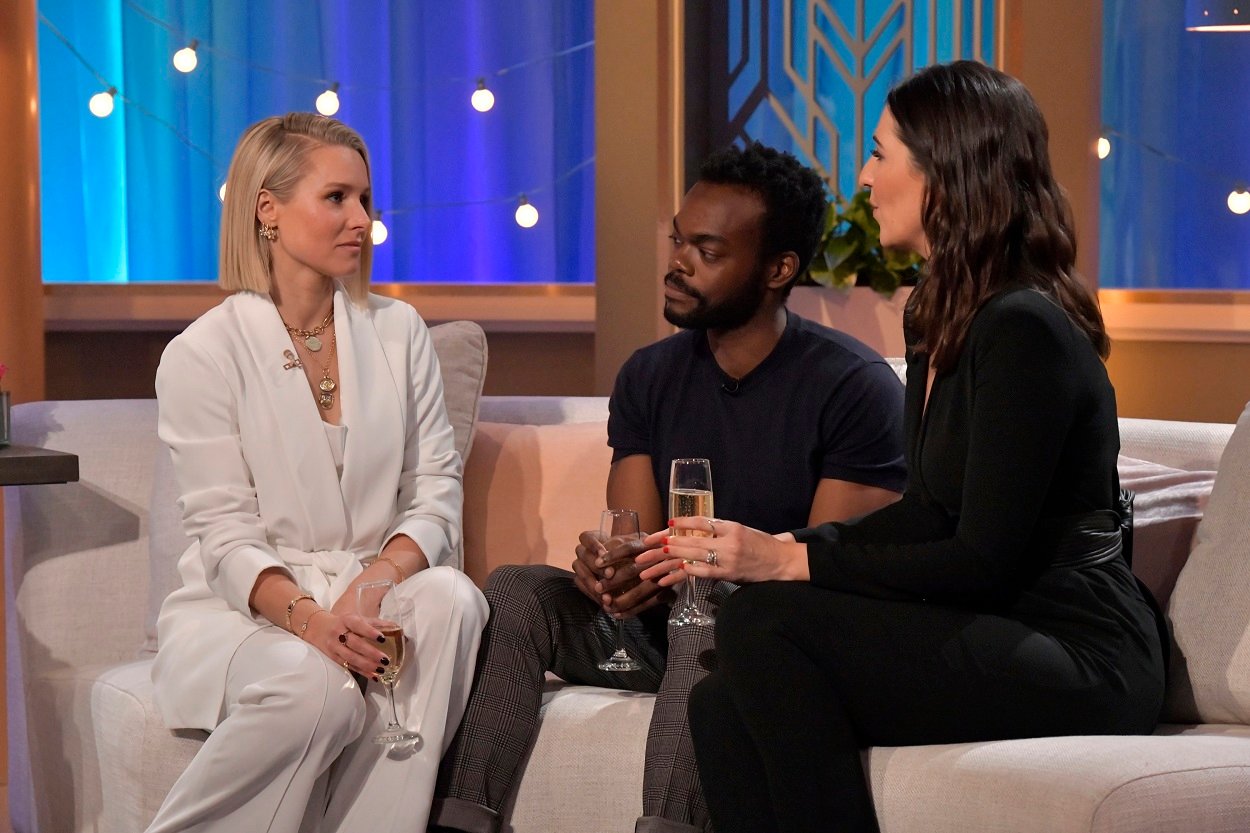 While The Good Place features six main cast members, only three of them were present for the very last shot. Kristen Bell (Eleanor), William Jackson Harper (Chidi), and D'Arcy Carden (Janet) all flew to Paris to film the very last shot in the series. Fans of the show will recall that this is the moment where Chidi confesses that he's content and feels ready to leave while Eleanor begs him to stay because she's not. As difficult as that scene was for fans to watch, it was even more challenging for the actors to film.
'The Good Place' cast struggled to say goodbye to the show
In an interview with Insider, Harper revealed that he and his fellow castmates resorted to humor to try to cover up the fact that they were dreading the end of the show. "It was tough," The Good Place star shared. "I remember all of us being like, 'Aw, man, I don't like this. I don't like this. This is it!' There was a lot of very loud, comical bemoaning, trying to make light of the fact that we were all about to burst into tears at any moment."
Harper continued on to say that he had a moment where he really had to pinch himself. The actor has shared that he seriously considered giving up acting before he got cast in The Good Place, so the fact that he'd been cast on such a successful show and was getting to do what he loved was extraordinarily special for him. "I had to check myself for a second," Harper admitted. "I was like, 'I'm standing on a bridge, in Paris, with Kristen Bell, acting. Who the hell gets to do this?' I just couldn't wrap my mind around it. I thought, 'This is a moment you need to hold onto. This is something that is really important, and you're gonna remember this for the rest of your life.'"
William Harper Jackson and Kristen Bell kept doing their final scene even after Season 4 wrapped
In fact, Harper was so invested in the scene, he didn't want to stop. Even when he saw Michael Schur (creator and showrunner of The Good Place) walking to let him and Bell know that they'd nailed the scene and it was officially a series wrap, he refused to stop doing the scene. "The fact that I would rather do a scene for the sake of doing a scene, even though we know that we're not rolling, that's the vibe that we had on set," Harper shared. "That was the bond we forged over the four years of doing this show. We just liked working together."
It seems that filming The Good Place may have actually been The Good Place for the lucky cast members who were able to bring the show to life. While it may have been hard for them to accept that the show was ending, we can't deny that it ended at the right time. If you'd like to revisit the series, all four seasons are currently streaming on Netflix.