'The Good Place': These Actors, Who Shared a Scene in the Series Finale, Are Married in Real Life
One of the best things about The Good Place, aside from its fantastic storyline, was the talented actors who were cast to bring the colorful characters to life. Each person brought a unique personality to the afterlife that truly made for a more interesting world. But, the main cast members of The Good Place weren't the only ones who helped make the show what it was. Guest stars and cameo appearances also contributed to making the show fun for fans to watch.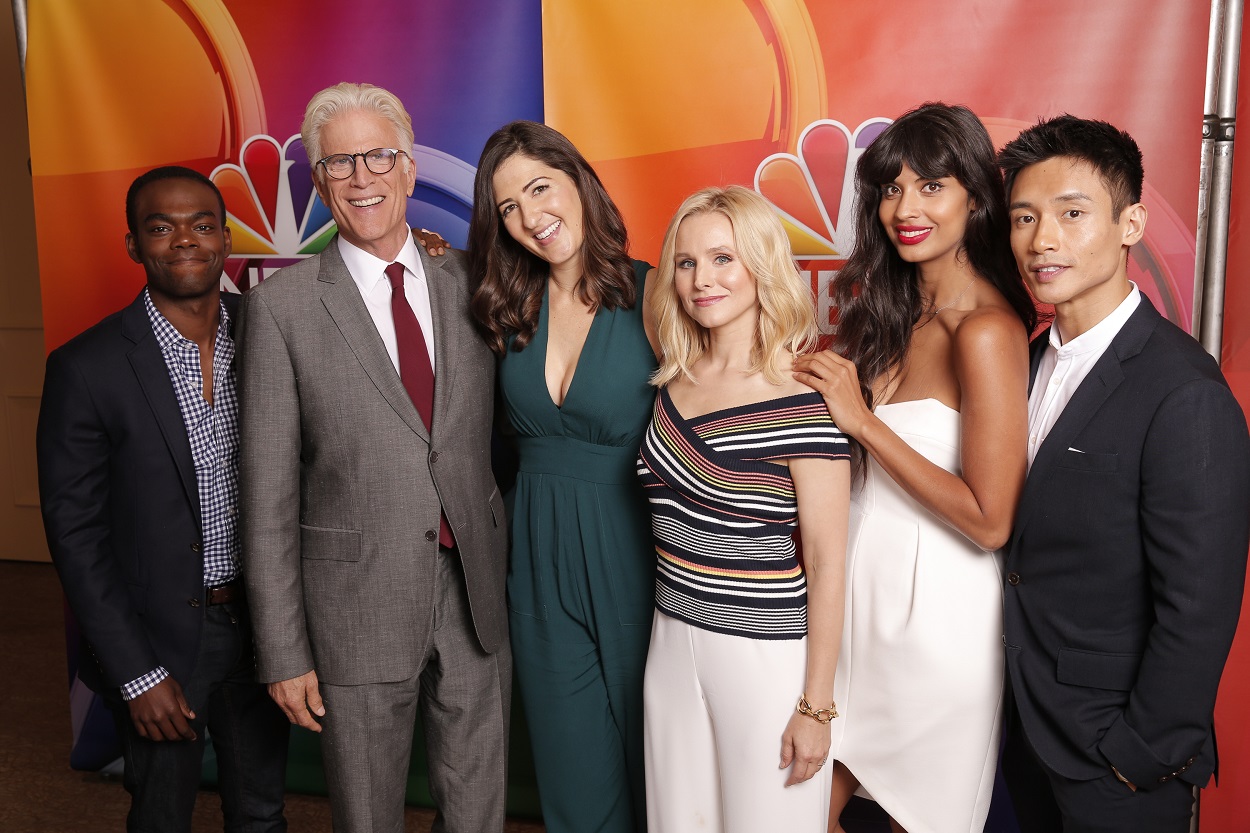 'The Good Place' cast and the 'Parks and Recreation' cast share a few actors
Fans of Parks and Recreation, in particular, can really appreciate the cameos in The Good Place. Given that Mike Schur created both shows, he utilized some of Pawnee's favorite residents to round out the cast of the afterlife-based show. Fans will note that Marc Evan Jackson (Trevor Nelsson), Adam Scott (Ben Wyatt), and Jason Mantzoukas (Dennis Feinstein) all had roles in The Good Place cast as Shawn, Trevor, and Derek respectively.
Ted Danson shared the screen with his real-life wife, Mary Steenburgen
Everyone's favorite woodworker, Nick Offerman, even showed up for the finale of The Good Place. Though some fans argue that he could've been playing his Parks and Recreation character, Ron Swanson. But, there was another cameo that fans of the show may have missed. In one of the final scenes, the audience watches Michael (played brilliantly by Ted Danson) finally humble himself and get the help he needs to learn to play guitar. Funnily enough, the person he hires to help him is Danson's real-life wife, Mary Steenburgen.
RELATED: 'The Good Place': Ted Danson Was Terrible at Keeping the Shocking Twist Under Wraps
So just how did The Good Place manage to get Steenburgen to act alongside her husband for the series finale? In an interview with Variety, Schur got candid about how important it was for Michael to reach out for help when he needed it. An immortal being, there were times when Micheal was truly arrogant enough to believe that nobody was qualified to help him. But, as he learned more about humans, he realized that asking for help is just a part of life.
Why it was important for Michael to ask for help
"It came pretty organically out of the idea that one of the themes of the show is you don't figure this stuff out by yourself," Schur shared. "We owe our growth and our understanding of the world to our relationships with other people. There's a line in Aristotle that Chidi quotes in season one: Aristotle compares getting better to playing the flute. The more you play it, the better you get. And so we were like, 'Maybe we should design this thing for Michael where he's trying to do something by himself,' and then when he gets to Earth, it's like, 'Oh, you can ask people for help,' The Good Place creator continued.
Once Schur and The Good Place writers decided that Michael needed to learn that lesson, they knew they had to cast Steenburgen for the part. According to Schur, Danson speaks so highly of his wife, they couldn't imagine anyone better to fill the role.
'The Good Place' creator on why it was important to cast Steenburgen
"It's too lovely an idea, because the way Ted [Danson] talks about Mary [Steenburgen] is that she is, for him, the person who unlocked the world and made him understand things he didn't understand before," Schur shared. "They have a beautiful, incredible marriage that is full of togetherness and joy and happiness and mutual respect and love and understanding," he concluded about The Good Place star and his wife. If that doesn't sound like soulmates, we don't know what does.