'The Good Place' Series Finale: There's A Rock Solid Reason Why Chidi and Eleanor Won't Get Their Happily Ever Afterlife
The Good Place is in its final season and fans are still dying to have some of their questions answered. Many people are especially curious about how the relationship between Chidi (William Jackson Harper) and Eleanor (Kristen Bell) will end.
The two of them started out as "soulmates," and they often fell in love with each other through the many different reboots of their simulated afterlife. However, their romance is being put on hold for the time being, though viewers have no idea whether they will ever get back together or not.
The truth is that, unfortunately, it looks as if Chidi and Eleanor might not ever get their happily ever after. Read on below to find out why.
Chidi currently does not remember who Eleanor is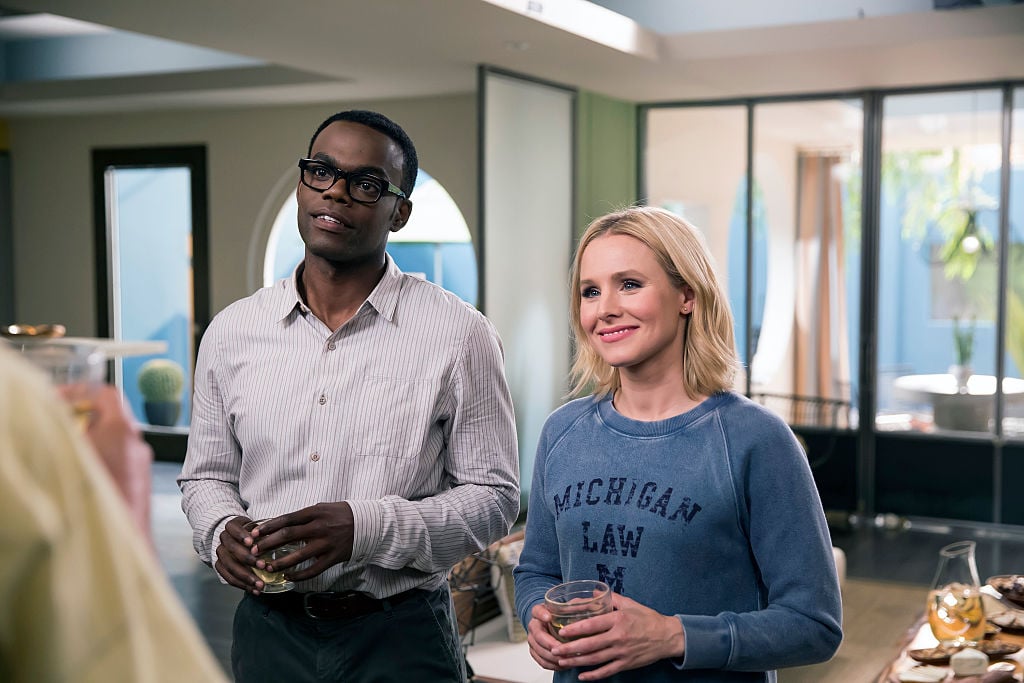 Towards the end of season 3, Chidi and Eleanor fell in love again and began dating. Meanwhile, they also agreed to work with their demon friend, Michael (Ted Danson), to recreate their "Good Place" neighborhood experiment. The goal was to convince Judge Gen (Maya Rudolph) that humans could become good under certain circumstances.
The "Bad Place" demons were allowed to pick the participants in the experience, and they decided to select people who could personally torture each of the four humans. As such, Chidi's ex-girlfriend, Simone (Kirby Howell-Baptiste), showed up in the afterlife. This caused Chidi to think that his former feelings for her could ruin the experiment.
Chidi decided to get his memory erased so that he would not know who Simone is. It caused him to forget about Eleanor and everyone else as well.
Eleanor has been acting as an architect in place of Michael
Season 4 of The Good Place follows Eleanor as she becomes the architect of the "Good Place" after Michael has a supposed nervous breakdown. It is later revealed that Michael faked the breakdown because he felt a human had to run the experiment.
For the sake of the experiment, Eleanor puts on a happy face and tries to do her job without letting her feelings for Chidi get in the way. At some point, all the pressure of running the neighborhood starts getting to Eleanor. Things are going wrong in every corner, and her friends are questioning whether she can be a leader or not.
Additionally, Eleanor realizes that it's very difficult to watch Chidi go about his days without remembering who she is and what they had together. Eleanor begins to doubt herself and wants to quit being the architect, saying that she is simply "a girl from Arizona." However, Michael lifts her spirit up and reminds her that she was the one who foiled many of his demonic plans before, which shows that she is very smart and capable.
"The only one who can save humanity is a girl from Arizona," Michael tells her.
Eleanor might have to choose between her love life and saving humanity
As season 4 progresses, Eleanor realizes that she has to get Chidi and Simone together in order for Simone to accept her fate in the afterlife. She decides to tell Chidi and Simone that they are soulmates.
This makes many viewers think that the theme of the season might be about Eleanor choosing between her own happiness or the good of humanity. For a show with a premise of ethics, it's the ultimate conundrum for the flawed protagonist.
"I'm kind of wondering if this will all wrap up with Chidi and Simone together with Eleanor moving on to a higher purpose (rehabilitating humans in the afterlife to help them get into the Good Place)," a fan said on Reddit.com. "It'll be bittersweet to see, but I wouldn't hate it… She'd be setting aside her feelings for one person to save all of humanity."
This would also show us how much Eleanor has grown since the first season. There is no doubt that the Eleanor we saw back then was very selfish and would never sacrifice anything for other people. However, Eleanor has changed a lot since then, and it's possible that she would be willing to give up the love of her life in order to save humankind.