'The Good Place': The Casts' Toasts to Each Other After the Series Finale Will Make You Cry
What did The Good Place cast say to each other that was so touching? The series finale aired recently, leaving fans in a puddle of tears.
The Good Place ended recently, with a sad but loveable series finale that made us all weep. Michael Schur, the showrunner of The Good Place, said of the series finale: "I think we got it right." The cast also gushed over the final episode of season 4; they continued to do so on a live after-show that aired just after the finale. What did The Good Place cast say to each other that was so touching?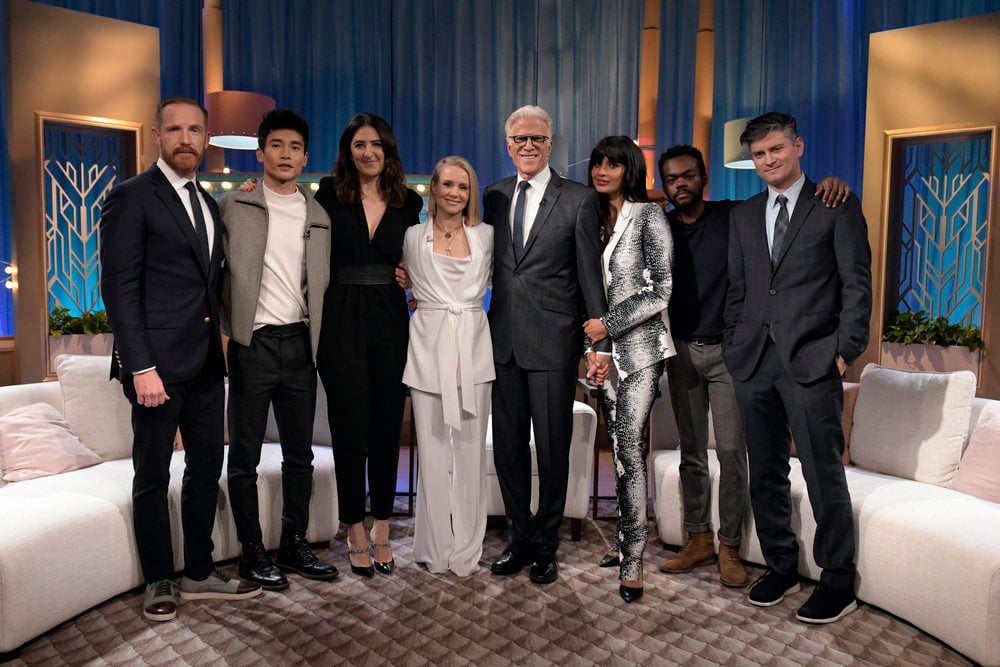 'The Good Place' cast gave each other moving, tearful toasts on Seth Meyer's live after-show
After the series finale of The Good Place aired on NBC, the cast joined Seth Meyers on a live post-show wrap-up. One by one, each member of the cast toasted another Good Place actor. And, of course, it was beautiful. The toasts proved (unless they're just that good of actors) that the cast of The Good Place are just as close of friends as their characters.
Kristen Bell, who plays Eleanor on The Good Place, went first. She chose her co-lead (and Good Place soulmate), William Jackon Harper, a.k.a. Chidi.
"What's your name, again?" she joked. She went on to gush:
Will, in acting, we need spontaneity and in life we need consistency, and even though those two things are inherently at odds, somehow you manage to be the best and both of them. Making you not only the best scene partner but the best friend. So cheers to being all the things at once.
Harper went second, choosing to honor the actor who plays Jason, a.k.a. Jacksonville's finest, Manny Jacinto.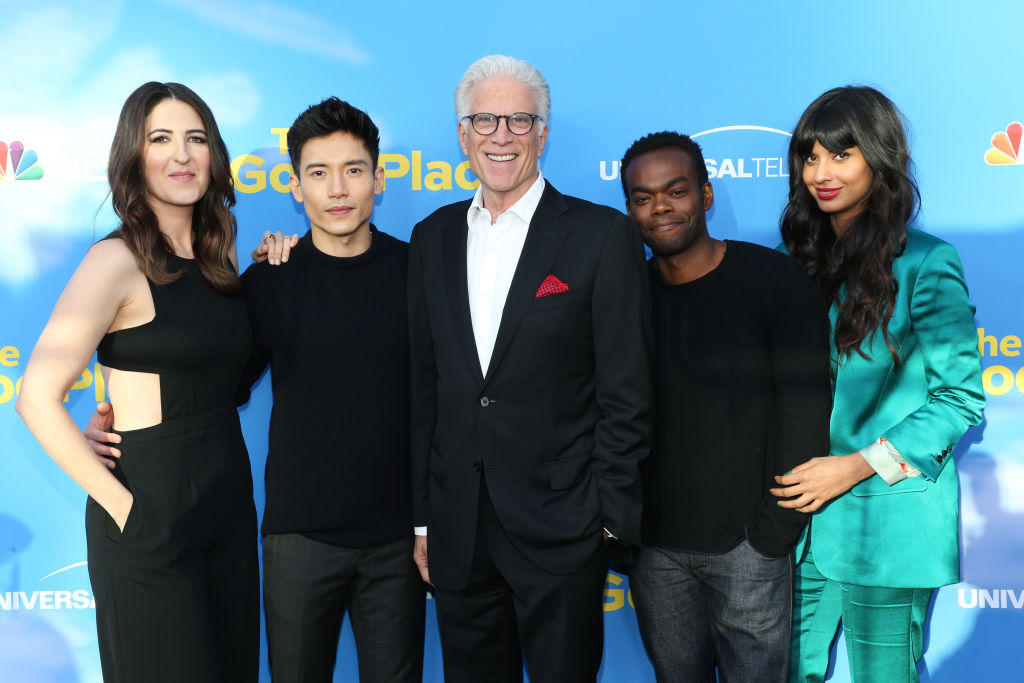 "It has been one of the greatest pleasures of my life to share a scene with you," Jackson Harper said to his co-star. "You are literally one of the funniest men that I've ever met." Aside from Jacinto's talents, Harper loves Jacinto's heart.
"I think that you one of the most beautiful souls, one of the smartest, kindest … and wise in a way that I don't think you understand," the actor who played Chidi continued. "Thank you for your presence. Thank you for being you."
The toasts continued on the post-series finale
Next, Jacinto toasted to Jameela Jamil, who played the wealthy socialite Tahani on The Good Place.
"To the sexiest skyscraper there is," Jacinto started out, referencing the former model's height. Jacinto also couldn't help but brag about his co-star.
"This is her first acting gig," Jacinto boasted, "and I remember just being in awe of your grounded instincts and how natural you were."
Jamil followed up with a tribute to Ted Danson, the Cheers aslum who portrays Good Place architect Michael.
"Thank you for letting me steal all of your acting tricks," she joked. "Thank you for being the greatest leader and teacher we could have possibly ever asked for." One last completely accurate compliment for the silver fox:
"And, you're so hot."
Danson gave his toast to D'Arcy Carden, the talented improv actor turned NBC star. Carden played Janet, the not-a-robot, not-a-girl, knower of all things in the universe, on The Good Place. Danson really went for it, making Carden (and us) visibly emotional:
I'm so thrilled that I know that we will be friends for life … You just make me happy to be around, your kind, sweet, generous heart is always on your sleeve. You are incredibly funny. You kind of were the emotional heart of the show for all of us. You were always there and nonjudgmental and loving to all of us. I really adore you. And I'm just tickled that this is the beginning of our relationship .. And you created one of the most amazing characters on television, and you did it in a brilliant way.
'The Good Place' cast: friends in real life, thank goodness
Carden finished off the series of Good Place toasts, looping it back around to Bell.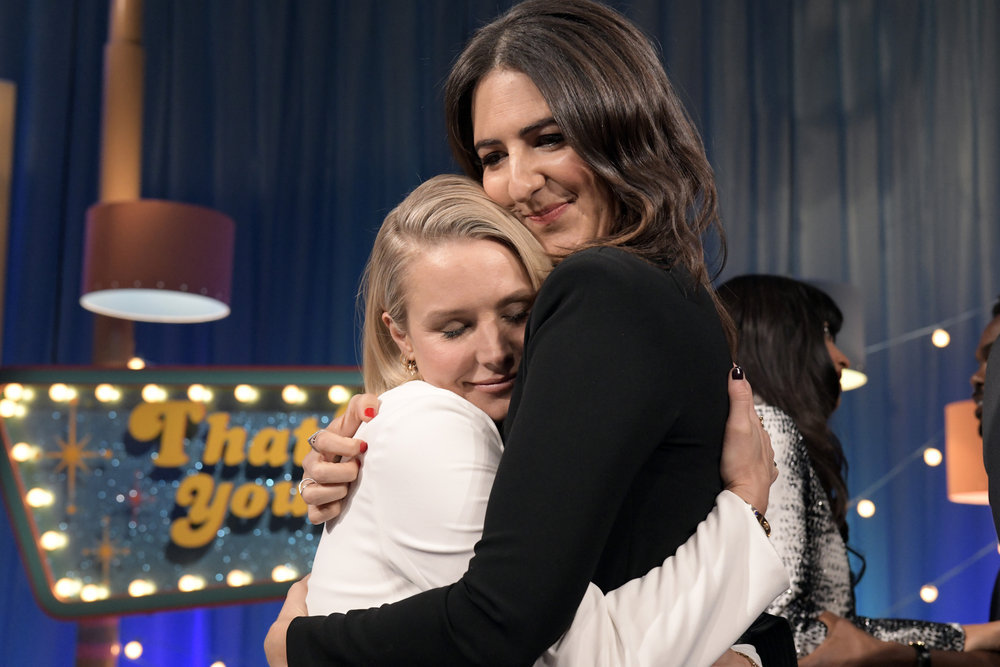 "I love you so much," Carden began. "You have become one of my best friends." Carden also said she was incredibly thankful she got to know Bell so deeply.
"I am so grateful that you let us into your life and into your soul and we feel so lucky to be a part of your world and know who you really are," Carden told the Frozen star. "We're so lucky to be your friend and your family."
And we, as Good Place fans, are so lucky the series finale lived up to a s full of four-season series full of emotions, twists, and turns: death, afterlife shenanigans, love, betrayal, heartbreak, and finally: calm.