'The Good Place': Which Star Has the Highest Net Worth?
NBC's The Good Place featured an ensemble cast with remarkable chemistry. During the four-season series, the actors boosted their fame and fortune. Now that the show has ended, here's a peek at who boasts the biggest bank account. [Spoiler warning: The following article contains details about The Good Place Seasons 1 through 4.]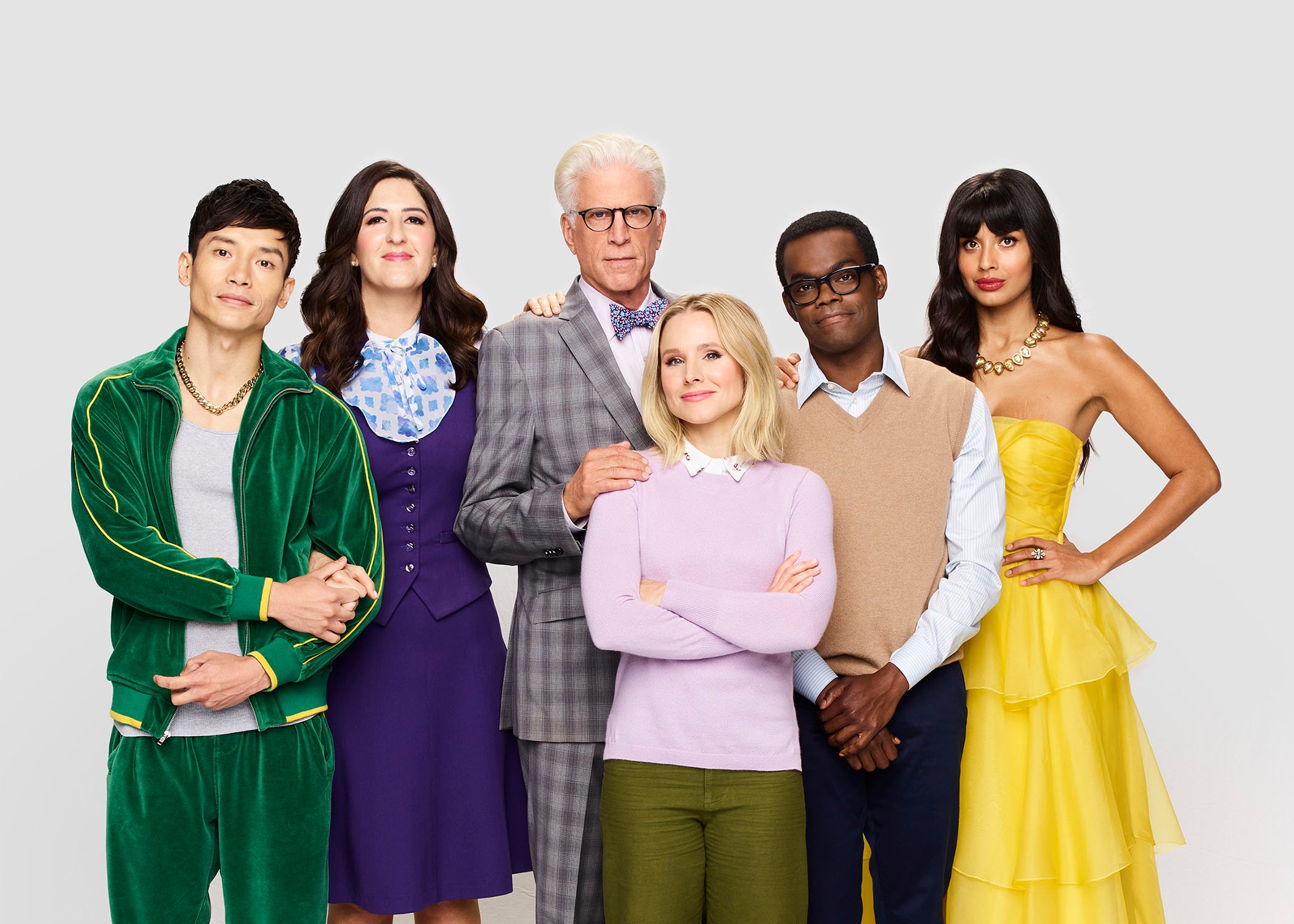 'The Good Place' struck comedic gold with a unique premise
The Good Place revolves around a group of recently deceased mortals navigating their way through the afterlife. Episode 1 begins when Eleanor Shellstrop wakes up in The Good Place after dying a tragic death.
Michael, an immortal architect, is the administrator in charge of Eleanor's celestial neighborhood. Michael's right hand is Janet, an omniscient source of all information in the universe. Both Michael and Janet guide Eleanor as she begins to acclimate herself to existence after death.
Eleanor soon meets her closest neighbors, who are also new to The Good Place. Socialite Tahani Al-Jamil and her soulmate, the monk Jianyu, live next door. Chidi Anagonye, a former ethics professor, is Eleanor's supposed soulmate.
The delicious irony is that Eleanor was a chronically selfish and objectively unkind person while on Earth. So, it doesn't take long for her to realize that she has landed sweet digs in The Good Place due to a clerical error. Eleanor confides in her soulmate and pleads with Chidi to keep her secret. Considering Chidi's chosen field of academic study — ethics — the morally muddy situation results in a hysterical turn of events.
As it turns out, Eleanor is not the only poser in paradise. Jianyu is no more a monk than Eleanor. His real name is Jason Mendoza. He is a Jacksonville native and Blake Bortles superfan with a proclivity for explosives, a mischievous streak, and no business living in The Good Place.
As the plot continues to unfold, it becomes clear that the image-conscious celebrity name-dropper, Tahani, and perpetually indecisive Chidi are also good candidates for Bad Place residency.
Things in the neighborhood have gone hilariously awry with disasters, including wardrobe malfunctions, raining garbage, and a dangerous sinkhole in the middle of town. Clearly, something — or someone — has thrown things into chaos in The Good Place. Could the mere presence of interlopers be destroying utopia?
The season 1 twist ending answers that burning question and sheds light on the truth. Michael reveals that he is actually a demon intent on torturing all four recently deceased mortals who are, in fact, in The Bad Place. That revelation sets the stage for the next three fascinating seasons of the show.
The stars have built substantial fame and fortune
The Good Place hooked fans with the unique premise, remarkably witty writing, and a stellar cast. And now that the show has ended, the stars have boundless potential to boost their fame and fortune even more. But which Good Place star boasts the biggest bank account? Here's how the actors stack up when it comes to wealth, according to Celebrity Net Worth.
Ted Danson
Topping his co-stars, Michael portrayer Ted Danson boasts an estimated $80 million in personal wealth. The sitcom veteran became a household name in the '80s when he starred as Sam Malone on Cheers, and he continues to entertain today.
Kristen Bell
Coming in second on this roundup is Kristen Bell, who played Eleanor. The Veronica Mars alum and Frozen franchise voice actor is worth an estimated $40 million.
William Jackson Harper, Jameela Jamil, Manny Jacinto, and D'Arcy Carden
The net worth estimates of Danson and Bell's co-stars are currently undisclosed. But all four actors have new projects simmering and therefore have an opportunity to increase their bottom lines.
Follow Erika Delgado on Twitter.