'The Good Place': Which Two Cast Members Were on Another Hit Show Together?
One of the best things about the hit NBC comedy The Good Place, is its dynamic cast. The show primarily features an ensemble cast of six main characters
One of the best things about the hit NBC comedy The Good Place, is its dynamic cast. The show primarily features an ensemble cast of six main characters, each of whom is delightful in their own way. But there are also plenty of other secondary characters who really bring the show to life and add depth and dimension. After all, what would The Good Place be without characters like Shawn, Bad Janet, The Judge, and Vicky?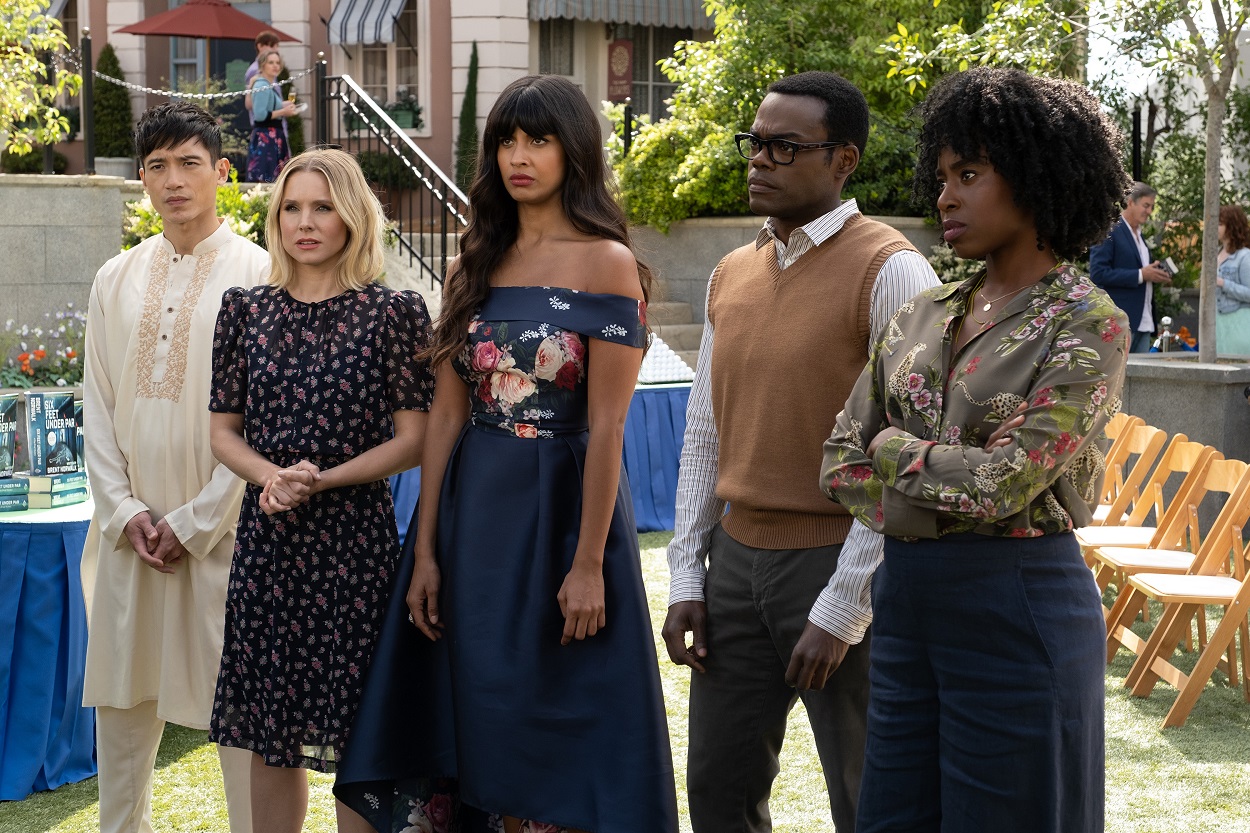 One particular character who really stood out in the later seasons was Simone. Introduced in Season 3 of The Good Place as the Neuroscience professor that The Soul Squad connects with during their second earth lives, she connects with Chidi and her cheerful demeanor adds new blood to the show. Simone also returns in Season 4 as one of the four humans who is chosen by The Bad Place to be in Michael's experiment to save humanity.
Two people in 'The Good Place' cast worked together on another TV show
Played by Kirby Howell-Baptiste, Simone meshed very well with the existing characters of the show. And it wasn't just her character who fit in well. In a 2019 interview with Gold Derby, D'Arcy Carden (who primarily played Janet in The Good Place) also revealed that Howell-Baptise got along famously with the rest of the cast. "Couldn't have gelled more," Carden revealed. Of course, The Good Place wasn't the first time Carden worked with Howell-Baptiste. The pair also worked together on the hit dark comedy, Barry, and were friends even before they were coworkers.
"She's a dear, old friend of mine," Carden shared of her fellow castmate. "We've been friends since before Barry or The Good Place, which is amazing that we get to work together so much. She instantly gelled. I don't know if you've ever met her or talked to her but she is a light and a darling human being, just a good addition to any cast or any restaurant table, any hangout. She's just a good person to be with. So, we love her. We love her very much. She and Kristen and I like to work out together a lot so we see each other a lot."
D'Arcy Carden had more than one friend join the cast
Funnily enough, Howell-Baptiste isn't the only one of Carden's longtime friends who found their way into The Good Place cast. Brandon Scott Jones, who played John (another human in the experiment), is also one of Carden's best friends. In a more recent interview with Gold Derby, Carden reflected on how special it was to film a scene with one of her besties.
"Brandon Scott Jones is one of my oldest best friends from New York and in between one of the takes we walked off to get snacks and had tears in our eyes. We were like, 'This is the best. How did we go from doing comedy in a theatre from the bottom of a basement in New York to working on a show like this,'" Carden recalled of her time working on The Good Place with her old friend. We're sure being able to have her friends on set further contributed to the positive experience she had on the show. It'll be interesting to see if Carden works with either actor again in the future.