'The Good Place': William Jackson Harper Confessed to Having 'Imposter Syndrome'
William Jackson Harper spent four hilarious seasons on NBC's The Good Place. Even after the show's remarkable success, Harper admits that he still deals with what he calls "imposter syndrome." [Spoiler warning: The following article contains details about The Good Place Seasons 1 through 4.]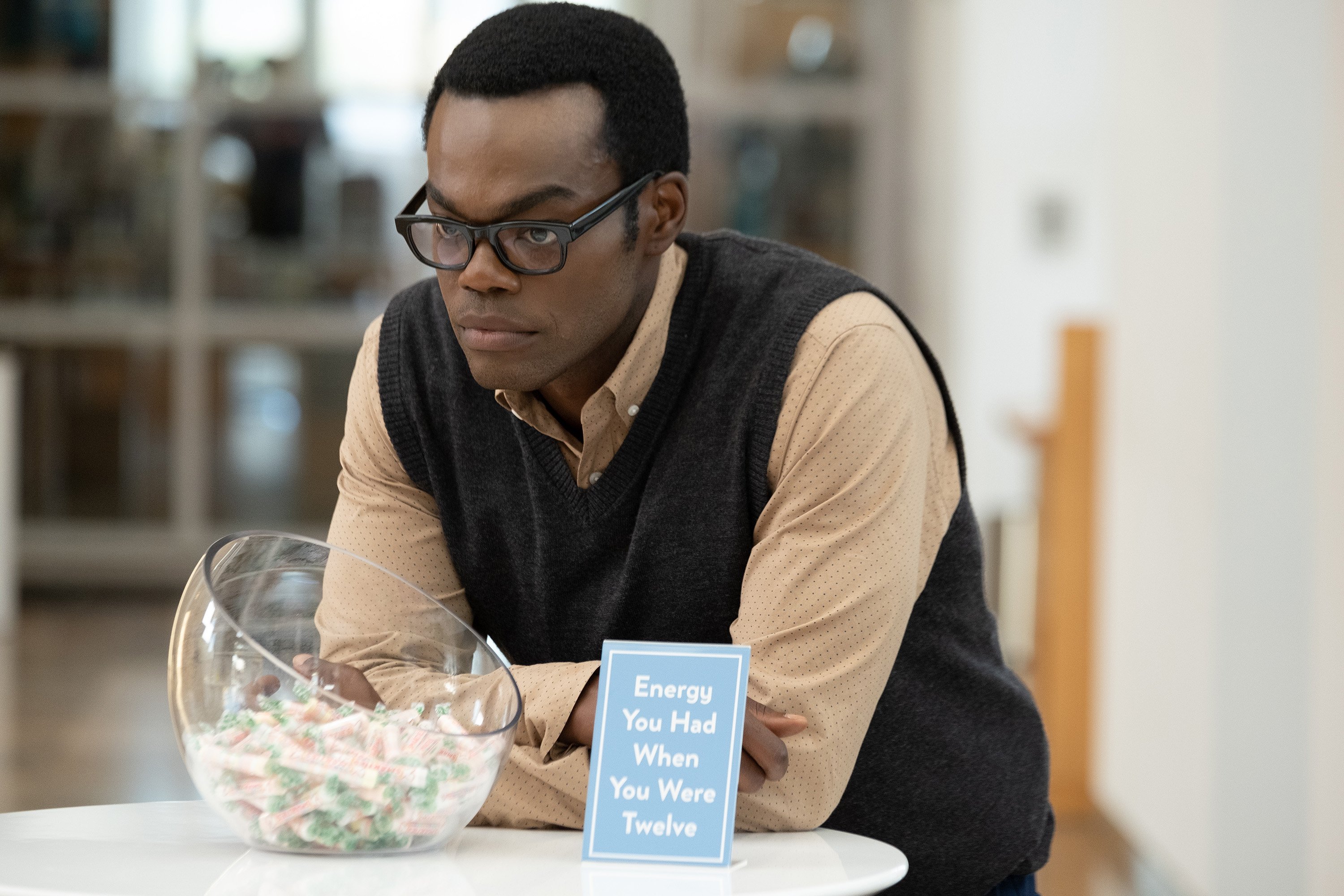 William Jackson Harper brought Chidi to life on 'The Good Place'
The Good Place followed the journey of four recently deceased humans as they navigated existence in the afterlife. On the show, Harper portrayed former ethics professor Chidi Anagonye.
Chidi was initially positioned as the supposed soulmate of the chronically selfish and morally bankrupt Eleanor Shellstrop. As it turns out, it was a match made in, well, The Bad Place.
Chidi and Eleanor, along with their neighbors Tahani Al-Jamil and Jason Mendoza, were tricked into thinking they died and went to The Good Place. In actuality, demon architect Michael had created a personal hell for each of them. Chidi became the gooey moral center of the group, Harper became a fan-favorite, and The Good Place scored accolades from critics and fans.
Even after the show's remarkable success, Harper admits that he still deals with what he calls "imposter syndrome." Like his character, Harper has become remarkably self-aware with regard to his acting career.
The actor 'finds ways to not be intimidated' at work
RELATED: 'The Good Place': William Jackson Harper Had to 'Figure Out How to Not Be Scared' of His Co-Star
Despite his proven talent, Harper admitted to Deadline that he must make an effort to squelch feelings of intimidation. The actor spoke about his admiration for executive producer and director Barry Jenkins. The creative visionary tapped Harper for a role in The Underground Railroad.
"Working with Barry Jenkins is a dream," said Harper to Deadline. "That dude is too much. The cool thing about this whole job and the age that I am at the stage that I'm in is it's really interesting to find ways to not be intimidated by people you're in awe of. And that's something that I keep having to deal with."
Harper also shared that he had similar feelings about working with Eleanor portrayer Kristen Bell on The Good Place. He told the outlet, "[It] took me a while to just get over the fact that I was going to be working opposite Kristen Bell so much. [It was] Oh wow, she's really good. I've got to figure out how to not be scared of this person who I'm kind of in awe of. And so that took some doing, but again, she's such a warm, wonderful person and such an honest actress that it just happens around her."
Harper broke down what it means to have 'imposter syndrome'
RELATED: Why 'The Good Place' Star William Jackson Harper Wants to 'Move as Far Away From Chidi' as Possible
Harper has an insightful way of describing his feelings of intimidation as an actor. He told Deadline about the "imposter syndrome" and how he deals with it on set.
Whenever I would nail something and [Jenkins] would be really pleased with it, that was OK. It was like, this guy knows what good work looks like. And if he thinks it's good work, I feel comfortable and confident enough to say that it's probably pretty decent work.

So, just being able to eventually relax enough to do the work that I feel that I'm capable of doing, that I'm hopefully capable of doing. But that was one of those salient moments where [I] was just able to get over my awe, and just settle in and be there with my scene partner, rather than trying to be preoccupied with the imposter syndrome that I think I deal with, and I think a lot of people deal with, every time they get a job.

Yes. We always walk around like, well, this is the one where they find out where I get disinvited from all the things ever again. So, to have someone whose work I admire so much, who liked my work on just a couple of different occasions, is really nice. And I think the thing that I learned was I've got to relax and trust that I can do the work. I just need to get out of my own way.

William Jackson Harper in Deadline
RELATED: 'The Good Place': William Jackson Harper Was 'Completely in the Dark About Everything' in Season 1
Follow Erika Delgado on Twitter.