'The Goonies': John Matuszak's Makeup Took 5 Hours to Complete and Used a Remote Control Eyeball
Fans may find it hard to believe, but The Goonies turned 36 this year. Characters such as Mouth, Mikey, and Chunk required minimal makeup and their faces were easily recognized. The character of Sloth Fratelli, however, required John Matuszak to sit for five full hours of makeup that included a remote control eyeball. Why did it take so long, and how did the eyeball work? Here's what we know:
John Matuszak's grueling transformation
At 6'8″ and nearly 300 pounds, football star-turned-actor John "The Tooz" Matuszak was beefy enough to portray Mama Fratelli's grotesquely deformed son, but his face was too pretty. That all changed when the former Oakland Raiders defensive end sat for five long hours in a makeup chair.
Designed and executed by Ellis Burman, Bari Dreiband Burman, and Craig Reardon, the elaborate facial modification involved a latex mask, jagged fake teeth, and a remotely-controlled prosthetic eye. To work symmetrically, Sloth's out-of-place eye was mechanically operated off-screen by a tech who would count down from three to one, at which time Matuszak would blink, explains IMDb.
What is 'The Goonies' about?
Based on a Steven Spielberg story, The Goonies tells the tale of a group of Oregon kids whose parents are facing foreclosure. After finding a treasure map, the band of self-named Goonies sets out to find the booty of One-Eyed Willy. Soon, the criminally-minded Fratelli family gets wind of the search and goes after the treasure themselves. Along the way, the Goonies encounter a gentle, cockeyed giant named Sloth.
In the 2010 documentary, The Making of a Cult Classic: The Unauthorized Story of 'The Goonies,' director Richard Donner revealed that right before shooting the scene where Sloth and the Goonies kids see One-Eyed Willy's pirate ship for the first time, he told them:
"Whatever you do, don't get John's makeup wet. Because if you do, it's going to get ruined."
Ultimately, the kids did get Matuszak's makeup wet, but the jovial actor wasn't perturbed despite having to go through the arduous makeup process all over again, says Mental Floss.
One of the biggest box office draws of 1985, The Goonies also starred Martha Plimpton as Stef, Sean Astin as Mikey, Jeff Cohen as Chunk, Ke Huy Quan as Data, and Corey Feldman as Mouth. In his very first film role, Josh Brolin portrayed Mikey's older brother, Brand. The Fratelli clan was portrayed by veteran actor Anne Ramsey.
No character was more memorable–and surprisingly lovable–than Sloth, played by former footballer Matuszak. At first glance, Sloth appeared to be a frightening, ogre-like monster but after sharing a Baby Ruth candy bar with Chunk, he became an ally of the protagonists.
Goonies fans who read David Kahn's 1985 novelization of the movie will be pleased to know that after the kids defeat the Fratelli clan and find One-Eyed Willy's treasure, Chunk's family adopts Sloth and even treat him to a bar mitzvah.
Who is John Matuszak?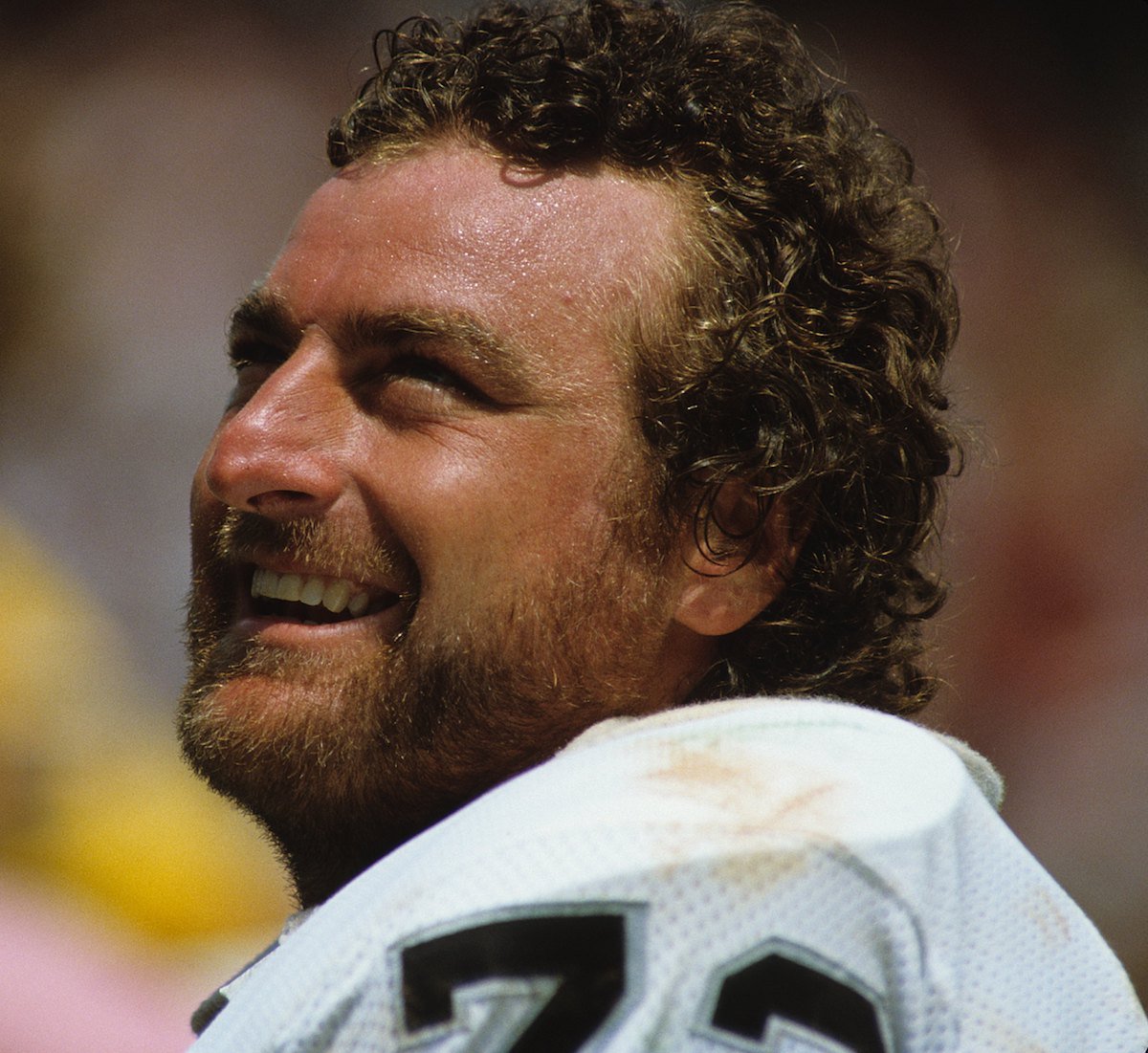 Born John Daniel Matuszak on October 25, 1950, "The Tooz" was a local legend in his home state of Wisconsin. After graduating from high school, he briefly attended the University of Missouri where he was suspended from the football team for "off-field issues," says OnMilwaukee.
Eventually, he enrolled at the University of Tampa where he toed the line and was selected as the Houston Oilers' top draft pick in 1973. The following year, Matuszak switched teams and played two seasons with the Kansas City Chiefs. In 1976, Matuszak went to the Oakland Raiders where he helped the team win two Super Bowls before retiring from the game in 1981, according to Pro Football Reference. Watch The Goonies closely to glimpse Sloth wearing a Raiders tee shirt.
The hulking defensive end may have helped the Raiders win a lot of games, but he was not popular with his fellow footballers. Former teammate Ken Stabler called him "dangerously insecure" while another Raiders employee said Matuszak "couldn't control himself" and lived a hard life, explains Yahoo News.
Prior to hanging up his cleats, Matuszak appeared in the forgettable 1979 flick, North Dallas Forty. Before his role as Sloth in The Goonies, he appeared in the Ringo Starr romp, Caveman, and The Ice Pirates. Matuszak also made guest appearances on a number of TV shows, including M*A*S*H, The Dukes of Hazzard, and Silver Spoons.
In his 1987 autobiography, Cruisin' With The Tooz, Matuszak recounted numerous drunk driving charges, countless car collisions, and more than one arrest for carrying a concealed weapon.
It's sad but not surprising that the big man who brought Sloth to life died from a combination of heart problems and cocaine on June 7, 1989, explains The Goonies Wiki. Matuszak was 38 years old.