The Great Advice Prince Once Gave Beyoncé
If there's any moment that showed us that Beyoncé would become the phenomenon that she is today, it's arguably her performance at the 2004 Grammy Awards.
At the time, she had just started her solo career following her departure from Destiny's Child. But when she hit the stage with legendary pop star Prince, she looked like a pro. The performance showed both singers giving their all, running through a medley of hits while playing instruments and delivering signature moves. 
Though it seemed like a flawless performance, it wasn't easy. During rehearsals, Beyoncé's nerves had started to get the best of her. Thankfully, Prince was there to comfort her, giving her some advice that helped keep her calm. He also shared a tip that Beyoncé seemingly still keeps in mind today.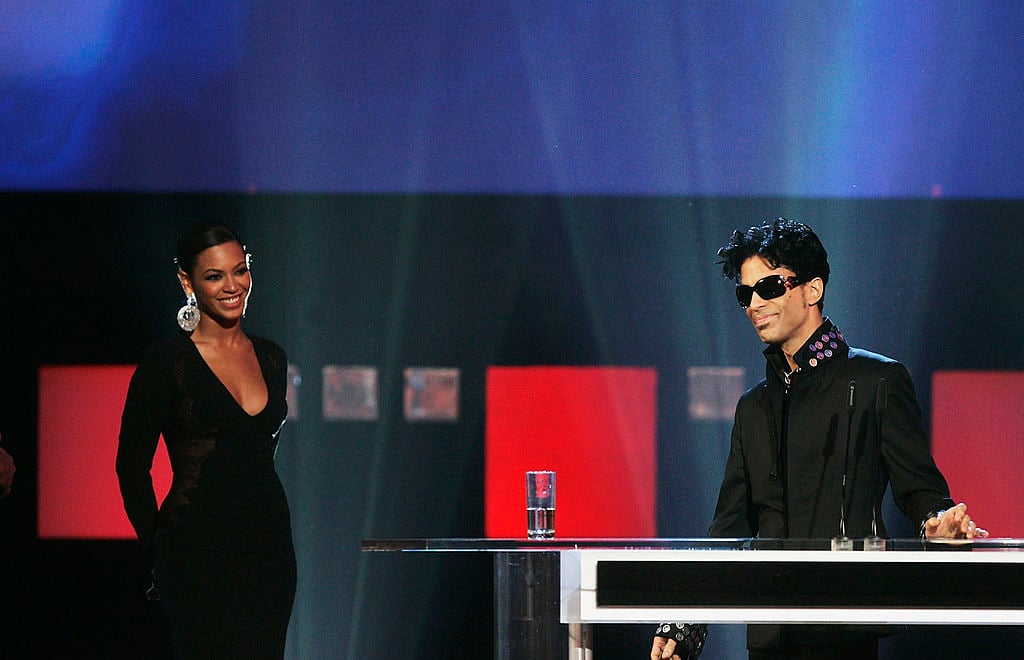 A closer look at Beyoncé and Prince's Grammy performance
In case you missed it or simply don't remember, the singers hit the stage and put a sizzling spin on classic records such as "Purple Rain," "Baby I'm a Star," and "Crazy in Love."
As Prince jammed out on a guitar, Beyoncé paraded around the stage in a sparkling pink dress, slamming a tambourine and grooving with the "Let's Go Crazy" crooner.
Prince closed with a guitar solo before throwing the instrument on the floor, saying, "Don't hate us 'cause we're fabulous."
Beyoncé's comments about her performance with Prince
In a 2010 interview with Giant Magazine, Beyoncé opened up about her set with the music icon. She told the outlet that she had been a ball of nerves during rehearsals because she was such a huge fan of Prince.
"Walking into rehearsals, I was just so overwhelmed and nervous and starstruck," she admitted. 
They rehearsed every day for an hour for an entire week, but Beyoncé still could not shake her anxiety.
"I was so scared and in my shell in rehearsals," she continued. But Prince comforted her, telling the "Halo" singer, "Don't be scared. Come on, belt it out."
"He could see that I was holding back in rehearsals, but I let it out when it was time!" Beyoncé' continued.
It's hard to imagine Beyoncé being starstruck by someone. But you can really hear the shock and admiration in her voice while recounting her experience with Prince:
Prince recalled the experience and shared other advice he gave to Beyoncé
In another interview, the 1999 singer reflected on the time they spent together ahead of the show.
"I was really curious as to how much she knew musically," he explained. "I was really pleased to find out that she knew a lot about scales — mixolydian scales and Egyptian styles." 
While playing around with instruments, Prince showed Beyoncé some chords on the piano, noting that the ability to play the instrument helped singers such as Aretha Franklin and Ray Charles. 
The Lemonade singer seemingly adopted the advice.
In 2015, she shared a video of her singing a song called "Die With You" while playing the piano in honor of her wedding anniversary to Jay-Z.
She was also seen playing the instrument in a 2019 documentary about the creation of The Gift, a soundtrack album for The Lion King, in which she starred as Nala.
Sadly, Prince passed away in 2016. But we're sure he would be so proud of the multi-talented singer.