The Heartbreaking Reason Rosario Dawson Is Giving Up Alcohol and Weed in 2020
The new year represents opportunity for a lot of people. In January, everyone starts over with a fresh slate. Even celebrities like Rosario Dawson feel the same way. Resolutions can be hard to keep up with, and Dawson knows that better than anyone.  But she's starting off the year in a good place, and she's …
The new year represents opportunity for a lot of people. In January, everyone starts over with a fresh slate. Even celebrities like Rosario Dawson feel the same way. Resolutions can be hard to keep up with, and Dawson knows that better than anyone. 
But she's starting off the year in a good place, and she's dedicating this year to herself. She's going to be upping her self care game in a few big ways. She's doing good things in 2020, but the reason she's making a change is sad. 
Rosario Dawson's dad is not doing well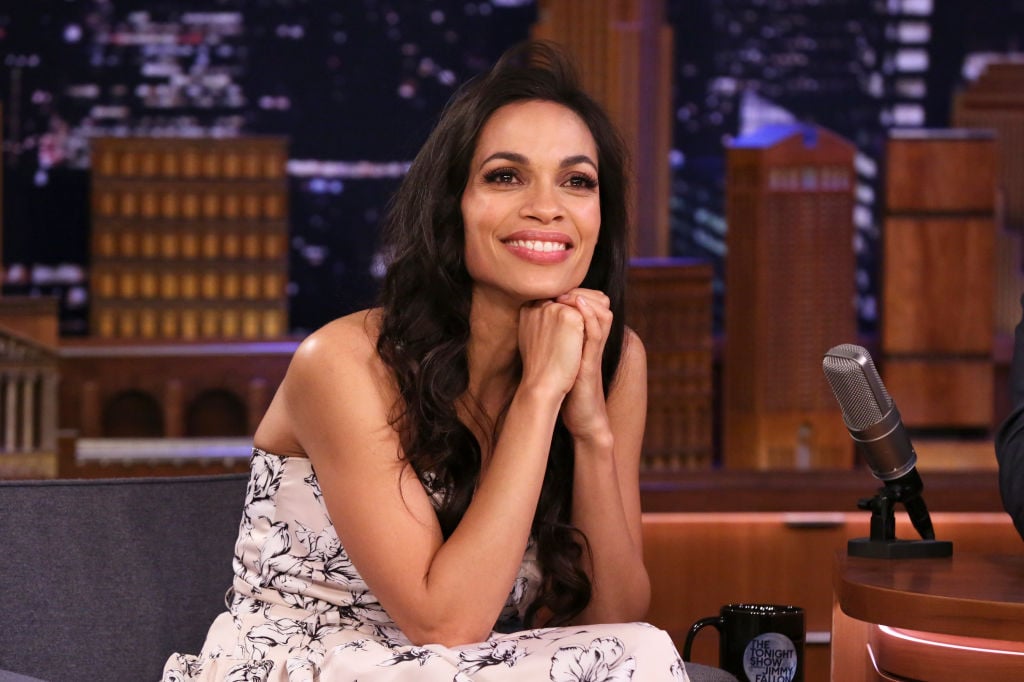 Unfortunately, Dawson's father has been diagnosed with pancreatic cancer. She is trying her best to take care of him. His illness has opened Dawson's eyes to a lot of things.
She told Women's Health magazine that she's changing her life after everything she's been through. She wants to make the most of the time she has here on earth, because she's seen first hand how precious it is. Dawson told Women's Health "I want to have as much clarity as possible and be very intentional about every day."
She's tired of always being on the move, and relying on substances to relax or keep her going. Dawson is going to make 2020 a cleansing year, where she'll focus on what really matters.
"So much of life has gone by so fast. But moments with my dad just, like a meal – are the most amazing thing. I want to be present. It's waking me up to really loving my life and therefore being okay with the good, bad, and ugly."
Leaving partying behind (with one exception)
That means cleaning up her act, and cutting out substances. Yes, she's giving up alcohol and weed, and is being careful about what she puts in her body in general. Like many celebrities, she has adopted a plant based diet. 
Exercise is another important part of her cleanse. Getting active plays a big role in any good self care routine. As for what kind of exercise Dawson prefers, she tries to do things that make her happy as well as get her moving. That means dancing, hiking, and taking long walks with friends.  
Although Dawson is adamant about giving up weed and alcohol, she may make an exception. This April will be the month four in the year 2020. Since 4/20 is a stoner holiday, Dawson may indulge in April of this year. According to Dawson, she may "CBD out" since there will be a full month of 4/20.
How will this effect Rosario Dawson's relationship with Cory Booker? 
Dawson is in a high profile relationship. Her boyfriend, Cory Booker, is a prominent politician. He threw his hat in the ring for the 2020 presidential race, although he didn't make it to the primaries. Still, Booker has a promising future. 
He's plant based too, like Dawson, so they seem to be on the same page as far as healthy eating goes. However, Dawson's new found inner calm might not jive with a political lifestyle. After her father's diagnosis, Dawson is all about taking it easy and enjoying life. She says she's tired of the east coast "go, go, go" energy. 
Politicians don't exactly lead relaxing lifestyles. There's a lot of travel and late nights involved in Booker's career. Dawson has already said that she doesn't like long distance relationships, and as a Congress person any relationship Booker has will be long distance, at least part of the time. With Dawson's new outlook on life, hopefully these two can make it work.