The Heartwarming Way Stephen Colbert and Wife Evelyn McGee-Colbert Met and Fell in Love
Stephen Colbert is a well-known talk show host who is currently the face of The Late Show with Stephen Colbert on CBS. He can often be seen entertaining fans with funny political commentary and interesting reports on current events.
Long-time viewers of Colbert are most likely aware that he is a married man. However, what many people might not know is the story of how he and his wife met. In fact, it is quite heartwarming and truly a story unlike any other. Read on below to learn more about the couple's fascinating relationship.
How long has Stephen Colbert been married for?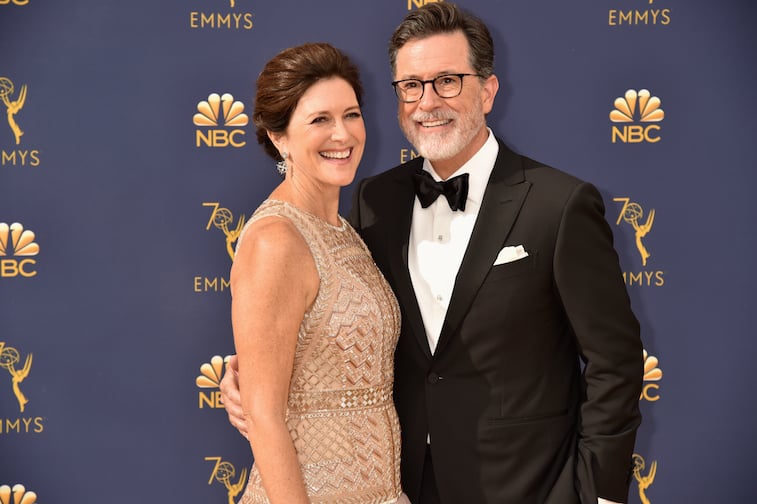 Colbert and his wife, Evelyn McGee-Colbert, got married in 1993. The couple has been together for more than 25 years, which is quite a long time for marriages in Hollywood.
Evelyn McGee-Colbert has acted in a few shows and movies. From 1999 to 2005, she appeared in the Comedy Central TV series Strangers With Candy, playing the mother of Stephen Colbert's character. In 2014, McGee-Colbert was also in the Amazon Prime show Alpha House.
How did Colbert and McGee-Colbert meet and fall in love?
The story of Colbert and McGee-Colbert seems to be a very fateful one. On an episode of The Late Show in 2016, Colbert went into detail about it.
According to him, it all started with an ex-girlfriend he was with at the time. Colbert's ex-girlfriend really wanted to get married, but he was not too sure about it. In order to sort out his feelings, Colbert decided to take a trip to his hometown of Charleston, South Carolina.
It was here that he talked to his mother about the situation. His mother helped him make sense of what was going on and Colbert soon realized that he did not want to get married after all.
However, while Colbert was still in Charleston, his mother asked him to come with her to the Spoleto Festival because his sister did not want to come. He agreed, and it was surely a great decision because the Spoleto Festival was where he met McGee.
Colbert described her as "a beautiful woman in a black linen dress." He revealed that when he caught sight of her in the lobby, he thought to himself: "There's your wife. You're gonna marry her."
The two of them spent time eyeing each other across the room. Colbert was definitely intrigued by this mysterious woman who he initially thought was from out of town, but when they finally talked, he realized that they had known each other since they were little.
"We realized we had grown up with each other, but hadn't gone to the same school," Colbert shared. "She'd gone to the all-girls school and I'd gone to, essentially, the all-boys school. We knew so many people in common we were suddenly incredibly embarrassed because we thought, 'Oh, our friends are gonna find out from stories that we were flirting with [each other] across a room at a party.'"
Despite that fear, though, Colbert and McGee continued talking to each other. He was smitten by her and it almost seemed like fate that they were brought to the event to meet each other.
As if the stars weren't already aligned, during their conversation, Colbert brought up the fact that he liked the poet Chuck Sullivan whose work went out of print. Seemingly out of nowhere, a random man joined in and told Colbert that Chuck Sullivan was actually the man's father.
Colbert couldn't believe his luck that night, though just to be sure that McGee was really interested in him and not just being a nice Southern lady, Colbert said that he turned around while she was talking to someone else, essentially giving her a chance to walk away from him. However, when he turned back after a minute, she was still there and smiling at him.
Do Colbert and McGee-Colbert have kids?
After their encounter at the Spoleto Festival, the couple dated, got married, and built a family together. They have three children: Madeleine (b. 1995), Peter (b. 1998), and John (b. 2002).
Colbert once shared that the best part about having kids is "coming home, pouring yourself a glass of wine, and sitting there and having a conversation with your kid about how their day was. It's not dramatic, it doesn't seem exciting, but it's probably the nicest part of it."