'The Hitman's Wife's Bodyguard': Salma Hayek Says She Practiced Cursing So She Could Impress Samuel Jackson
Salma Hayek is one of the esteemed actors in the entertainment industry. Even though she's spent most of her career starring in comedies and dramas such as Frida, 30 Rock, and Grown Ups, she's also established herself as a great action movie star.
Hayek's newest film, The Hitman's Wife's Bodyguard, combines both action and comedy and features her starring in her first leading action movie role. Hayek shares the screen with Hollywood heavyweights Samuel Jackson and Ryan Reynolds, both of whom also starred in the 2017 film, The Hitman's Bodyguard. 
Jackson is known for using large amounts of profanity in his films, and Hayek was required to curse a lot for her role in The Hitman's Wife's Bodyguard. Initially, she was worried that Jackson would judge her lack of skill with profanity, so she had to practice saying a certain curse word in order to impress him.
Salma Hayek had to practice cursing before she worked with Samuel Jackson on 'The Hitman's Wife's Bodyguard'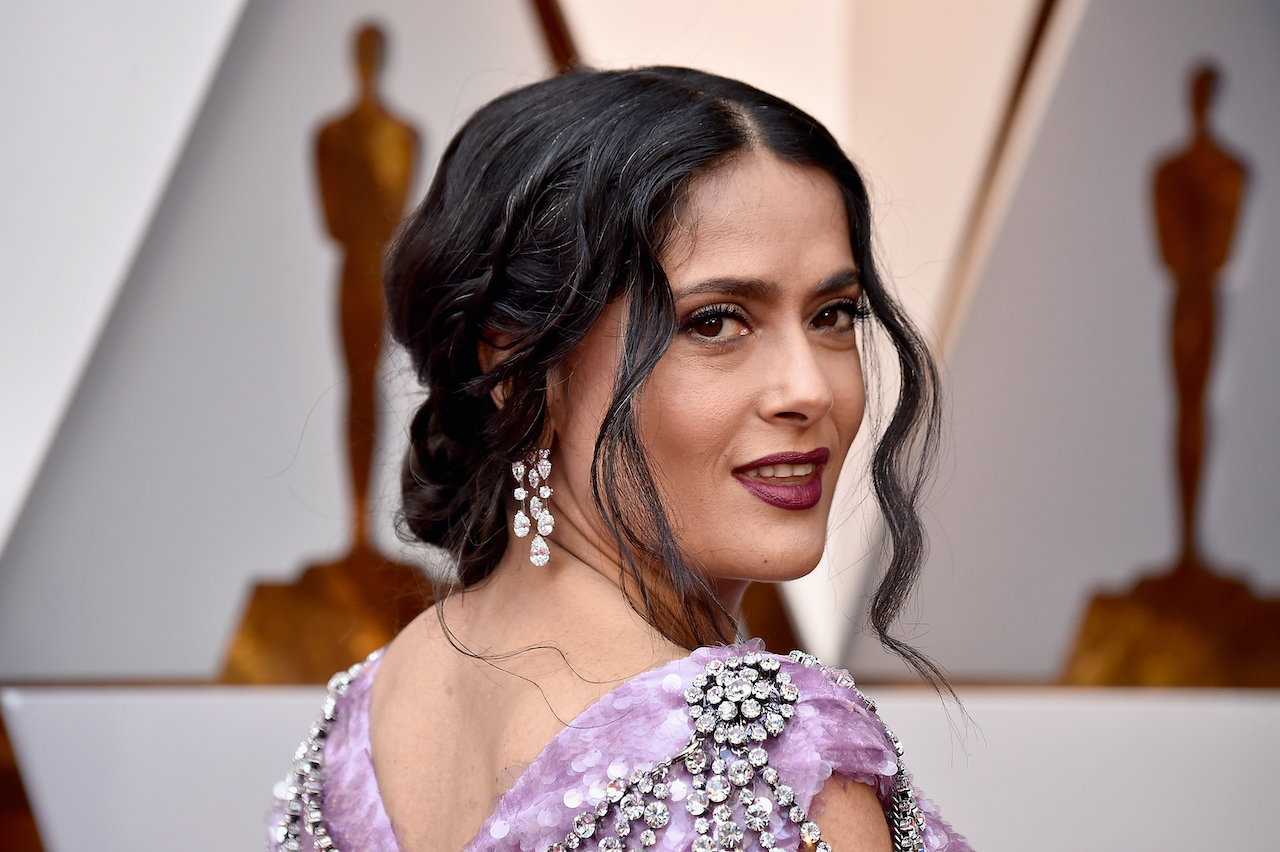 RELATED: Salma Hayek's Hollywood Struggle Included Directors Telling Her to 'Sound Dumber'
During a recent interview with Jimmy Fallon, Hayek revealed that she practiced cursing in the mirror before she started filming The Hitman's Wife's Bodyguard. 
"Well, it's fun, but it was very intimidating in the beginning," Hayek said. "I was like Robert De Niro in Taxi Driver, in front of the mirror practicing my 'mother—'. Because I had to say it in front of him a lot of times, and it's quite intimidating.
Now that she's played the role, she curses all the time
Now that she's wrapped up filming the movie, Hayek has had a hard time letting go of her new vocabulary words. In fact, she's become so accustomed to cursing that her daughter has to call her out about it pretty regularly.
"I have to be very careful because I still have a little bit of Sonia that comes out here and there. And I have my daughter, and one time I was just—she just went, 'Mom!' And I said, 'Oh, it was not me, it was Sonia.' So now I use it every time that I say something that I shouldn't say. I just say, 'It was not me, it was Sonia.'"
Most of Salma Hayek, Samuel Jackson, and Ryan Reynolds' lines are improvised in 'The Hitman's Wife's Bodyguard'
Even though Hayek swears a lot in The Hitman's Wife's Bodyguard, most of her other lines in the movie came off the top of her head. In a separate interview with FilmIsNow, she revealed that most of her lines in the film are improvised. 
"One of the other things that I love about playing Sonia is that most of it is improvised," Hayek said. "I got to improvise a lot, so I love the freedom. I'm very grateful to Patrick [Hughes] for trusting me that way, and I am so, so, so lucky because I got to work with two of the best actors in the world that also happen to be great at improvisation. And so I think that it makes it very fresh. We knew our characters really well and we understood our situations and we were able [to] just go wild and free in every scene, in every take, and that's been delicious. To be able to improvise in this character that I know so well, that I love so much, with such amazing talent."
The Hitman's Wife's Bodyguard is now playing in theaters.