'The Hitman's Wife's Bodyguard': Salma Hayek Taught Samuel L. Jackson How To Curse in Spanish
Salma Hayek has had a career spanning over 30 years in the movie business, yet she still manages to find new ways to challenge herself as an actor. The Eternals star landed her first lead role in an action movie after starring in the recently released film The Hitman's Wife's Bodyguard. 
A sequel to 2017's The Hitman's Bodyguard, the new movie features Hayek, Samuel Jackson, and Ryan Reynolds reprising their roles from the original. However, Hayek has a much larger speaking role, with many of her lines containing profanity. 
In order to prepare for her role, Hayek previously admitted that she practiced her curse words in the mirror. But she also managed to teach Jackson a few Spanish curse words in the process. 
Salma Hayek taught Samuel Jackson some Spanish curse words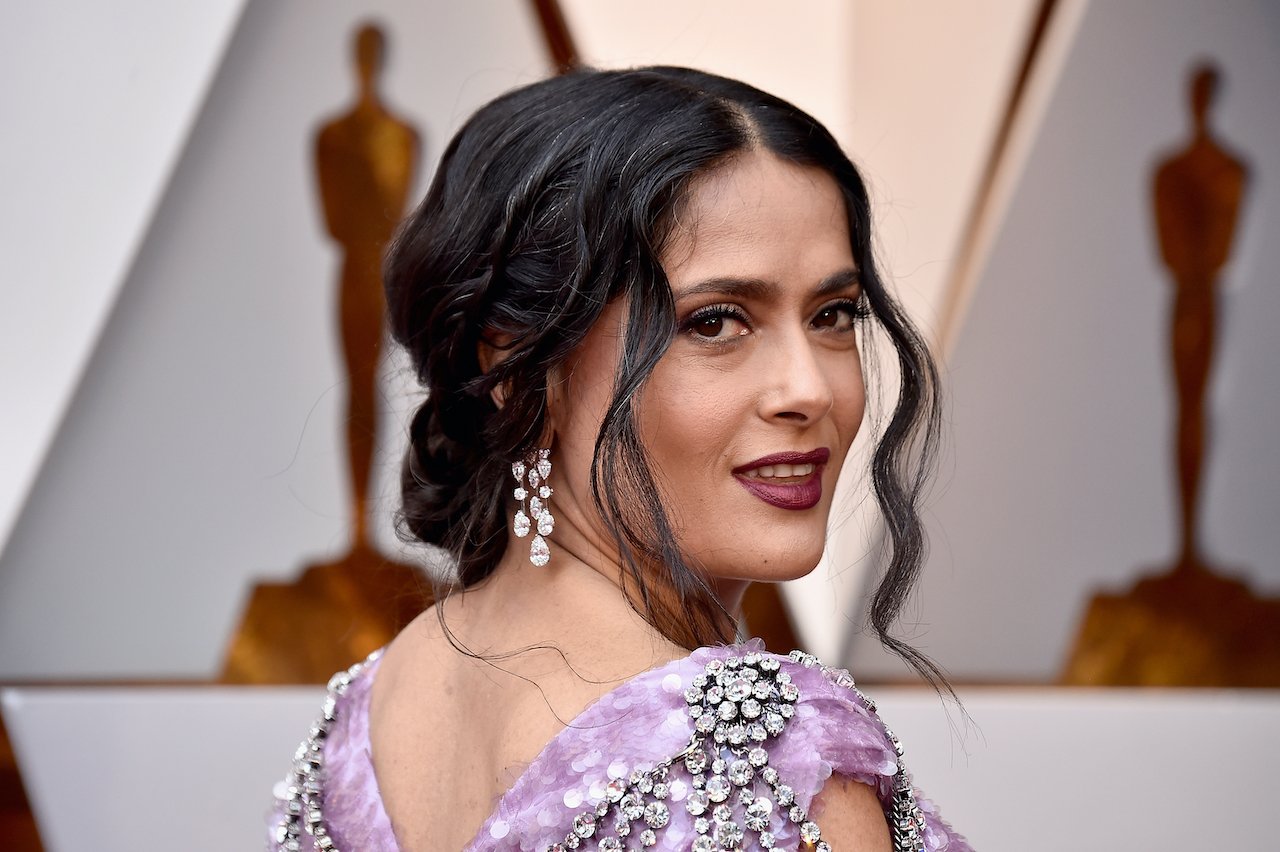 Hayek revealed that she educated Jackson on Spanish swear words during a recent interview with Kelly Clarkson, after being asked if Jackson—who is known for cursing in movies—taught her any new expletives. 
"I taught him some in Spanish, I can actually manage," Hayek said. 
Salma Hayek practiced her swear words for Samuel Jackson
Because Jackson has a reputation for swearing loudly in films, Hayek felt that she had to improve her cursing skills before they started shooting The Hitman's Wife's Bodyguard. In order to do so, she practiced vigorously. 
"Well, it's fun, but it was very intimidating in the beginning," Hayek told Jimmy Fallon. "I was like Robert De Niro in Taxi Driver, in front of the mirror practicing my 'mother—'. Because I had to say it in front of him a lot of times, and it's quite intimidating."
She curses someone out in Spanish in 'The Hitman's Wife's Bodyguard'
As it would turn out, all of Hayek's practice came into good use on set. She ended up having to curse someone out in Spanish in the movie, which came rather naturally to her. 
"There's a lot of improvising in this movie. And my character has—we all have our weak points—and for Sonia, her weak point is, you cannot talk about her age. She loses it, just goes crazy. And so, at one point I have to insult someone in Spanish, and because I have to improvise it's really interesting."
Even though Hayek is very skilled at cursing in Spanish, she still had some moments where that she thinks got out of hand. 
"I was kind of embarrassed of myself because of some insults that I came up with that are very graphical. And if you speak Spanish, you're just gonna go, 'Did she just say this?' 
Since starring in 'The Hitman's Wife's Bodyguard', Salma Hayek curses all the time 
Hayek's newfound knack for swearing didn't stop with The Hitman's Wife's Bodyguard. Now she curses around her kids all the time, a habit that can be problematic. 
"I have to be very careful because I still have a little bit of Sonia that comes out here and there. And I have my daughter, and one time I was just—she just went, 'Mom!' And I said, 'Oh, it was not me, it was Sonia.' So now I use it every time that I say something that I shouldn't say. I just say, 'It was not me, it was Sonia.'"
The Hitman's Wife's Bodyguard is now playing in theaters.