The Holderness Family Shares How They Are Riding Out the Pandemic
Social media influencers Penn and Kim Holderness have offered a number of ways to make the pandemic quarantine a little less heavy.
The family recently partnered with UNC Health to release a catchy and fun tune, "Gimme Six Feet." Penn told Showbiz Cheat Sheet the video features UNC healthcare workers demonstrating what six feet actually looks like for social distancing.
"We need people to watch a video that explains social distance as clearly as possible and as entertaining as possible," Penn explained.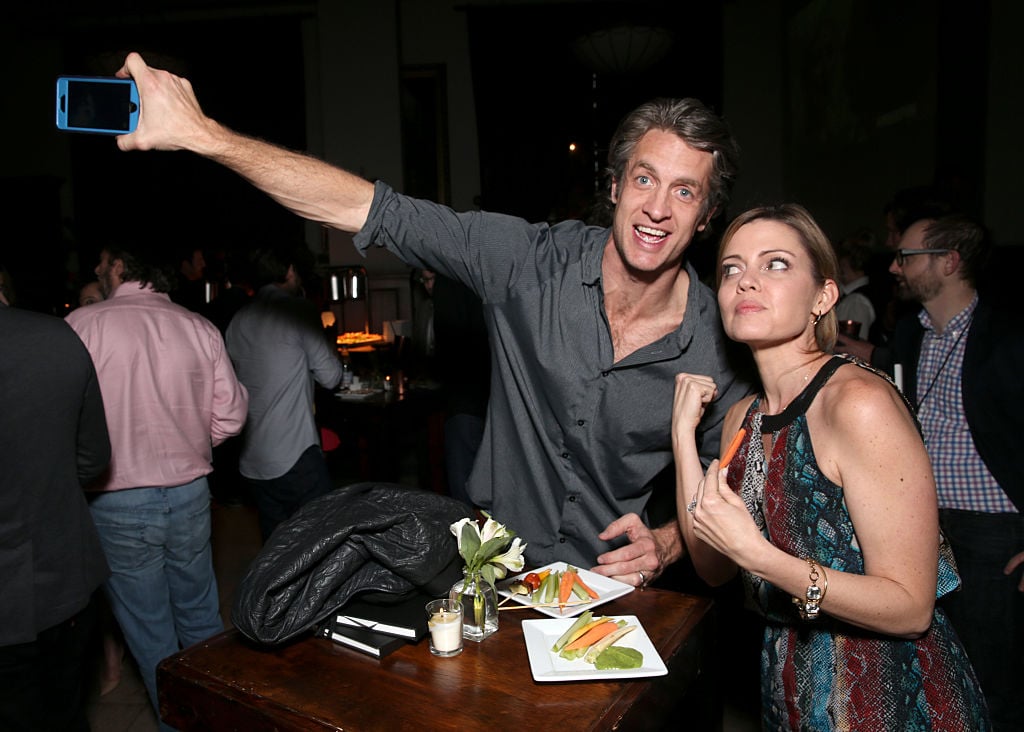 Penn and Kim explored all the fun and relatable examples they could use in the video, such as healthcare workers holding a tape measure that zigzagged through the office. Or the length of a cow. He also hilariously threw in "No close talkers like Reinhold in Seinfeld."
The Holderness family showed their children what it was like to be a kid in the 1980s
Penn and Kim also shot a video where they showed their kids what being quarantined would look like in the 1980s. They allowed Gen X to travel down memory lane, recalling horribly pixelated video games, talking on a landline (not to mention getting the dreaded busy signal), and the concept of bangs.
At one point Kim pretends to cut her daughter's hair and give her bangs. Her teen daughter Lola looks horrified and Penn says that reaction was not scripted. "Say no to bangs," Penn joked. "Don't ever, ever do that when under duress. But what you saw was not a fake reaction. Kim was joking."
The couple also recalled how television only included about three channels. "And most of the time they were playing some sort of soap opera that looks like this," Penn says standing in front of a TV playing what appears to be a 1980s soap opera.
"Look when they get into a fight they just stare at each other on the phone," he says. "And it gets closer, and closer. Until you can literally see up their noses and people didn't have nose trimmers back then!"
How are the Holderness kids handling the pandemic?
While fans may think the Holderness kids are experiencing a super immersive, creative time at home, Kim and Penn reveal they are actually taking it a little easy on the kids during this stressful time. Penn said his son Charles was outside shooting hoops. At the time, the kids were supposed to be on spring break. Penn said they had planned to go on a trip. So, in lieu of a vacation, Kim hosted a few fun virgin pina colada happy hours. The kids are also getting dessert or ice cream as a treat.
But Kim says she knows kids can be pretty stressed out between the scare of the pandemic and complexity of online school. But the family has also seen this as an opportunity to give the kids some autonomy. While some parents may be helicoptering over their kids to ensure they are logging in at school every day, Kim and Penn are giving their kids space and trust to handle those issues on their own.
Kim adds that attending school is, of course mandatory, but she's giving the kids more space. "I've really, really, really lowered expectations," she shared. "[The kids] are busy from nine till three. And they're older, they are 10 and 13. But I used to have really strict rules about screen time and how much reading they needed to do. And that is like gone. And that's really helping everybody. I do force them outside." She adds that kids can have a lot of anxiety and riding them about school and routines can only intensify the stress. She says that health and safety is the top priority right now.