'The Holiday' Sophie Actor Improvised 1 Line in the Mr. Napkin Head Scene
The Holiday is a Nancy Meyers romantic comedy that plays out over the course of Christmas and New Year's. As such the movie's become something of a seasonal staple since initially hitting theaters in 2006. 
One of the film's most memorable scenes involves Jude Law wearing a napkin on his head for laughs. Turns out, the scene involved some improvisation.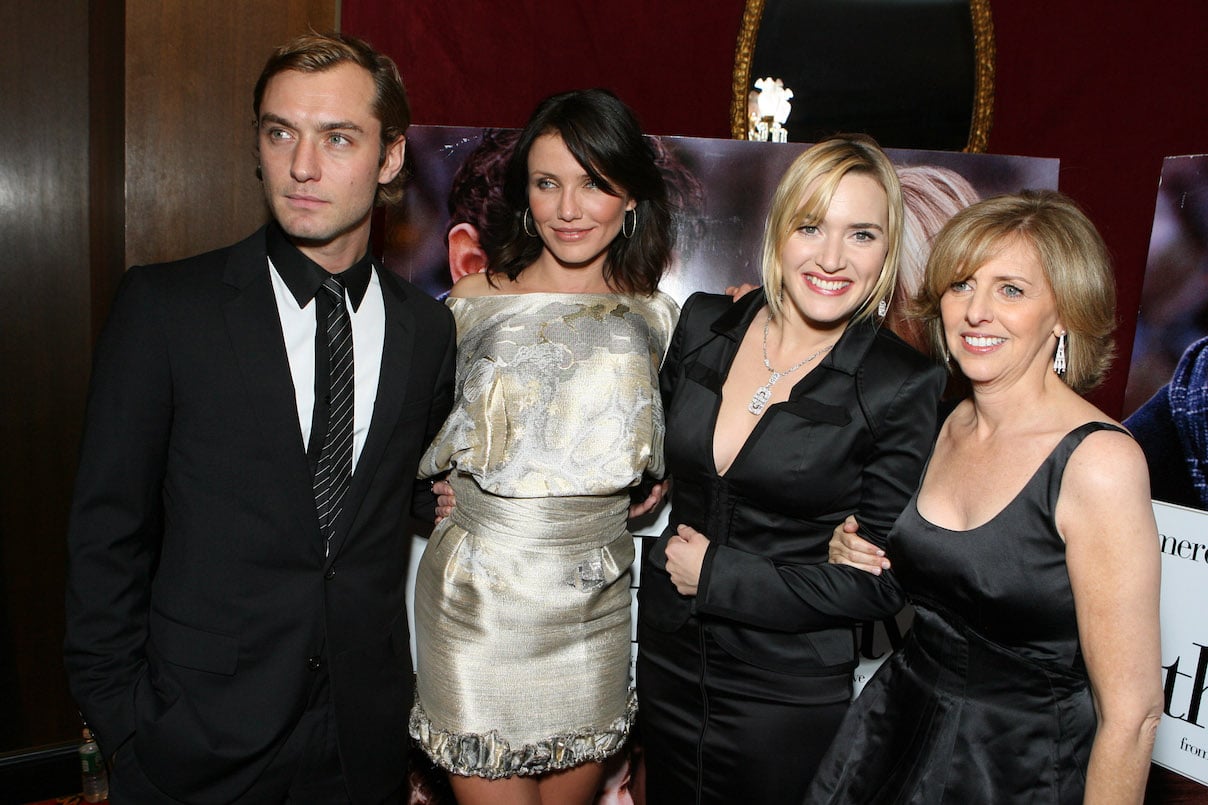 Amanda meets Graham's daughters when she surprises him at home
First, a little bit of background on the scene. Graham (Law), older brother to Kate Winslet's character, Iris, gets a surprise visit from Amanda (Cameron Diaz). Armed with a bag of food and wine, Amanda shows up at his house for a spontaneous evening together.
But what she finds is Graham with his two young daughters he failed to mention her earlier. Amanda heads inside to get to know Sophie (Miffy Englefield) and Oliva (Olivia (Emma Pritchard), whom she previously thought were other women Graham may have been seeing. She learns Graham is a widower and proceeds to have a sweet evening with him and his daughters. 
Sophie actor improvised 'You'll fall off your chair' line in 'The Holiday'
During an interview with Vulture, Englefield reminisced on The Holiday and opened up about the movie's Mr. Napkin Head scene. 
"With Mr. Napkin Head, when I say, 'It's so funny. You'll fall off your chair it's so funny.' That was completely improv, that was a one-time thing I said," she told the publication. "Never could reenact it, couldn't remember what I said at the time, and they actually used it." 
Englefield, who was only six years old when she auditioned for The Holiday, also shared that her father still teases her about the scene. 
"My dad loves it because he loves to point out the fact that I make a really stupid face during that line," she added. "He's held that against me for 14 years now, which is great, wonderful."
Jude Law also improvised lines in the Mr. Napkin Head scene 
Englefield wasn't the only actor to improvise during the Mr. Napkin Head scene. According to her, Law came up with some dialogue on the fly too. 
"While Jude's got the napkin on and he's doing the talking, that was complete improv, him just chatting away — when he says, 'Smoking's really bad for you,' and all that sort of stuff," she said. 
"There's a little chat that he has with Emma as well when she's asking about Cameron's accent, her American accent, that was complete improv as well," Englefield added.
"Quite a lot of the little moments in that scene were just seeing how we acted together onscreen. We just did whatever came naturally, and I think that's probably the loveliest part behind it."
Viewers might watch the film and think about how perfect Law seemed for the role of Graham. And that's because Meyers specifically wrote the part for him. She also wrote the parts of Iris, Amanda, and Miles for Winslet, Diaz, and Jack Black. 
See the Mr. Napkin Head scene and the rest of the romantic comedy by streaming The Holiday on Hulu or renting it on Amazon Prime Video.