The Hosts of Bravo's 'The People's Couch' Joke About Getting Brittany Cartwright From 'Vanderpump Rules' Involved in Politics
Bravo fans couped up in their cabins during quarantine are aching for the fresh and funny observations from best friends and comedians Julie Goldman and Brandy Howard from The People's Couch.
The hilarious show was like watching Bravo with your bestie, which has fans craving a return as they are feeling a little lonely and disconnected during the pandemic. Even though the show is no longer on Bravo, fans don't need to look far for Goldman and Howard's hysterical brand of humor.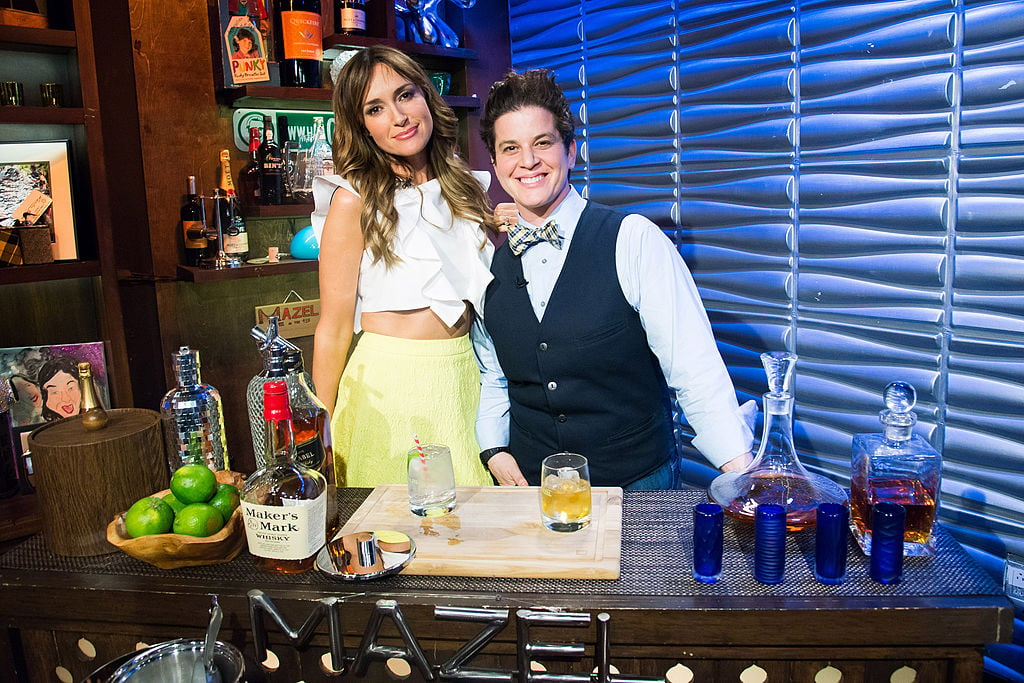 The duo hosts the engaging and downright witty podcast, Dumb Gay Politics with Julie & Brandy. They cover politics but also pop culture, which is often woven together in a delicious package.
Brittany Cartwright could help unseat Mitch McConnell?
Goldman and Howard do a deep (and funny) dive into politics, viewing the Trump White House as the juiciest reality show on the air. "In the podcast, we talk about it like we're talking about reality TV," Howard told Showbiz Cheat Sheet. "We don't have any control over it. So we do have to pretend it's just one big Housewives show that we're criticizing casting and the fake scripting." Goldman pipes up in the background, "The way they look and the hair extensions. And who has my back."
With the election only months away, Howard and Goldman are watching the race closely. Howard says the country may end up with Trump. And if that's the case, she and Goldman think perhaps enlisting Brittany Cartwright from Vanderpump Rules to help unseat Kentucky Senator Mitch McConnell might be a good way to balance the scales.
Before the pandemic hit, Howard mused about asking Cartwright and her mother to meet them at a Kentucky mall to rock the vote against McConnell. "We did the [Vanderpump Rules] After Show the first year Brittany was on and she was so nice," Howard recalls. "Jax [Taylor] is always our favorite too. So we were going to drag Brittany and her mom out to Kentucky, out to the mall. And be like, 'B*tch, surprise! We're all going to campaign against Mitch McConnell now.' We don't know what her politics are, but we figured she'd be like, 'Ok, whatever.'"
But they want to hear both sides
Howard and Goldman want to hear both sides on their podcast, similar to political comedians like Bill Mahr. They've hosted former White House Director of Communications Anthony Scaramucci, comedian Sarah Silverman, Dorinda Medley from The Real Housewives of New York City, and Lea Black from The Real Housewives of Miami. But they'd also love to banter with someone from the other side of the aisle too.
"We'd love to have Candace Owens on," Howard said. "When Kanye [West] went off the rails on TMZ, SNL, off his meds, he was quoting this woman, Candace Owens. Polarizing woman and as Republican as it gets."
Goldman adds, "She's a young, black woman, conservative Republican who hates liberal Democrats. We tried to get her on and she said she'd come on, but she just flaked." Goldman and Howard still hope Owens would consider a lively debate with them.
"At least she was willing to come on," Howard says. "Anthony Scaramucci has been on twice. He was a Trump supporter the first time. Then against Trump the second time. But Anthony Scaramucci was great because he wasn't scared and he wasn't ashamed." Adding, she doesn't understand how some Trump supporters shy away from debating their position with someone who holds a differing viewpoint.
They both agree about what it was like to work for Larry David
Another comedian who used Trump's platform for fodder is Larry David, who both Howard and Goldman have worked for in the past. David used a MAGA hat to deter unwanted company in the first episode of Curb Your Enthusiasm this season. Goldman didn't hold back when it came to describing what a pleasure it was to work for David.
Goldman appeared in Curb's victorious return season to HBO. She played Jeff Garlin's hairstylist and David becomes entangled in her wedding plans. In true Curb form, David ultimately ruins Goldman's character's wedding leaving David to say (of course), "No good?"
Goldman says the "no script" environment David is famous for was a dream come true and makes the show even funnier. "Larry David was warm and fun and laughing," Goldman recalls from her experience. "And open and willing to try things. He was respectful to everyone and professional. And he wasn't 'thirstbucketing' around. He just has his confidence even though he's not confident." Howard echoed Goldman's experience as she too worked with David on an Apple commercial. "He's just a nice, humble guy," Howard adds.