The Interesting Connection Between Ray J and Suge Knight
Apparently, Ray J and Suge Knight have more in common than just the music business. Ray J has had success as a singer and reality star but has used his platform to expand into the digital space and has produced top-selling tech toys. Knight's claim to fame is the infamous Death Row Records, that had hits from artists like Snoop Dogg and Tupac Shakur.
A new report revealed the close personal and professional business ties between the two men.
Suge Knight is a known gang member
Before owning a record label, the Compton, California native had a promising career as a football player. Knight attended and played football at El Camino College before transferring to the University of Nevada in Las Vegas where he played there for two years. He went undrafted in the 1987 NFL Draft but was invited to the Los Angeles Rams training camp, where he was eventually cut during practices. He did, however, play two games for the Rams as a replacement.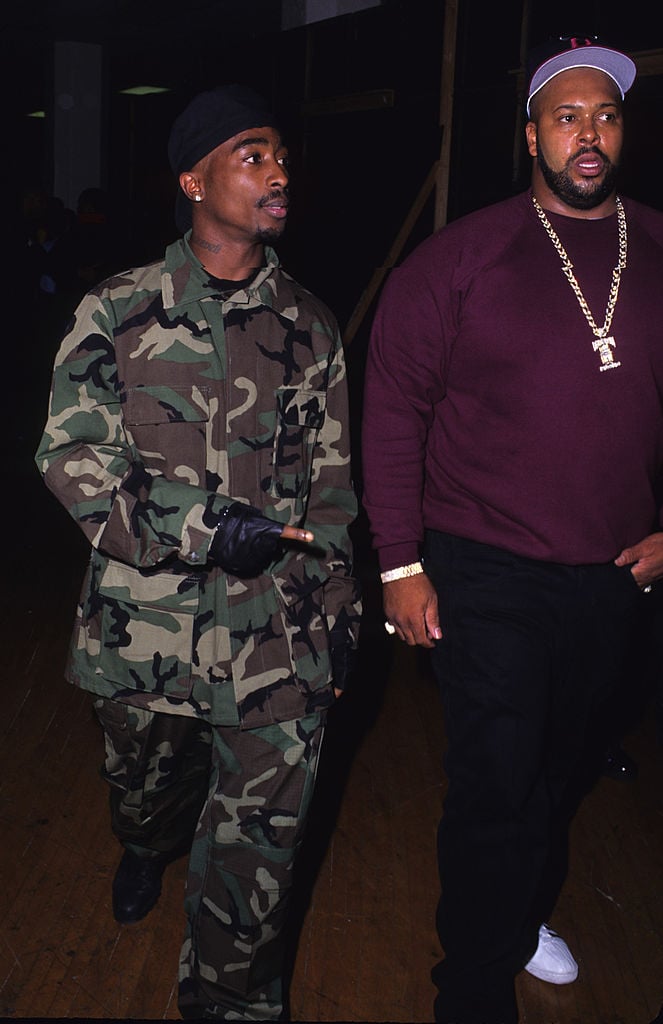 His introduction into the music business came from working as a party promoter and bodyguard for artists like Bobby Brown in the late 80s. He quickly gained a reputation for using intimidation practices, including hiring gang members and former police officers, to use aggressive and threatening behavior to get what he wanted in business deals. One of the earliest accounts of this is involved allegedly dangling rapper Vanilla Ice by his ankles over a hotel balcony in an effort to force him to sign over royalties. He was also said to have threatened former NWA member Eazy-E with lead pipes and baseball bats to make him release Dr. Dre from Ruthless Records, which Eazy owned.
Knight has made his affiliation with the California sector of the blood gang apparent. His record label, Death Row Records, had recording studios and offices decked out in red decor ranging from the carpets to the paint on the walls. He's also confirmed his affiliation publicly over the years.
Ray J says he used to be in a gang
Ray grew up in Carson, California and while he spent his teenage years alongside his superstar sister, Brandy, he says that he traded Hollywood for gang life at one point. On an episode of his family reality show, Brandy and Ray J: A Family Business, he admitted that he hung out with gang members.
He hinted about being affiliated with the California Bloods gang in his 2008 song, "Where You At," which featured rapper, The Game. The LA Times spoke with the singer about the song when he released his fourth full-length album. Though he did not outright admit to belonging to a gang in the interview, he did not deny it. The publication pointed out that at the time of the interview, Ray was dressed in a red bowler hat, black T-shirt and baggy black jeans, which was the style of the bloods at that time.
Ray later spoke with The Breakfast Club in a 2011 interview and confirmed that he was a gang member but chose to focus on music and his career in entertainment career full-time.
Suge Knight signs "life rights" over to Ray J
TMZ was the first media outlet to report that the former record label CEO sold his life rights to the reality star turned tech mogul. Though Knight is in prison for at least the next 10 years for a murder he committed, the notorious label head is looking to cash in while he completes his sentence.
Sources close to Knight revealed to TMZ that he expects Ray to make the right decisions with his story and make money for him and his family while he's behind bars. Knight and Ray have allegedly been friends for years and Knight trusts Ray's business mindset to handle his affairs while he's away.
Film and television deals, as well as book deals are said to be on the table for Knight. A major documentary about Death Row Record is rumored to be in the works, as well as a project about Tupac Shakur. Knight is said to be in ongoing discussions about bringing Death Row Records back.
It's unclear how much Ray will be involved in the creative aspects of the projects but time will tell!