The Interesting Reason Tyler Perry Doesn't Hire TV Writers
Tyler Perry recently made headlines after revealing that he doesn't have a writers' room — Why not?
Tyler Perry has made a name for himself in film and television. After breaking out with flicks such as the Madea movies and Why Did I Get Married?, Perry took his talents to TV. He has since developed a trove of shows across major networks including BET, OWN, and TBS.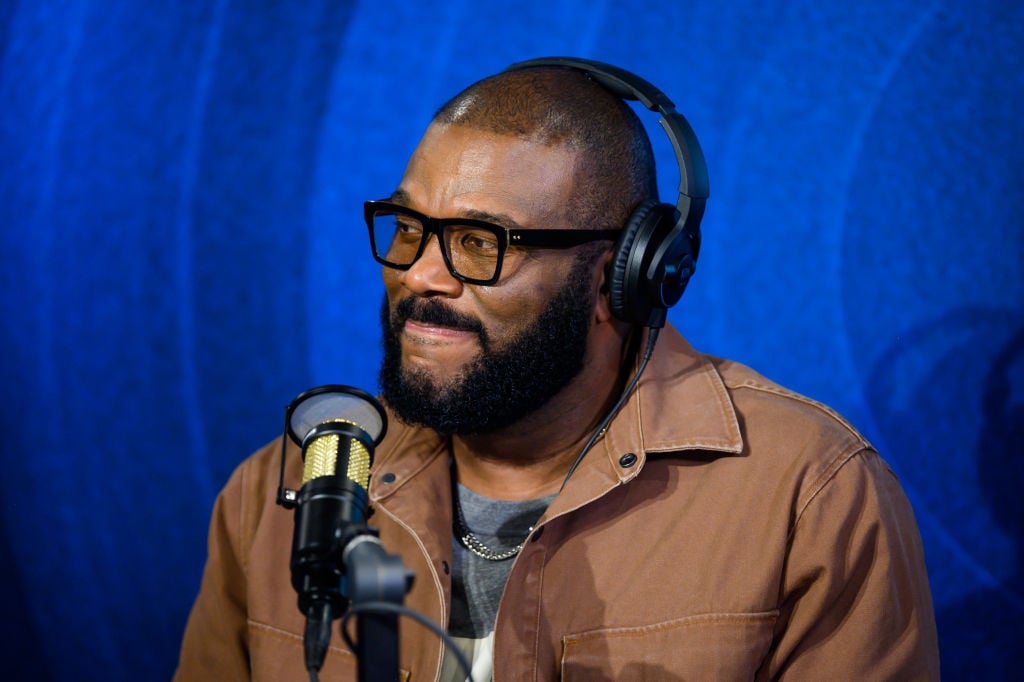 Recently, Perry showed off many scripts that he wrote in 2019, revealing that he produced them without a writers' room. His revelation received mixed reactions, with many people criticizing Perry for not using his platform to hire other creatives. But truthfully, there's an interesting reason behind his decision not to have a writers' room.
A quick recap of Tyler Perry's announcement
For those who might have missed it, Perry took to Instagram and Twitter on Jan. 6 with a message about his work ethic. Showing off scripts for shows such as OWN's The Haves and the Have Nots and BET's The Oval, and Sistas, Perry revealed that he wrote them by himself.
"So I don't know if you know this, but all shows on television have a writer's room," he said in the video. "And, most of the time, there are ten people or 12 or whatever that write on these television shows. Well, I have no writer's room. Nobody writes any of my work. I write it all. Why am I telling you this? I wrote all of these scripts by myself in 2019. Work ethic!"
Social media reactions to Tyler Perry's announcement
While some people are impressed by Perry's work ethic and commitment to his craft, others aren't so pleased. Many people feel that Perry is being selfish and missing out on an opportunity to improve the quality of his work, which has been criticized in the past for being flat and perpetuating stereotypes about African Americans.
One of many tweets reads: "Cute flex. But what this really confirms is that he's unequivocally responsible for what many perceive as poorly written, problematic, and colorist narratives centering Black women. Hate to see it!"
Another says: "Tyler Perry didn't need to announce he doesn't use writers for me to know. It's very clear from his body of work that he's working with limited creative economy."
While Perry has not yet directly addressed the backlash, he seemed to subtly respond to it on Instagram. He posted a photo of himself working alone in his "writers room" and thanked people who support his work.
"To the millions of you who are loving what I do and watch my shows every week, don't worry, I ain't stopping!!!" he captioned the image.
So, why doesn't Tyler Perry have a writers' room?
Perry confessed to ABC News in 2016, "I want the voice to be authentic so that the audience is hearing from me and not other writers."
Plus, he's apparently had negative experiences with writers in the past. In 2008, Perry reportedly fired four writers from his show, House of Payne. In a later statement from the labor union Writer's Guild of America West, the organization said:
"The Writers Guild of America West is taking on the fight for justice of writers who were fired when they tried to get a union contract with Tyler Perry's production company, House of Payne, LLC. The Guild today filed unfair labor practice charges with the National Labor Relations Board (NLRB), alleging that House of Payne unlawfully fired four writers in retaliation for their union activity."
Perry later reached a settlement over the matter.
Ever since, he's been doing it all on his own. And it doesn't seem like that's changing any time soon.