The Interesting Story Behind Kobe Bryant's Name
Find out the origins of Kobe Bryant's name here.
We all know Kobe Bryant, the beloved NBA star with five championship wins, two Olympic gold medals, and an NBA MVP honor under his belt. But the origins of his name might be a mystery. Although it's a nice moniker, it's certainly not one you hear every day. So where it'd come from? Here's the interesting story behind Kobe Bryant's name.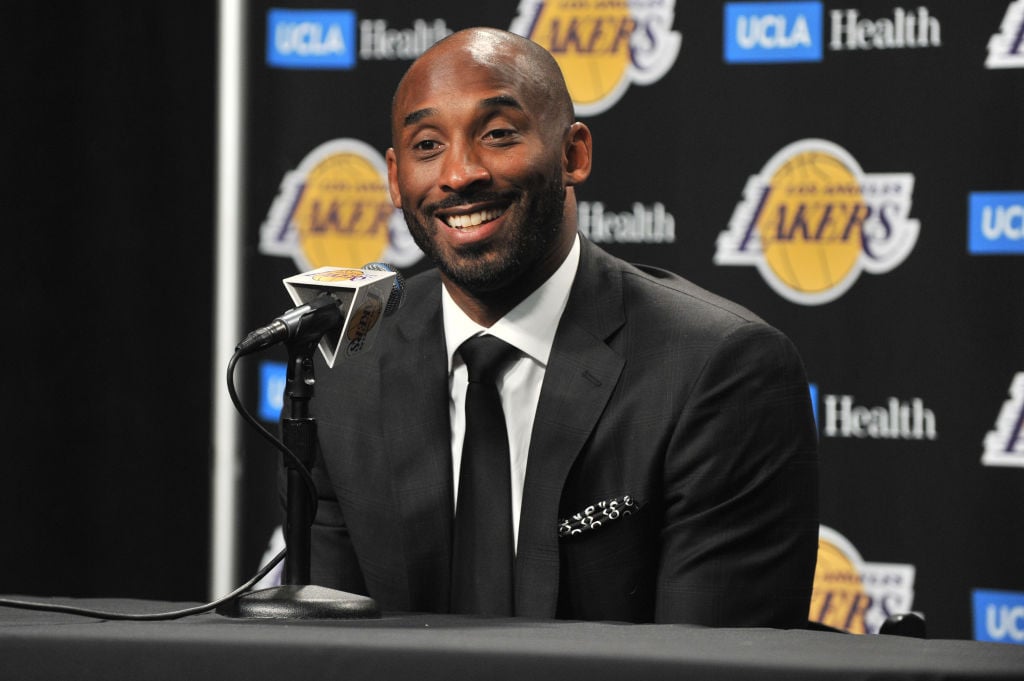 A look back at Kobe Bryant's early life
Kobe Bryant was born on Aug. 23, 1978, in Philadelphia to parents Pamela and Joe "Jellybean" Bryant. His mother and father named him after the famous Japanese Kobe Beef after seeing it on the menu at a restaurant. However, they made a slight change to the pronunciation. Bryant's name is pronounced "ko-bee" whereas the meat is pronounced "ko-bay."
The NBA star opened up about the origins of his name in a 2018 interview on the YouTube series Good Mythical Morning. When asked whether the beef inspired his moniker, Bryant said: "It's not inspired by it. It actually is the name of a beef."
"[My parents] sat down at a Japanese restaurant and they looked at the menu, saw the name Kobe and they were like, 'Oh, that's a cool name! Let's do it!" Bryant explained.
"My parents must have been smoking some really crazy sh*t," he mused.
Kobe Bryant had a rocky relationship with his parents
Problems between Bryant and his parents emerged after the baller became engaged to his eventual wife, video model Vanessa Bryant, in 2000. Pamela and Joe famously skipped the couple's 2001 wedding because they reportedly did not approve of the relationship.
People reports that Bryant and his family reconciled in 2005. But their relationship stalled again in 2013 after Bryant's parents tried to sell memorabilia from the NBA star's career without telling him.
Bryant filed a lawsuit in an attempt to block the sale and the matter was eventually settled. Later, Pamela and Joe issued an apology to their son, but the damage was done.
In 2016, Bryant opened up about the drama to ESPN and shared how it had impacted their bond.
"Our relationship is sh*t," he confessed. "I say, 'I'm going to buy you a very nice home,' and the response is, 'That's not good enough?' Then you're selling my sh*t?"
But he still tried to put the drama behind him. Sources told The Daily Mail in January that he and his family "had reconciled some of their past disputes" and were working toward strengthening their relationship.
The end of Kobe Bryant's life
In 2016, Bryant retired from the NBA after spending his entire 20-season career with The Los Angeles Lakers. He turned his attention to various business ventures and his daughter Gianna's budding basketball career. Just as he'd started settling into the next phase of his life, Bryant died tragically in a helicopter crash on Jan. 26.
Bryant had been on his way to a basketball game with eight others when the chopper crashed in Calabasas, California and caught on fire on a hillside. As of writing, the cause of the accident is still under investigation. But sources say that the weather might have been a factor, as the helicopter was traveling in seriously foggy conditions at the time of the accident.
Multiple 911 callers mentioned the fog on the phone, saying they could hear a chopper but were not able to see it before it caught fire.
One person who had been hiking in the area said (via KTLA): "I could hear this plane, as if it was in the clouds but couldn't see it, then we just heard a boom and a dead sound, and I could see the flames."
Another noted: "If anyone says that they actually saw it (the crash), they're lying. Nobody could see anything because it was so foggy."
The news of Bryant's death led to an outpouring of grief on social media, with everyone from Michael Jordan to former President Barack Obama sharing tributes. As of writing, funeral arrangements are being made but have yet to be revealed. We'll let you know if anything changes.