The Interesting Story Behind Vin Diesel's Iconic Tank Top 'Predates' Fame, According to the Actor
You can't think of Vin Diesel without his iconic tank-top situation. No matter the role or film, Diesel keeps it consistent. His rotating wardrobe of muscle-bearing tanks keeps fans satisfied. Here's why Diesel says the tanks came way before fame.
Vin Diesel wears a lot of tank tops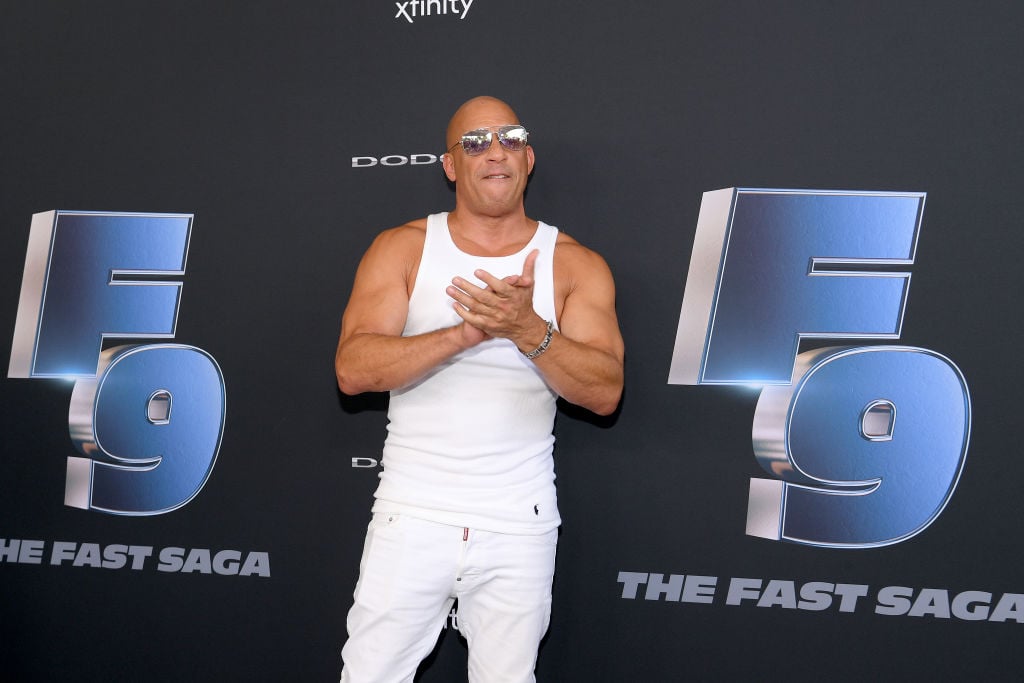 Fast and Furious star, Vin Diesel, may be known as an action hero, but let's give credit where credit is due: to his vast collection of tank tops.
Whether he's playing the longtime role as Dominic Toretto in the Fast and the Furious franchise movies, or his latest as Marine Ray Garrison in the recently released film, Bloodshot, Diesel rocks a tank top more than any other type of wardrobe.
Diesel's clothing has effectively reflected that of each on-screen persona.
"Dom's a pretty stoic, no-frills character who you can imagine under the hood of a car somewhere," Diesel recently told USA Today. "And coming off the plane and shedding his fatigues for a minute is kind of who Ray Garrison is."
The reasoning goes deep into Diesel's character development process and how he perceives each to see themselves in the world.
"Dom's always in control and we always feel safe with him because we know he's got it worked out," he said of his Fast and the Furious character.
On the other hand, "Bloodshot is the victim of his mental state being toyed with and manipulated. Nothing's real and you're going through the whole movie portraying a character that's completely in the dark, completely the foil of everybody else's agenda."
It makes sense. We'd like to think he even dons a tank while voicing Groot in Marvel's Guardians of the Galaxy.
Here's how the tank top 'predates' Diesels' fame
It may seem as though Diesel's extensive tank collection begins and ends with the Fast franchise, but it actually goes farther back, according to the actor.
"The tank top predates Vin. It's been a Vin Diesel thing before Vin Diesel got paid as an actor — that comes from a bouncer thing," Diesel said in the same USA Today interview.
That "bouncer thing" Diesel is referring to started when he was 17 years old. While attending Hunter College, Diesel worked part-time as a bouncer at the nightclub, Tunnel.
"He would come in on his nights off and dance by himself," ex-Tunnel manager, Ricky Marcado, previously told CNN of Diesel's breakdancing skills. "People would stop and watch him."
Coincidentally, this is when he traded his birth name of Mark Sinclair for Vin Diesel. The name alluded to his nonstop energy — like diesel fuel. He also admitted to shopping at the Gap where he'd return his shirts and tanks at the end of each month while juggling Off-Broadway jobs because money was tight.
A few years later, luck struck when director Steven Spielberg saw Diesel's 1995 short film, Multi-Facial, and cast him in the 1998 film, Saving Private Ryan. From there, Diesel was free to wear all the tanks in all the films.
Here's when fans can witness Diesel's newest tank collection in 'F9'
Though the ninth iteration of the Fast and Furious franchise was set to release in May of this year, it's now been pushed to April 2, 2021, due to the coronavirus (COVID-19) pandemic.
Meanwhile, Bloodshot is available to stream via digital download now via Sony.