The 'It's Always Sunny' Creator Says the Handling of Mac's Sexuality Upset Their LGBTQ Audience
It's Always Sunny in Philadelphia has been on the air for 14 seasons and counting. The series is known for pushing the boundaries of comedy, something that's easy to do when "the gang" consists of five dumb narcissists. Creator and Mac actor Rob McElhenney admits that he, Glenn Howerton, and Charlie Day have made some mistakes along the way in terms of taking some of their jokes and plot points too far. Something the show's LGBTQ audience was uncomfortable with, for example, was how Mac's coming out story was written.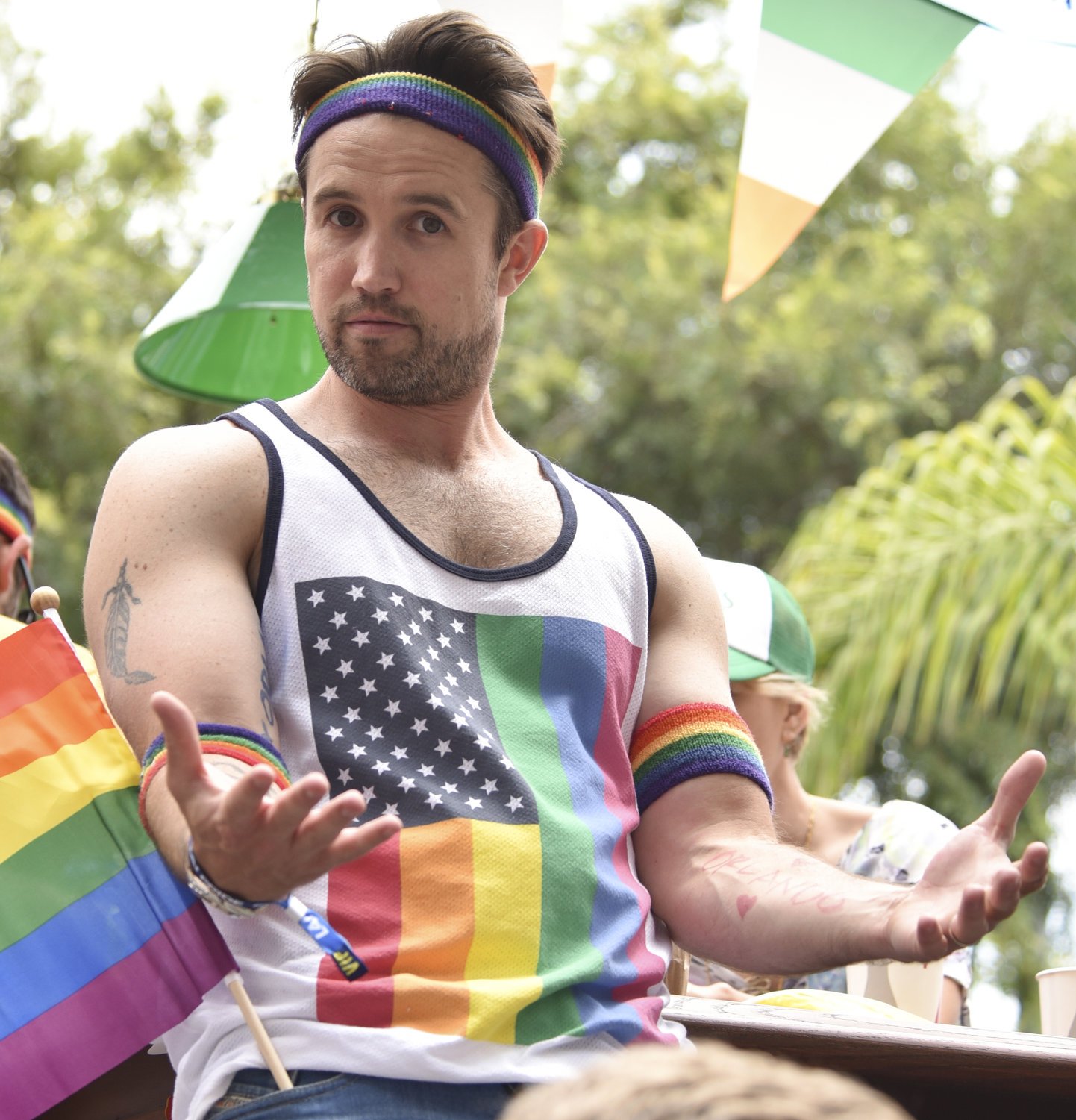 Why the 'It's Always Sunny' writers decided to make Mac gay
McElhenney says the decision to make Mac gay was actually born out of the character's ultra-conservative beliefs.
"We always take whatever viewpoint any character has to the extreme," he told Rolling Stone in 2019. "We have certainly mined plenty of comedy out of the extreme right and the extreme left. We were looking at Mac at one point, and I was like, 'He is such an arch-arch Catholic conservative when it suits him, and when it doesn't, he drops that.' And most of the people I know in that camp tend to be fairly homophobic. So we began going down that road: Let's satirize that hard Christian conservative who is also intensely homophobic. OK, so what's the next step from there? And that's when I thought, 'Let's just make him gay.'"
RELATED: Why Rob McElhenney 'Decided to Look as Terrible as Possible' for 'It's Always Sunny' Season 7
Though it may seem like the plan was always for Mac to be gay, McElhenney says the development came to them later. Even so, it kind of really made sense looking back.
"What we realized is, if you look back over the seasons, it almost worked retroactively," he said.
How Mac's coming out story upset the 'It's Always Sunny' LGBTQ audience
McElhenney said he and the other writers try not to take viewer opinions to heart when it comes to suggestions about how the show should go. But something that caught their attention was the reaction they received when Mac came out as gay.
"There was an episode where we had a running gag that Mac was in the closet and refused to come out, and everyone there knew he was gay except for him. The joke wasn't that Mac was gay, obviously. That would have been demeaning and offensive. The joke was that he was in the closet, and he refused to come out and doubled down on his homophobia. It was just poking fun at the hypocrisy of that. At one point, my character came out and then went back in the closet at the end of the episode," he said.
McElhenney continued: "I didn't expect it, but there was a massive outpouring from our LGBTQ fans, who were really upset. They felt like, 'Oh, wow, he finally came out. We feel represented. This is a really fun and cool character.' That made them feel like it was a chance for us to do something different, and we put him back in the closet."
RELATED: Charlie Day From 'It's Always Sunny in Philadelphia' Says Louis C.K. Had to Have a 'Social Reckoning'
After the season ended, McElhenney reflected on the decision and thought, "Man, that is a bummer. We had an opportunity there, and we screwed it up."
Of course, as fans know, Mac comes out again the following season.
"The response was so overwhelmingly positive, certainly from the people that we cared about, though of course there was a negative response from a segment of the audience we didn't care about. It felt good that we were recognizing a part of our audience in a way that was not pandering, that wasn't offensive or upsetting or a caricature," he said.
"We weren't creating a gay character for comedic effect, that was there just to be gay and to be funny because he was gay, but a very complex, very disturbed, very f*cked-up and awful character, who happens to be gay. And we ran with that," McElhenney continued.