The 'Jersey Shore' Catchphrases That Are Still Okay to Use — and the Ones That Aren't
MTV's reality series Jersey Shore has made several catchphrases popular. Find out which iconic Jersey Shore turns of phrase are still OK to use — and more importantly, those phrases you should cut out of your vernacular.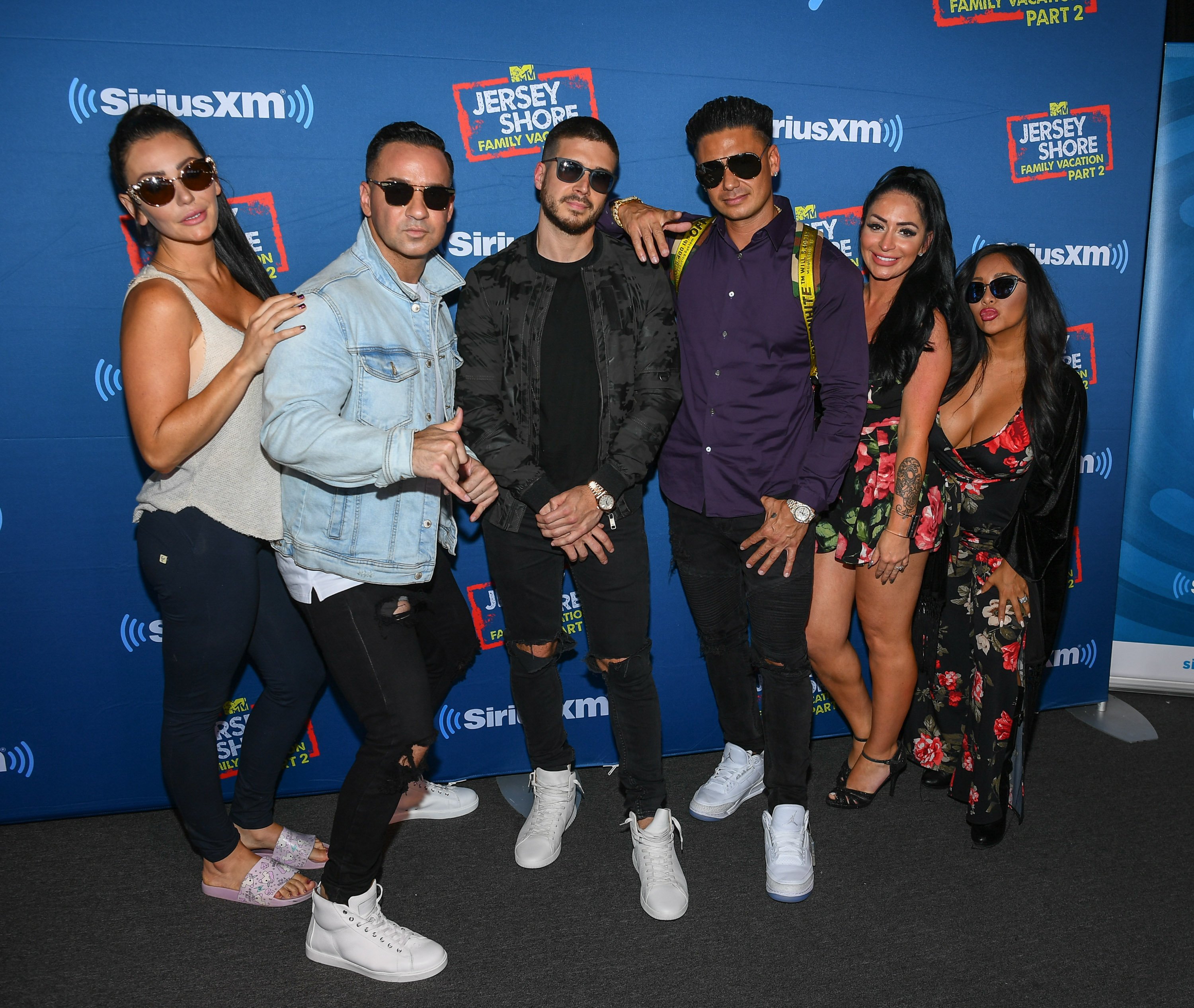 'Cabs are here!' 
Pauly DelVecchio's call to rally his roommates has become an iconic catchphrase for fans of the MTV series. For most people, any time the famed DJ announced that the cabs had arrived was a joyous occasion, but there were a select few viewers who eventually found his constant cries annoying. What's more, the phrase "cabs are here" has carried through to Jersey Shore spinoff shows, including Double Shot at Love. When DelVecchio and his pal Vinny Guadagnino would let women go, they would say, "Your cab is here." This term migh be semi-outdated — people tend to take Ubers and Lyfts nowadays — but that doesn't mean it's not OK to use. 
'DTF'
In the world of Jersey Shore, "DTF" is an acronym that stands for "Down To F*ck." While it may not be the kindest way to describe someone, "DTF" did become one of the show's most memorable catchphrases. Today, it's likely not as acceptable to use anymore — especially considering the way the cast of Jersey Shore would use the term as a label. 
'Gym, tan, laundry' 
"GTL" is more than just a catchphrase — it's a way of life. Throughout their time in Seaside Heights, New Jersey, the cast of Jersey Shore were often filmed completing their "gym, tan, laundry" routine. Fans of the reality show quickly adopted that routine as their own, using "GTL" as a simple way to describe themselves. This catchphrase is definitely still OK to use — it's a solid routine! 
'Grenades' and 'landmines' 
On the show, Mike "The Situation" Sorrentino defined "landmines" as "thin ugly chicks. On the other hand, "grenades" were "bigger ugly chicks." According to DelVecchio, "grenade" meant something different entirely. A "grenade" was the "unattractive friend" that would "blow up" by the end of the night. "There's always one friend that's great and there's always that other, unattractive friend, so we call her the 'grenade,'" DelVecchio explained to Vulture. "The reason we call her a grenade is because she always blows up at the end of the night. They're always like, 'I don't have anybody to meet, so I wanna go home.'" 
Today, neither term is really OK to use. Even DelVecchio doesn't think so! "You better be careful nowadays on television, [because] people are more sensitive," he said.
'Pulling a robbery' 
In the early days of Jersey Shore, the men in the house were often in competition to hook up with the most women. They would earn major bragging rights if they "pulled a robbery" as one of their conquests. Whether the women they were pursuing had boyfriends or a fellow roommate working on getting her number, the men of Jersey Shore took pride when they could successfully "pull a robbery" and "steal" women away from others men. This catchphrase wasn't well-received on the show, and it certainly wouldn't be well-received today. Not OK to use! 
'Come at me, bro' 
Another memorable Jersey Shore catchphrase, "Come at me, bro!" was made famous by Ronnie Ortiz-Magro. During season 1 of the reality series, Ortiz-Magro was antagonized by a drunk bar patron on the boardwalk.
After repeatedly being told, "Come at me," Ortiz-Magro replied with the iconic "Come at me, bro!" Since then, fans have used the phrase in various settings. In fact, the catchphrase still makes for one of Shore Store owner Danny Merk's best-selling T-shirts. "Come at me, bro!" is still OK to use — but do so with caution! 
'T-shirt time' 
"It's T-shirt tiiiime!" Like "GTL," "T-shirt time" was part of the Jersey Shore roommates' ritual to look their best. No matter how long it took everyone to get ready, it wasn't time to don a T-shirt until DelVecchio made the announcement. For many, Jersey Shore made life about "the shirt before the shirt." Both "T-shirt time" and "the shirt before the shirt" are still used by the roommates. These catchphrases have definitely withstood the test of time with Jersey Shore fans, too.