The Kardashian Curse Isn't the Only One James Harden Has Faced
Curses and sports go together like peanut butter and jelly. Feeding the inherent pettiness that comes with being a sports fan with the irrational connections people make between athletes and outliers, they are often a fun, harmless, and entertaining way to boil down complicated issues into easy-to-swallow explanations. James Harden knows a thing or two about curses, as he's fallen victim to two of the most famous sources in history.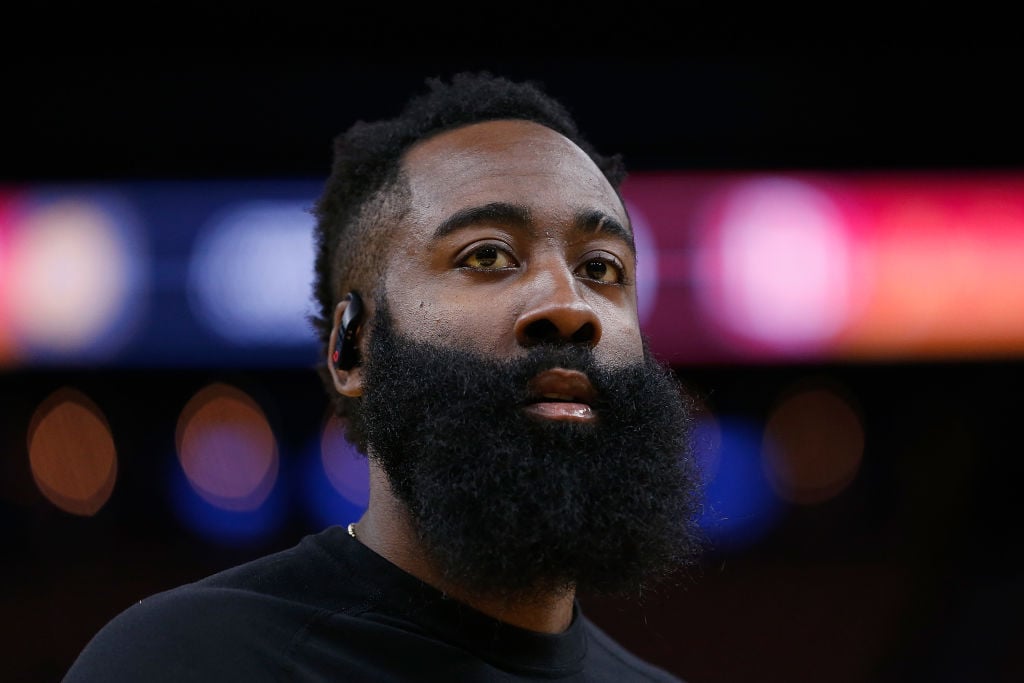 James Harden and the Kardashian Curse
Harden first got flack for being cursed when he was in an on-again, off-again relationship with Khloé Kardashian. Any time an athlete has dated one of the Kardashian sisters, rumors of a Kardashian Curse have run rampant on social media. Fueled by the fact that the Kardashian family has been everywhere in pop culture for over a decade, their penchant for dating athletes, and some sexist tropes that feed into the notion of the curse, the Kardashian Curse has been part of the lexicon for almost as long as the family has. 
One of the first notable examples was Reggie Bush. The once-hyped quarterback was dating Kim Kardashian West during the first years of his career. When it became apparent that he was never going to meet the hype that came with him, however, people took to blaming her. This followed the family around forever, as Kim went on to marry and divorce NBA Star Kris Humphries, Khloé went on to marry Lamar Odom, and younger sister Kendall dated Ben Simmons. 
Harden got the brunt of much of this when he started dating Khloé. Any time he struggled in a playoff game, social media was filled with memes blaming her and the alleged Kardashian Curse for everything that went wrong. Although the two have long been separated, Harden has still been hampered down by a curse of a different kind, too. 
The Lil B Curse
While Harden was still putting up with notions of a Kardashian Curse, he found himself the victim of another curse. Harden's former teammate Kevin Durant fell victim to the rapper's curses in 2011, when he tweeted that he wasn't a fan of Lil B's music. Lil B responded by saying Durant would never win a ring, and one year later Durant, Harden, and the Oklahoma City Thunder lost in the NBA Finals.
Now in Houston, Harden tasted the Lil B Curse, himself. This one wasn't about anything he said about the rapper. Instead, it was about the notion that Harden's signature celebration in which he mimes eating from a bowl was stolen from the rapper. Harden claimed not to know who Lil B was, but internet sleuths proved that this was another lie. Lil B responded with a curse.
It should be noted that since the curse, Harden has not won a championship, either. Durant finally got his curse lifted after he joined Lil B's hometown Warriors and immediately won two rings. Harden, however, has a penchant for fizzling out in major moments. Lil B has stated multiple times that the Harden curse is lifted, but Harden is yet to come out of the slump. Could another curse be on the way? 
Is Harden just cursed?
Curses are usually lighthearted jokes that occasionally go too far, but athletes and fans are also a superstitious bunch. Harden's struggles have nothing to do with who he is dating or which rapper he has enraged, but the memes and references to such a thing give fans fodder to run with it. If Harden continues avoiding a Championship run, fans can bet their bottom dollar that another curse will be blamed.
Sports fans are relentless. Whether a perceived curse has legs or not, some will joke about it, others will believe it, and a whole lot of content will come out of it. Harden has shrugged off notions of a curse, but he has also fed those looking for one to be there. Hopefully, he can circumvent these perceptions before it's too late, or these curses will be talked about until the end of time.