The Kardashians Are Reportedly Trying to Block a Book Inspired by Kim's Sex Tape Scandal
Here's what to know about the book based on Kim Kardashian West's infamous sex tape scandal.
The Kardashians are one of the world's most powerful and influential families. They've been a mainstay in the pop culture world for well over a decade. Their combined net worth is more than $1 billion and their legacy continues to grow each day.
Reportedly, the famous family is using that same power and influence to stop the release of a book based on Kim Kardashian West's infamous sex tape with Ray J. While the group has yet to address the matter, some sources shared what's going on in a new report.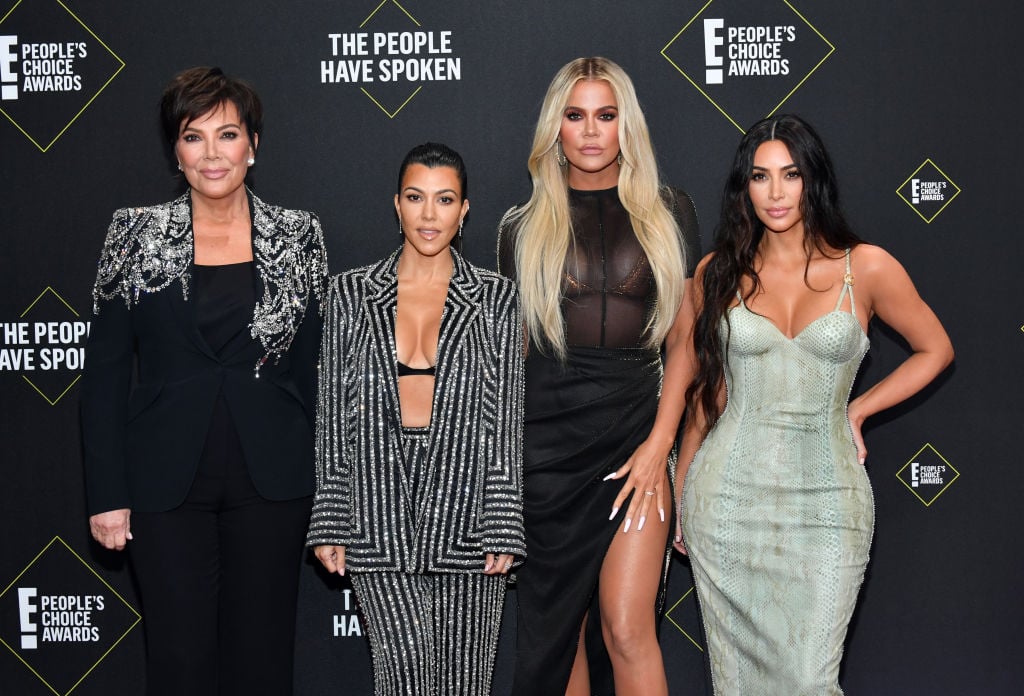 More on the book based on Kim Kardashian West's sex tape
According to PageSix, the novel centers around a woman named Zia Zandrian who puts out her own sex tape at the behest of her mother.
The author is former family confidant Kevin Dickson. PageSix reports that Dickson used to be a "go-between" between the family and In Touch magazine amid the Kardashians' rise to fame.
Several publishers were apparently interested in the book at one point, but a source told the outlet on March 21, "At least one publisher has been scared off by strong-arm tactics."
"It seemed a dead certainty that the deal would happen [with that publisher]," the insider said. "Another author [who writes for] the same publisher even reached out to Kev to say that they were excited because they'd heard that they were [now both] going be published by the same company." But then the publisher suddenly changed their mind and passed on the book, according to PageSix.
Some people connected to the publishing house told the outlet they were warned that they could face legal repercussions if they moved forward with the novel. But despite that, Dickson isn't backing down. The outlet reported that he is talking to two other publishers and might even consider adapting the book into a television series.
Revisiting Kim Kardashian West's sex tape
In October 2002, Kardashian West and Ray J went to Mexico to celebrate her 23rd birthday. They filmed the tape at a luxury resort they were staying in.
Somehow, it got out in 2007. Branded Kim Kardashian, Superstar, the tape was released to the public via Vivid Entertainment. Kardashian West denied any involvement in the tape's release and eventually settled with the company for $5 million.
She and her family parlayed the buzz from the tape into a hugely successful reality show, Keeping Up with the Kardashians, which debuted on E! in 2007 and remains on the air at the time of this writing. The series launched the family to superstardom, with each member achieving A-list status and racking up multi-million dollar fortunes.
There have been rumors that Kris Jenner orchestrated the entire thing in a bid to achieve fame and wealth — something she has fiercely and repeatedly denied. The momager claimed in her 2011 memoir, Kris Jenner…And All Things Kardashian, that she even "cried for days" over the matter.
"It was a horrible time for our family," she said (via Digital Spy). "That kind of thing is devastating, embarrassing, expensive and draining. Kim and I cried for days."
"We were so upset and anxious," she continued. "Kim knew she'd made a huge mistake and she had disappointed her family. She was so embarrassed that anyone saw her like that."
Kim Kardashian West has gotten more comfortable talking about the tape over the years
Kardashian West used to break down at the mere mention of the tape but as time went on, she started to loosen up.
For example, she openly talked about that day with Ray J in a 2018 episode of KUWTK, telling Kendall Jenner and Scott Disick that she had used ecstasy before the making of the video.
But while she's more comfortable talking about it, it doesn't mean that she's totally over it. The KKW Beauty mogul admitted in a 2015 interview with LOVE magazine (via Madame Noire) that she still considers the tape one of the worst decisions she's ever made in her life.
"If I do have one regret in life that's it," she told the outlet. Considering all that chatter that continues to surround the tape, we understand why.