'The Kardashians' Fans Think It Was Wrong Kourtney Kardashian's Kids Weren't Invited to See Travis Barker Propose
The Kardashians are back. Their new show, aptly named The Kardashians, focuses on the three sisters as they take on all aspects of their life. It's not much different from Keeping Up with the Kardashians, the original show that shot the three Kardashian sisters to fame. The difference is that now Kim, Kourtney, and Khloé Kardashian are all big celebs.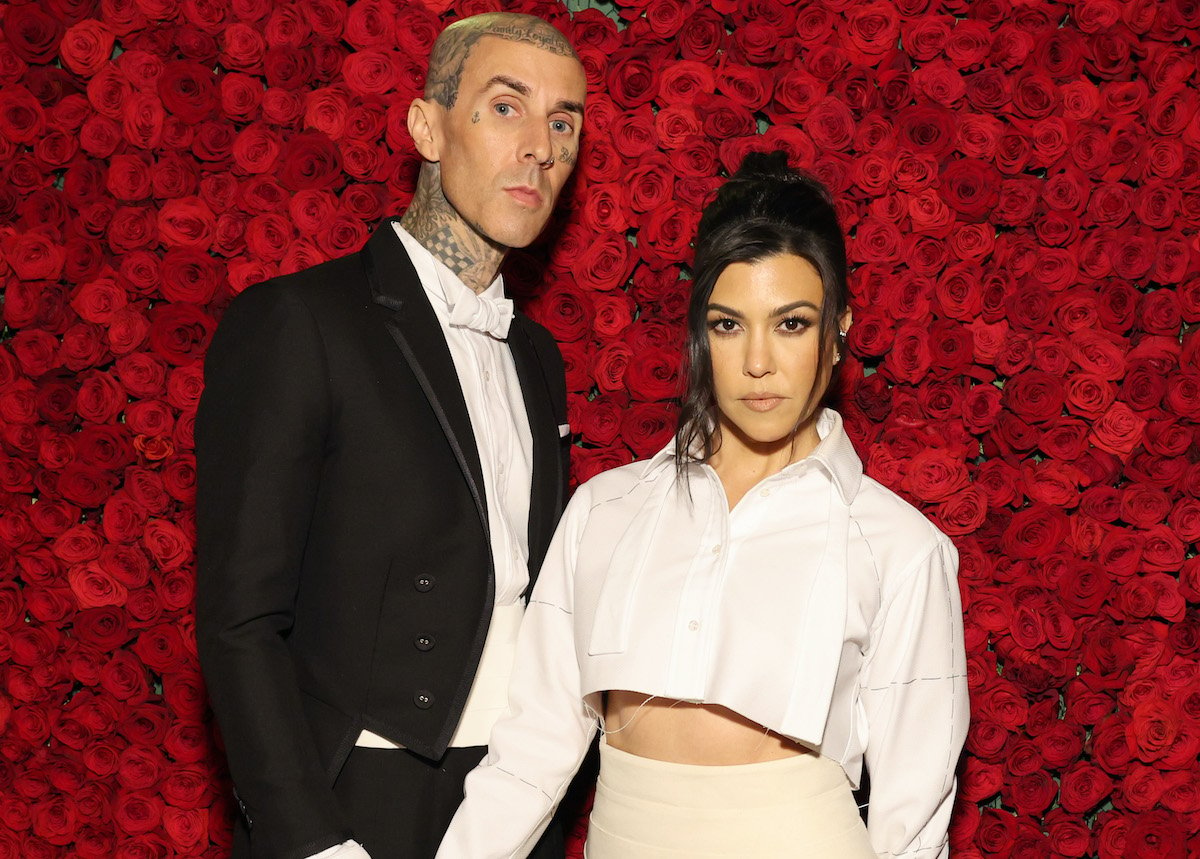 Kourtney Kardashian and her relationship with punk rocker Travis Barker are heavily featured on the new show. Fans watched as Kourtney got engaged to Barker, but something seemed off. Fans on Reddit were confused as to why Barker's two children were in attendance at the surprise engagement, but Kourtney Kardashian's kids were missing. 
Kourtney Kardashian and Travis Barker got engaged without Kourtney Kardashian's kids in attendance
Barker and Kourtney's mom, Kris Jenner, planned a beautiful surprise engagement party for Kourtney. First, Kourtney and Travis got engaged in a circle of roses on the beach. It was quite a romantic scene. 
Immediately after, the two gathered with their closest friends and family for an engagement dinner. Barker's two children with his former wife Shanna Moakler were there. Alabama Barker and Landon Barker are both well into their teens. Kourtney's kids are younger and were not present at the surprise engagement or for the dinner. 
Fans think it was strange Kourtney Kardashian's kids weren't there to see Travis Barker propose 
Fans on Reddit had a lot of opinions about the Disick kids being left out of the engagement celebration. Some thought it was a clear sign that Barker doesn't really care about Kourtney. "Not inviting the kids to the engagement was a sin. And I think Kris is taking the fall for it but I honestly think Travis just didn't give a f***," wrote one fan. 
In the episode of The Kardashians that aired the engagement, the sisters seemed to indicate that their mother had decided against having the kids at the engagement party. Jenner would have had to tell Scott Disick, the children's father and Kourtney's ex, about why they were coming. She didn't want to lie, and she didn't want to hurt him with news of the engagement. So she decided against having the kids there at all. 
Redditors also posted a Tweet about Jenner, calling not having them at the engagement an "awful decision." Kourtney herself liked the tweet. Still, Redditors thought that Barker may have been the one really behind the decision.
"Honestly can't stand Kris but I don't understand why this falls to her instead of Travis. He was the one who insisted on doing it on their anniversary, which was when they were at their dad's. Even if Kris said they shouldn't be there, he could have stuck to his guns and said 'No, Kourtney would want them there' if he cared," wrote one fan. 
How did Kourtney Kardashian's kids react to her engagement?
Adding fuel to fans' rage, the Disick kids did not seem to take the engagement news well. According to People, Penelope Disick, Kourtney's middle child, and only daughter took it especially hard. She burst into tears when her mother told her about the surprise engagement on a Facetime call. 
Kourtney's youngest child, her son Reign Disick, didn't seem to care much about the engagement at all, or even know what an engagement was.
As for Mason Disick, 12, Kourtney was unable to reach him on air to tell him about the engagement. Hopefully, he reacted positively to the news and wasn't too upset about missing out on the party. 
RELATED: Did Kourtney Kardashian and Travis Barker Just Get Married in Disneyland? Some Fans Think So