'The King of Queens': Jack Carter Was Originally Cast as Jerry Stiller's Character, Arthur Spooner
It's impossible to think about the cast of The King of Queens without thinking about Jerry Stiller. Portraying the part of Carrie's live-in father, Arthur Spooner, he frequently causes chaos in the Heffernan household. Arthur is, of course, a little unorthodox and often erratic with his energy and frequent outbursts. In fact, at times, Arthur seems to take pleasure in driving Carrie and Doug a little crazy.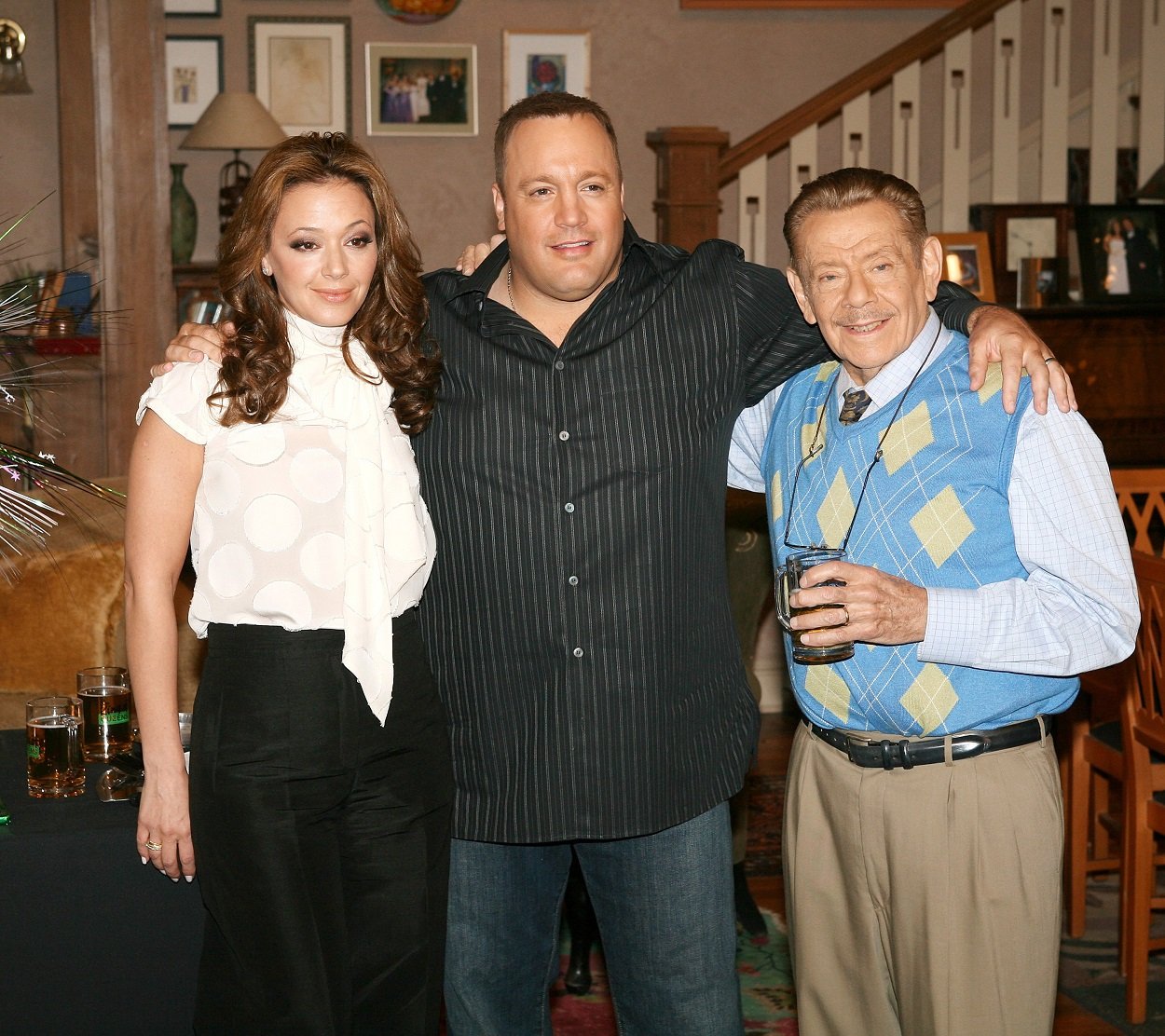 It's hard to imagine anyone other than Stiller in the role of Arthur. For nine seasons, he brought the character to life and wowed viewers with his performances. This is why most fans of The King of Queens would be surprised to discover that Stiller wasn't the original actor who was cast in the role. In fact, Jack Carter was originally supposed to play Arthur. Carter even shot the pilot episode of the show.
Jack Carter was originally cast as Arthur Spooner in 'The King of Queens'
In a 2006 interview with The Futon Critic, David Bickel (who served as the Executive Producer for The King of Queens) explained that both Carter and Stiller shot a version of the pilot episode of the show. When it was sent over to him, he had the unique opportunity of witnessing both actors portray their version of Arthur.
RELATED: Rainn Wilson Auditioned for Another Role on 'The Office' Before Being Cast as Dwight
"I don't know if you knew this, but the pilot was a hybrid pilot because they initially shot the show with Jack Carter in the Jerry Stiller part," The King of Queens Executive Producer shared. "So what they did was when they decided to do it with Jerry, they reshot just the first few scenes with him. So I'd be watching the show [with Jerry on-screen] and it was like, 'Oh, this is great" and all of a sudden Jack Carter would appear and it was like, 'Ahhhh! What's happening here?' But it was great. The pilot was so well executed."
Both Carter and Jerry Stiller shot the pilot episode of the show
Naturally, it was Stiller who would eventually join the cast of The King of Queens. But, Bickel, did have a run-in with Carter years later and he pondered how things would have gone if they left Carter in the role of Arthur. "Years later I was in Costco and who's there buying batteries yelling at his wife but Jack Carter," Bickel recalled. "And I'm thinking our lives would have really would have been so different – both of ours – by this one event."
But why was the role of Arthur recast? Recasting actually isn't unheard of in the entertainment world, especially early on in a TV series. Whether it's audience reception, actor chemistry, or something else, recasting can happen to almost any actor. In the case of The King of Queens, it was simply a matter of the powers at be getting the actor they'd really wanted all along.
Why Stiller replaced Carter in the cast
"I think they wanted Jerry to begin with but he wouldn't do it, couldn't do it, whatever it was," Bickel revealed. "So they went with Jack Carter. And then they realized they could get Jerry so they made that hard phone call to Jack." We're sure it was challenging for Carter to see Stiller take his place in The King of Queens. But, as they say, "That's Showbiz!"