'The Last Kingdom': Alexander Dreymon Discusses Uhtred's 'Respect' for Aethelflaed
In season 4 of The Last Kingdom, fans get to see Uhtred (Alexander Dreymon) with a new love interest. Aethelflaed (Millie Brady) and Uhtred finally take things to the next level, although the passion built up before season 4. Viewers are introduced to their love affair in episode 1 of the new season. It might have been shocking for some, but keen viewers know that the tension has been building between them for a while in The Last Kingdom.
Uhtred and Aethelflaed clearly care about each other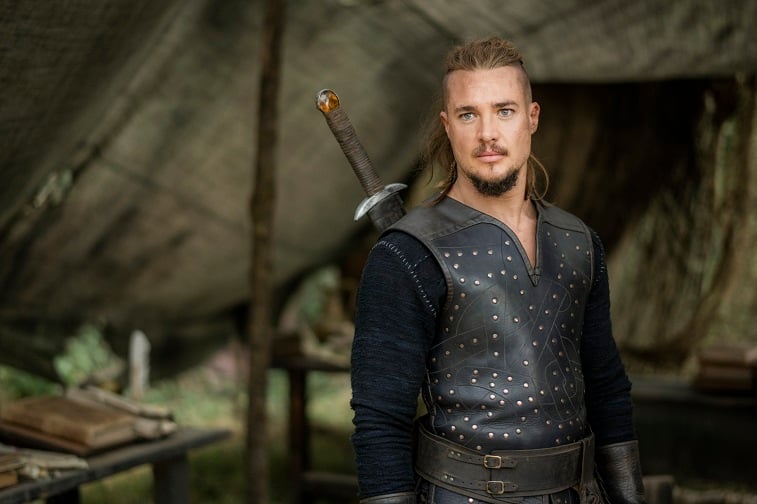 Uhtred and Aethelflaed have always cared about each other. They've known each other for a long time and Uhtred was sworn to Aethelflaed's father, King Alfred (David Dawson). Since Aethelflaed was just a child, Uhtred has protected her family and kept them safe.
Uhtred rescues Aethelflaed on one occasion and she kisses him. In another moment they reunite and Aethelflaed makes her feelings pretty obvious when she asks Uhtred to kiss her. He tells her he'd enjoy it, but later regret it.
When season 4 begins, Uhtred and Aethelflaed are clearly lovers, so it's to be assumed they built their relationship up. Uhtred is always willing to come to her aid and she knows it. There is also mutual respect for one another that bolsters up the relationship.
Alexander Dreymon discusses Uhtred's 'respect' for Aethelflaed
RELATED: 'The Last Kingdom' Season 4: Fans React to That Uhtred and Aethelflaed Moment
Winter Is Coming spoke with Alexander Dreymon before the premiere of season 4. He details the relationship Uhtred shares with Aethelflaed in the new season. He says "respect" is a very important factor in the unique relationship.
"From when she was a child he's always been affectionate of her," Dreymon said. "Aethelflaed has always been the sunshine in Uhtred's life. It's a cool relationship because it went through so many stages. I think the prevalent thing in their relationship has been a tremendous amount of respect. And now that she has grown into the leader that she is, he really respects the tough choices that she's had to make, the responsibility that she's carrying with so much grace."
The relationship doesn't last
In the new season, the relationship is compromised when Uhtred is chosen as the new leader of Mercia. He abdicates immediately in favor of Aethelflaed, who takes a vow to remain chaste while in charge. This means she can't be with Uhtred anymore and she is forced to give him up. It's a difficult moment when they say goodbye because they clearly care about each other but they can't really be together.
"It's a difficult relationship because there's this thing between them, they can't actually be together and that's tough to navigate. But she gives him the warmth that he needs to keep going," Dreymon said.
Uhtred and Aethelflaed care about each other, but they can't make things work in the current climate. It's a difficult pill to swallow and Uhtred chooses to leave because it's too painful to remain near Aethelflaed and not be with her. However, he does promise to come whenever she calls for assistance.
Although it was brief, the love Uhtred and Aethelflaed share is real in The Last Kingdom.