'The Last Kingdom': Alfred Didn't Trust Uhtred From Their Very First Meeting
In the popular series The Last Kingdom, Alfred of Wessex (David Dawson) doesn't trust Uhtred (Alexander Dreymon) from their first meeting in season 1. We have all the details as to what happens and why he doesn't trust him.
Uhtred goes to Wessex in 'The Last Kingdom'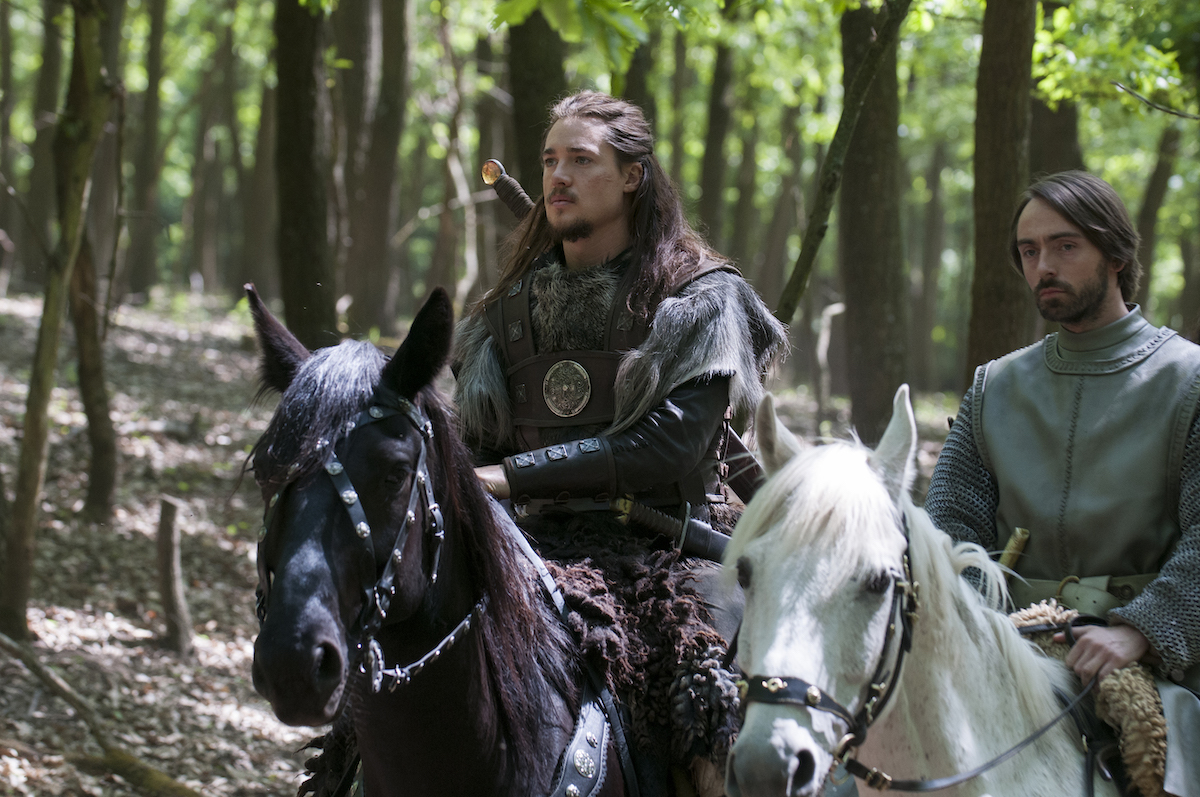 Uhtred's father, Lord Uhtred (Matthew Macfadyen), is killed by Vikings in the ninth century. Uhtred watches it happen, and he charges the battlefield to fight. He ends up being abducted as a slave in the household of Earl Ragnar (Peter Gantzler), and he's eventually adopted and becomes one of the family. He develops into a Viking, adopting their ways and culture as his own. But when his father, Ragnar, is killed along with most of the other members of his family, he eventually makes his way to Wessex just as Father Beocca (Ian Hart) told him to do.
Years before, Beocca warned Uhtred that his uncle, Aelfric (Joseph Millson), wanted to kill him. Beocca tells him to go to Wessex, and he does, where the priest has been waiting for him as Prince Alfred's priest.
Uhtred and Alfred meet for the first time
In season 1, episode 2, Beocca takes Uhtred, who's accompanied by Brida (Emily Cox), to meet Prince Alfred, who will eventually become king. Alfred and his guests head to where he has everything written down, especially information about his enemies.
"Father Beocca has talked much about you, Uhtred," Alfred admits. "He believed you a prisoner, a slave to Earl Ragnar. Is that the case?"
"Ragnar was a father to me," Uhtred tells him. "I loved him."
Alfred questions the fact that people are saying Uhtred killed Ragnar, which is a lie, as Aelfric, Kjartan (Alexandre Willaume), and his son, Sven (Ole Christoffer Ertvaag) were behind the attack. Alfred reveals that Kjartan is now the Earl, and he won't want the news of Ragnar's true murderers to get back to Young Ragnar (Tobias Santelmann), Ragnar's son.
Alfred didn't trust Uhtred from their first meeting
RELATED: 'The Last Kingdom': Fans Weigh in on the Death That Changes Everything
When Uhtred asks how Alfred received all the information he has written down, Alfred says, "I have eyes and ears in each of the kingdoms."
He shares his dream of a united England with Uhtred, saying, "One day, it is my hope that all kingdoms will become one, united under one god." 
"One king," Uhtred responds. "If all men can agree, yes," Alfred says back to him.
Alfred says, "All that remains of England is Wessex. The birth of an England, the idea of a single kingdom called England has to begin here. There is nowhere else."
Brida asks how long Wessex can "remain," to which Alfred replies, "The fate of Wessex will be determined by Englishmen, all Englishmen. Only by joining together and saving Wessex can we have England. All by saving Wessex can we have a Northumbria, a Bebbanburg."
"And if Wessex can't be saved?" Brida asks, skeptical.
"Then we are all no more," Alfred says. He also tells them that the Danes have assembled a large army and that they will "need every advantage." Beocca considers Uhtred to be just that adding, "Whereas I believe you are here solely to hide, to save yourself. I look at you, and I see a Dane. I see Uhtred of nowhere, who cares for no one but himself."
Alfred goes to pray, and his skepticism goes with him. He doesn't trust Uhtred from the beginning, which is obvious when he straight up tells him that he's just there "to hide." He believes Uhtred is just trying to help himself, and he doesn't trust him or his intentions. Uhtred has become a Dane, and Alfred thinks he can't trust him since he feels that Danes are his enemy. This feeling never really goes away for Alfred, even after he becomes the King of Wessex. He never fully trusts Uhtred, and their relationship is more than tumultuous at times. However, Uhtred does help Wessex on more than one occasion, something Alfred acknowledges during their final conversation.