'The Last Kingdom': Get a Behind-the-Scenes Look at Jeppe Beck Laursen as Haesten From Season 3
The hit series The Last Kingdom is quite popular among its loyal set of fans. However, the series will conclude with season 5, which has just finished filming.
Jon East, a director for the series who has directed episodes in previous seasons and who will also direct in season 5, recently shared an image of Jeppe Beck Laursen as Haesten from season 3.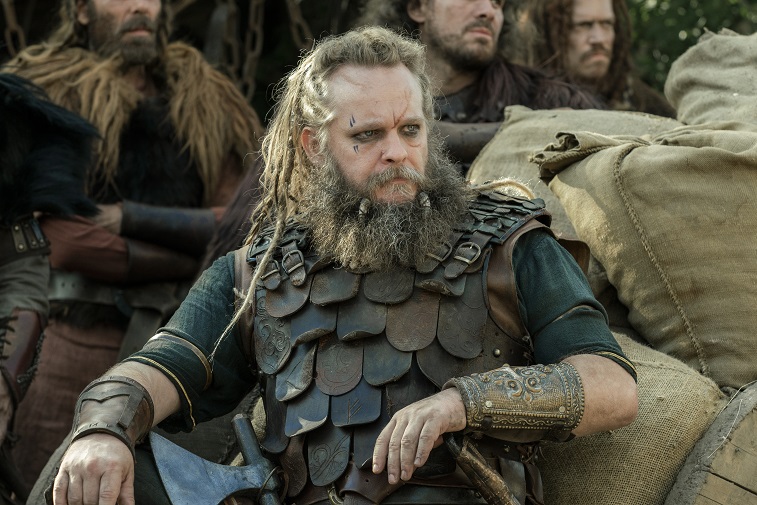 'The Last Kingdom' season 5 has finished filming
Fans recently learned on June 22, 2021, that filming in Hungary for season 5 of the series has officially finished. Director Jon East shared the news via social media, including Instagram. In the post, a clapperboard can be seen in someone's hand. The clapperboard has the name of the series on it as well as the date June 21, 2021. Jon East's name is also on it as the director.
East captioned the post revealing the news: "It's most definitely a wrap!!! As of last night, TLK5 is in the (digital) can. Phew! That last block – eps 9&10 – was an absolute monster, a BEAST, which eclipsed in complexity and scale anything else that I've directed on this amazing show since I first helmed episodes back in 2016. If nothing else, I can at least reveal that the show's last season is going out in truly EPIC style! Big thanks here to the remarkable team that worked with tireless devotion to make it so, you are all stars! Respect."
The official social media accounts for the series also shared the news via East's posts as well.
Get a behind-the-scenes look at Jeppe Beck Laursen as Haesten from season 3
RELATED: 'The Last Kingdom': The Best Fan Predictions for Season 5
Jeppe Beck Laursen plays the Dane Haesten. The character plays both sides when it suits him. He causes all sorts of trouble over the years. He even takes some of the characters captive, including Lady Aelswith (Eliza Butterworth) and Stiorra (Ruby Hartley), and brings them to Winchester and Sigtryggr (Eysteinn Sigurðarson) in season 4. Haesten even tries to have Uhtred and his men killed, but that of course doesn't play out how he expected.
On June 27, 2021, director Jon East, who has been known to share behind-the-scenes content from the series, shared an image on Instagram of Jeppe Beck Laursen dressed as Haesten from season 3. He's seated on a platform in front of a blue drape as he appears to hold some gloves. Another person from the crew stands nearby as Haesten looks off. It's a shot from the side, and surrounding them are trees with branches without leaves.
East captioned the post: "Now…. who can guess what we were up to here with Haesten for ep6 of TLK3? 😉."
East added a comment with more context: "Okay, this what we were doing; Jeppe's horsemanship is excellent, but the script called for a stunt that required a particular expertise – necessary to perform a sudden gallop and emergency stop to intercept Skade in her attempt to flee – possessed by one of our stunt team. Here in this photo you see us capturing Jeppe's face against blue screen, so that we could later use vfx to composite it onto the head of the stuntman for one particular shot in the sequence."
It's always great to see behind-the-scenes photos from The Last Kingdom. We'll have to see what else is shared before season 5 drops.