'The Last Kingdom': Can Uhtred and Brida Ever Repair Their Friendship?
Uhtred (Alexander Dreymon) and Brida (Emily Cox) have been through a lot over the years in the hit series The Last Kingdom. They were extremely close as children, and it's sad to see how much their relationship has negatively changed in season 4. Can they ever repair their friendship? Read on to see what the evidence suggests.
Brida has a lot of anger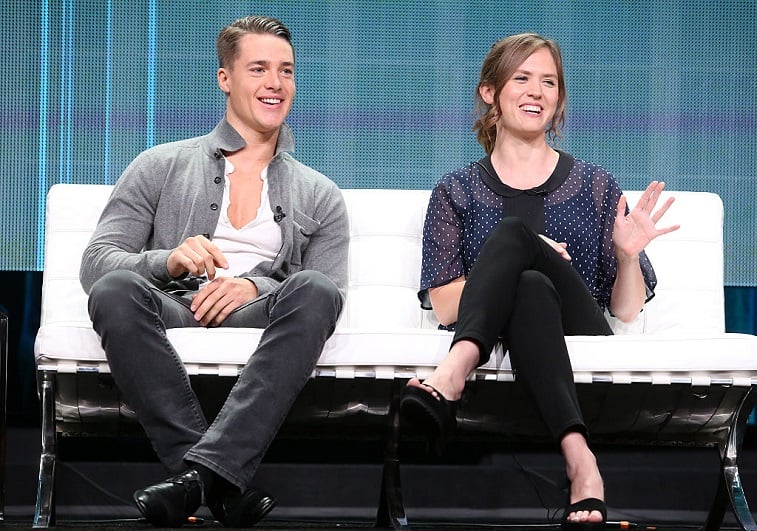 Brida has been burned by many men in her life, and when she loses the love of her life, she changes in ways that are hard to imagine. At one point she was deeply in love with Uhtred, but he chose the Saxons over the Danes and she can never forgive him for it. Over the years, they've encountered each other from time to time and their relationship has remained pretty tumultuous, and the new season is no different.
Uhtred reveals the truth to Brida
In season 4, there is a great battle between the Saxons and the Danes. Things will never be the same between Uhtred and Brida when the battle is finally over. Cnut (Magnus Bruun) finds Uhtred during the battle and they fight because Cnut thinks Uhtred killed his son, which he didn't.
Uhtred confronts Cnut about the truth of Young Ragnar's (Tobias Santelmann) death. He was the love of Brida's life and Cnut manipulated and pushed Aethelwold (Harry McEntire) to kill him. Brida, who is pregnant with Cnut's child, stabs him to death when she hears him admit what he did. She could never forgive him for killing someone who meant so much to her.
RELATED: 'The Last Kingdom' Season 4: What Do Fans Think of Brida This Season?
Brida is captured and taken by the Welsh
Brida doesn't stay long to chat with Uhtred, but instead runs out of there, but not quite fast enough. The Welsh surround Brida and she pleads with Uhtred to send her to Valhalla. She wants to be reunited with Ragnar, but all Uhtred can do is stare at her in the moment. The Welsh take her as a prisoner and she is treated terribly until the Danes rescue her.
Can Brida and Uhtred ever repair their friendship?
So much has happened between Brida and Uhtred, that It's hard to believe that they could ever repair things between them. They meet up again in Wessex at the end of season 4 and Brida tries to kill him. She says she won't rest until everyone who has betrayed her is dead. Uhtred lets her go, but she promises to breathe her hate into her child as well.
It doesn't seem like Brida and Uhtred can ever move on from what's happened between them. Too much time has gone by and things have been left unsaid. Their friendship will never be the same, not like when they were young. This certainly isn't the last time the two will meet though.
If The Last Kingdom is renewed for season 5, chances are that Brida and Uhtred will meet again and things won't be very cordial. We'll have to wait and find out how things play out between them.