'The Last Kingdom': Could We See Uhtred's Missing Son in Season 5?
Fans really seem to enjoy season 4 of The Last Kingdom. It's action-packed and full of lots of new characters for fans to get to know. However, one seemed to be missing in the new season. Uhtred (Alexander Dreymon) has another son in season 3, but there is no mention of him in season 4. Could we finally lay eyes on him in season 5? Read on to learn what the evidence suggests.
Uhtred has a third living child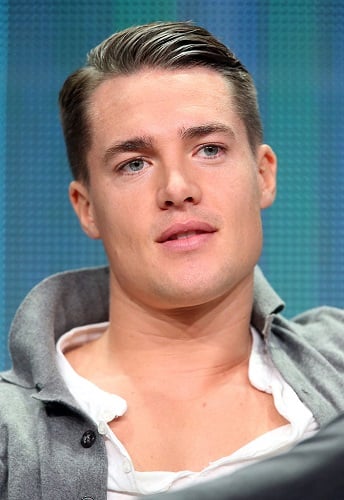 Fans may recall that Uhtred's wife Gisela (Peri Baumeister) died bringing Uhtred's child into the world. She gave birth to a son, but he isn't even mentioned in season 4. Fans were concerned and considered it a plot hole on Reddit.
Fans did get to meet Uhtred's two oldest children who are now teenagers in the new season though. Their names are Young Uhtred (Finn Elliot) and Stiorra (Ruby Hartley). Watching Uhtred interact with his children was a breath of fresh air for fans. Although many viewers still want to know where Uhtred's missing son is.
Where is Uhtred's missing son?
Eventually someone was smart enough to ask the executive producer of the series, Nigel Marchant, about the situation. RadioTimes.com held a live Q&A segment about the new season and Marchant participated. He was asked about where Uhtred's missing son was in season 4, something that's been bugging fans since the season premiered.
Marchant went on to explain that there are a lot of new characters in this new season, and a lot of young characters especially. There are only 10 episodes in total to move the story along and develop the new characters as well as the old at the same time.
"So there was a conscious decision about who we really wanted and who is propelling the story along," Marchant explained. "We didn't want to cheat the audience by not meeting the characters and going on a journey with them. There's a lot of characters in any ensemble piece and that means there's a lot of mouths to feed for the writer."
Marchant said "it would be one character too many." There is a lot going on in season 4, and with only 10 episodes, Uhtred's younger son wasn't part of the action. "So, we really felt that we were introducing Uhtred's two children, we also had Aelfwynn and Aethelstan who were caught up in all the action, and just that it would be one character too many," Marchant said.
Could we see Uhtred's missing son in season 5?
At the time of publishing, The Last Kingdom hasn't been renewed for a fifth season, at least not yet. Fans are very hopeful we'll see more from Uhtred in the future. That could also mean Uhtred's missing son might make an appearance. Marchant even mentioned "the future" in regards to the show.
"We don't like to deviate from the books, we like to keep the characters and the essence there, but sometimes it just doesn't work. But that's not to say that we couldn't see them in the future," Marchant said about the situation.
It sounds like if the series is renewed, fans will get to finally see Uhtred's third child. Hopefully, we'll get the word soon of a season renewal for The Last Kingdom.