'The Last Kingdom': David Dawson Reveals His Feelings About Alfred's Unique Marriage to Aelswith
In Netflix's The Last Kingdom, King Alfred (David Dawson) and Lady Aelswith (Eliza Butterworth) have a very important relationship. Aelswith came from Mercia and was meant to secure the alliance with Wessex with her marriage to Alfred. Along the way, she chose to pick up her husband's dream and follow it no matter the cost.
King Alfred and Lady Aelswith work together to achieve their dream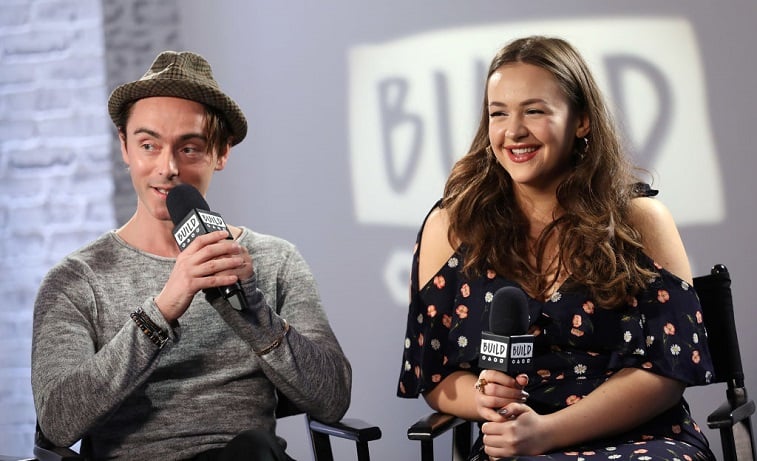 Even though their marriage was political in nature, they still respect each other immensely, at least to a fault. When we first meet Alfred before he is king, he's sleeping with other women and not being faithful to his wife, although they have children together.
Alfred is persuaded to take Uhtred (Alexander Dreymon) in by Father Beocca (Ian Hart), and Aelswith isn't exactly on board for it. She has her own strong opinions, which don't always align with her husband's. She can be harsh and sometimes considered rude. However, they share the same dream of a united England and together they set out to accomplish it.
David Dawson discusses Alfred's marriage to Aelswith
RELATED: 'The Last Kingdom': Eliza Butterworth (Lady Aelswith) Reveals What She'd Like to See Happen in Season 5
In 2015, David Dawson spoke with BBC America about his work on the series and he discussed Alfred's marriage to Aelswith. He says that Aelswith might be considered "more dominant" than King Alfred would like, but she's still fiercely loyal and always looking out for him.
"I love the fact that there are some strong women in this story," Dawson said. "Although I'm not sure that Alfred and Aelswith enjoy being in bed with each other a lot, they do have an enormous respect for one another. She is always there and is looking after his best interests. She is possibly more dominant than Alfred wants her to be, but I think it's great to have a powerful woman behind the king."
After King Alfred's death, Aelswith finds herself on the wrong end of things
In season 3, Alfred dies and Aelswith is left to pick up the pieces. Her son, Edward (Timothy Innes) is chosen as the new king, but Aelswith soon realizes she isn't needed like she used to be. She's treated others very harshly and now she no longer has Alfred to protect her. She starts to realize that she can catch more flies with honey if she wants to keep her husband's dream alive, which is everything to her.
Lady Aelswith makes some big moves in season 4, including openly defying her son, the King of Wessex and sending aid to the Mercians from Wales. She will risk it all for her husband's dream of a united land of Saxons.
King Alfred and Lady Aelswith didn't have what you'd consider a happy marriage, but it was a necessary one. They each relied on the other and it gave them both strength. Even after Alfred dies, Aelswith still draws from that strength on a regular basis. Their union produced the King of Wessex and the Lady of Mercia, so it looks like they are off to a great start of uniting England in The Last Kingdom.