'The Last Kingdom': Director Jon East Shared an Image of Emily Cox (Brida) on a Horse With an Umbrella
Director Jon East recently shared an image of Emily Cox, who plays Brida, in 'The Last Kingdom'.
Although season 5 of The Last Kingdom will be the final season of the series, it will still be nice to have another season of many fans' favorite show. Viewers recently learned that filming in Hungary has concluded, which is an exciting prospect.
Jon East, a director for the series who has directed episodes in previous seasons and who will also direct in season 5, recently shared an image of Emily Cox, who plays Brida.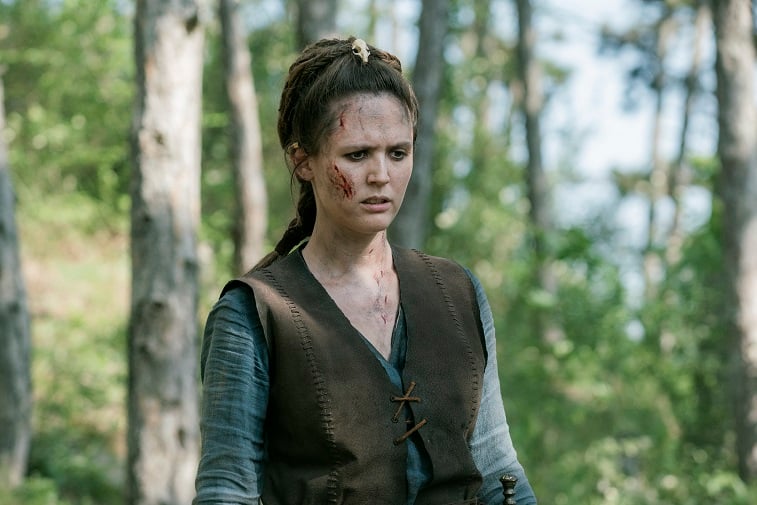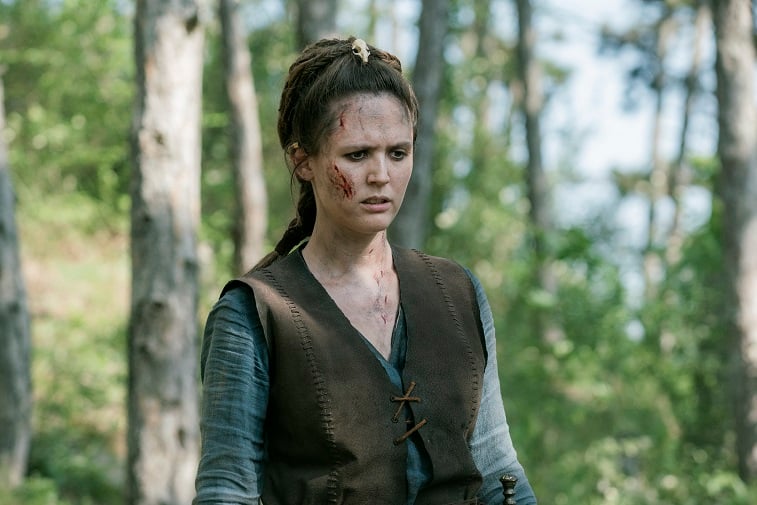 Brida in 'The Last Kingdom'
Brida was a Saxon child when she was taken in by the Danes at a young age. She becomes lovers with the main character, Uhtred (Alexander Dreymon), at one point, and they grew up together. But their relationship is more than complicated. In season 4, Brida holds a grudge against him for not killing her after being found by the Welsh in battle, as she thought she would then go to Valhalla.
Brida is taken as a slave, and it's an especially difficult time for her. But she is rescued by Sigtryggr (Eysteinn Sigurðarson), and she finds herself allied with him when and they invade Wessex, taking Winchester. However, Sigtryggr eventually comes to an agreement with the Saxons, and he takes Stiorra (Ruby Hartley) with him as a stipulation for him leaving Winchester and being given possession of Eoferwic.
Brida then finds herself face to face with Uhtred. She fights him, but Uhtred allows her to leave, and she goes into labor with Cnut's (Magnus Bruun) child before the season concludes.
Director Jon East shared an image of Emily Cox (Brida) on a horse with an umbrella
On June 25, 2021, director Jon East shared an image on Instagram of Emily Cox dressed as Brida while on top of a horse. In one hand she holds a blue umbrella with a design on it, and in her other hand, she holds the reins of the horse. The image is a side view shot, and lush greenery can be seen on the ground and in the background. Other people can also be seen in the shot, as well as red tents in the background and smoke as well. It turns out the moment came before filming for a portion of The Last Kingdom season 2.
Jon East captioned the post: "Brida with a brolly! ☂️⚔️ The wonderful Emily Cox just before shooting a scene for ep3 of TLK2 in 2016, (which I seem to recall we eventually cut for pacing reasons, as is often the case with all TV dramas)."
Emily Cox (Brida) shared a unique image with Mark Rowley (Finan)
Fans have been treated to other images since production first began in Hungary, including photos of the actors together and on the set. On June 9, Emily Cox shared an image of herself and Mark Rowley, who plays Finan, on Instagram. 
The photo is black and white, and Emily tagged Mark's account and the official Instagram account for the series in the post. Both actors have on sunglasses and headphones, and Emily wears a zip-up jacket with her hair done as Brida. They both make a popular symbol with their hands, sometimes referred to as the rocker symbol. Mark is also wearing armor with a hat on his head. Behind them is a trailer. 
Emily captioned the post on Instagram: "Finan and Brida in the house😎… Who can guess what music we're listening to?" She tagged Mark again and added a few hashtags: "#thelastkingdom #brida #finan."
It's always great to see photos like the ones shared when it comes to The Last Kingdom. We'll have to see what else is shared before season 5 of the series premieres.