'The Last Kingdom': Fans React to Images of Alexander Dreymon (Uhtred) and a Horse: 'I Love This so Much!'
The hit series The Last Kingdom is a fan-favorite for many viewers of the franchise. However, the upcoming season will be the final season in a shocking turn of events. Filming in Hungary has officially finished, so we're one step closer to seeing season 5 in all its glory.
Alexander Dreymon, who plays Uhtred, the main character, recently shared some images of himself and a horse that fans of the series will want to see. Fans reacted in the comments.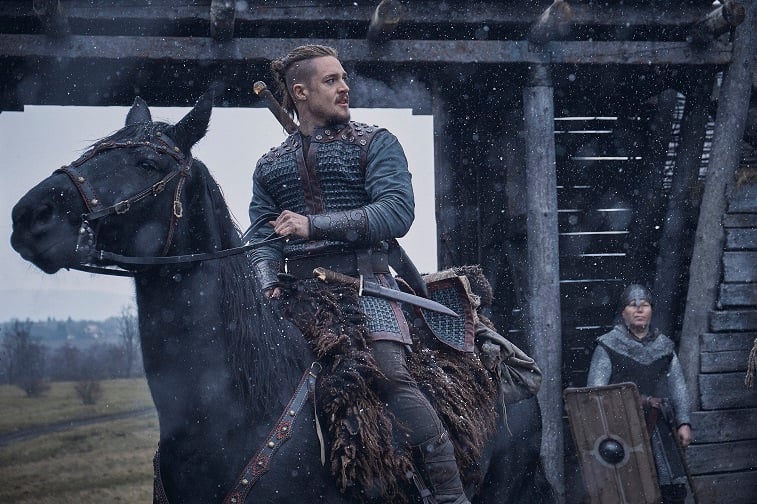 Alexander Dreymon from 'The Last Kingdom' shared images of himself and a horse
On June 10, 2021, Dreymon shared a few images on Instagram with a horse named Pedro, which can't be completely seen in the photos shared. Dreymon is dressed as Uhtred in warrior attire with his sword on his back and his hair done up in the middle with shaved sides. In the first image, Dreymon smiles at the horse, whose head and some of its neck can be seen as Dreymon holds the reins close to the horse's face. In the distance is someone else holding a rope, and a horse can also be seen as well. The sky appears overcast, and grass surrounds them.
Next is a photo of Dreymon with his mouth wide open near the horse, which has its mouth open as well. Dreymon appears to be touching the horse's face with his hand as well. There's also another photo of Dreymon near the horse's face with his mouth open with his teeth showing. He appears to still be holding the horse's face, which has its mouth slightly open.
Next, there's another image of Dreymon near the horse. The final image is Dreymon actually kissing the horse near its nostrils. He holds the reins close to its mouth, and the horse's mouth is slightly open in the shot.
Dreymon captioned the post on Instagram: "Pedro playing hard to get." He also shared some hashtags in the comments, "#horse #kiss #love." He tagged a number of accounts in the post, including the official Instagram account for the series. Over 208,000 people liked the post, and over 3,900 people commented on it.
Fans react to the post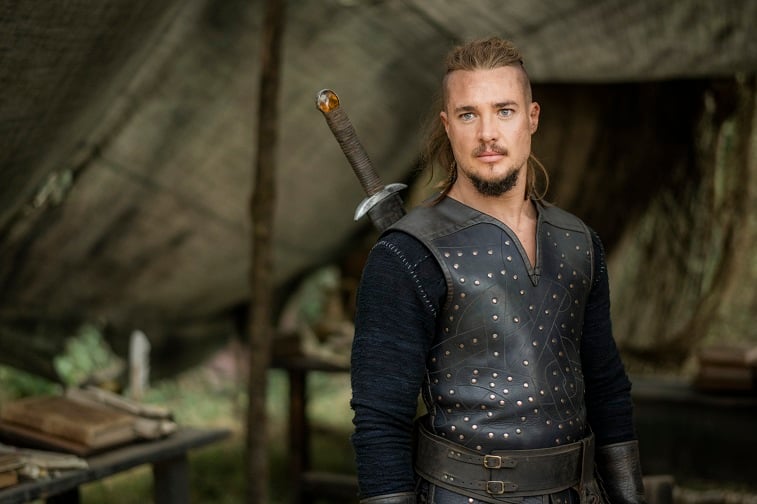 RELATED: 'The Last Kingdom': Why Fans 'Feel Bad' for Uhtred in Season 4
Fans have a lot of opinions about the post, that's for sure, and many are quite positive.
One fan admits, "We're all low-key jealous of a horse rn.😉😂."
While another fan adds that they "want to be that horse!" They also included an emoji, "😍."
"Never thought I would be jealous of a horse… but here I am 🤷‍♀️😏♥️," another fan admits.
"Great pictures!" a fan weighed in.
A fan calls the horse "so cute," and they can't be the only ones that feel that way. "Pedro is so cute ❤️," they said.
One fan says Pedro "is a beautiful horse." "That is a beautiful horse!" they said. "Pedro's eyes are so expressive and full of soul!"
"Love it!" said another fan. "Horses are amazing! 😊."
One fan even said, "From now on I want to be your horse 😊."
While a fan says, "I love this so much!!!!
It's always great to see images like this shared by our favorite actors. We'll have to see what else is shared before season 5 of The Last Kingdom premieres.