'The Last Kingdom': Fans React to an Official Look at Aethelflaed in Season 5: 'She's Finally Wearing a Crown'
Season 5 of The Last Kingdom has officially finished filming in Hungary. It's a step in the right direction, and it means we're one step closer to seeing the final season in all its glory.
Fans have recently been treated to official looks at some of the characters in the new season, including Aethelflaed (Millie Brady). What are fans saying? We have all the details.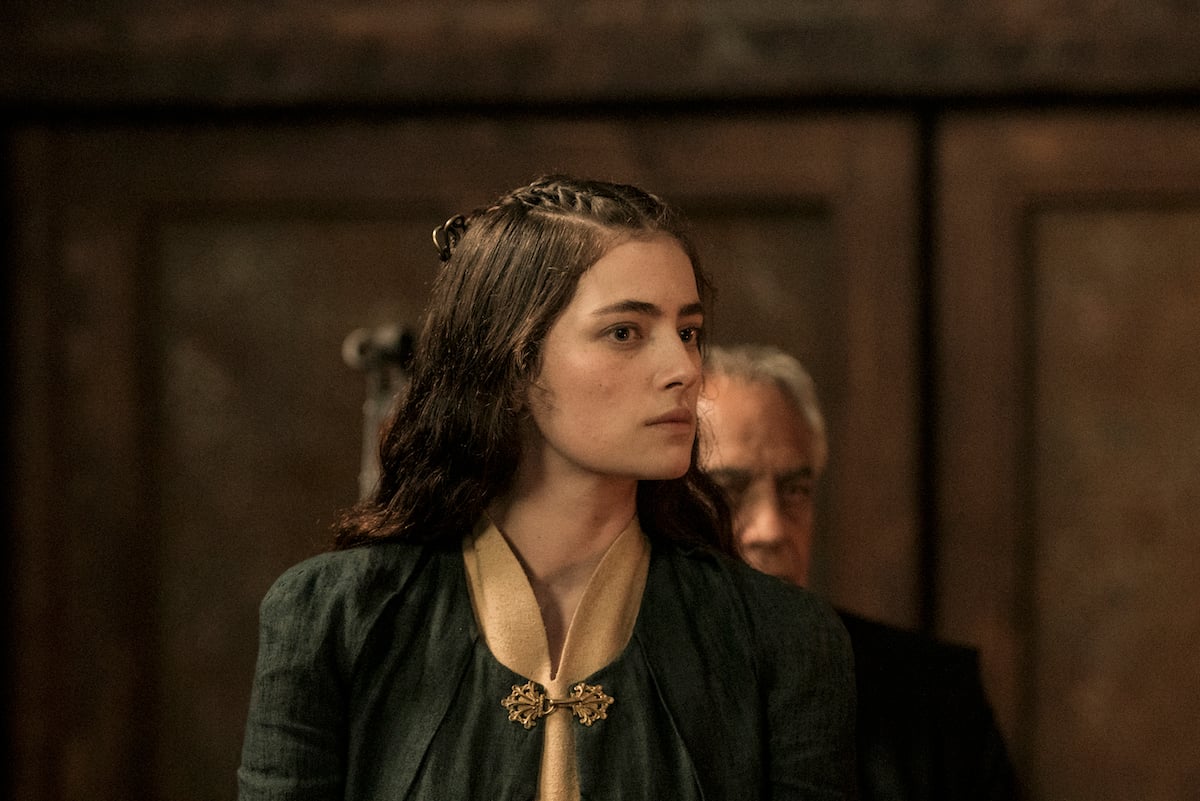 Get an official look at Aethelflaed in 'The Last Kingdom' season 5
Aethelflaed is the daughter of the late King Alfred the Great (David Dawson) and Lady Aelswith (Eliza Butterworth). She is lovers with Uhtred (Alexander Dreymon) at one point, and she becomes the ruler of Mercia as queen in season 4 in a shocking turn of events. She now rules Mercia, and the people love her.
On July 14, 2021, the official social media accounts for the series shared a look at Aethelflaed in the upcoming season. In the image shared, the name of the series is in the upper left corner. The character can be seen in the middle while wearing a crown with her hair up. She has on a green and brown ensemble with furs. She wears an earring in the image as well. The background is out of focus, although it seems like tree branches are behind her.
At the bottom of the image is a quote from Aethelflaed. "'Dead or alive it does not matter. We cannot hand Winchester to the Danes for the life of one man.' – Aethelflaed."
Millie Brady is tagged in the image as well. The post is captioned: "What is a life worth? #thelastkingdom #tlk5." Over 47,000 people liked the post, and over 600 people commented on it.
Fans react to the post
As can be expected, fans have a lot of thoughts about the post, including some about her look.
One fan mentioned Aethelflaed wearing the crown. "She's finally wearing a crown," they said. "As she should ❤️."
"She looks amazing and kingly 👸," said another fan.
However, one fan thinks Aethaleflaed "looks sick." "She looks sick. 😢 Is she gonna die?😢 Still hoping she and Lord Uthred end up together❤️❤️❤️," a fan said.
Another fan also thinks Aethelflaed "looks sick" as well. "Oh she looks sick," a fan said. "Is she dying? Or maybe tired from battle?"
While another fan said Aethelflaed looks "way older." "She's killing it with the crown, but she looks way older and weary 🥺," they added.
While other fans had positive comments like, "She's a bad b and I can't wait to see more of her on season 5," and "Our queen <3."
However, some fans mentioned Aethelflaed's quote. "That p—– me off when she said that," a fan added. "Uhtred has saved her life so many times and she says that? Literally she's just using him to protect her when she's in danger."
"Uhtred gave everything for Aethelflaed and her daughter and she was like 'meh what if he died? He is just another man.' I can't wait for season 5!" a fan weighed in.
We'll have to see what else is shared before the new season of The Last Kingdom finally premieres.