'The Last Kingdom': Fans React to an Official Look at King Edward in Season 5: 'OK Edward With the Glow up'
The hit series The Last Kingdom has finished filming in Hungary, which is exciting news. Despite season 5 being the final season, it's still awesome that fans will get one more season before it's all really over.
Fans have recently been treated to official looks at some of the characters in the new season, including Uhtred (Alexander Dreymon), and his daughter, Stiorra (Ruby Hartley). Viewers recently got a glimpse of King Edward (Timothy Innes). What are they saying about it?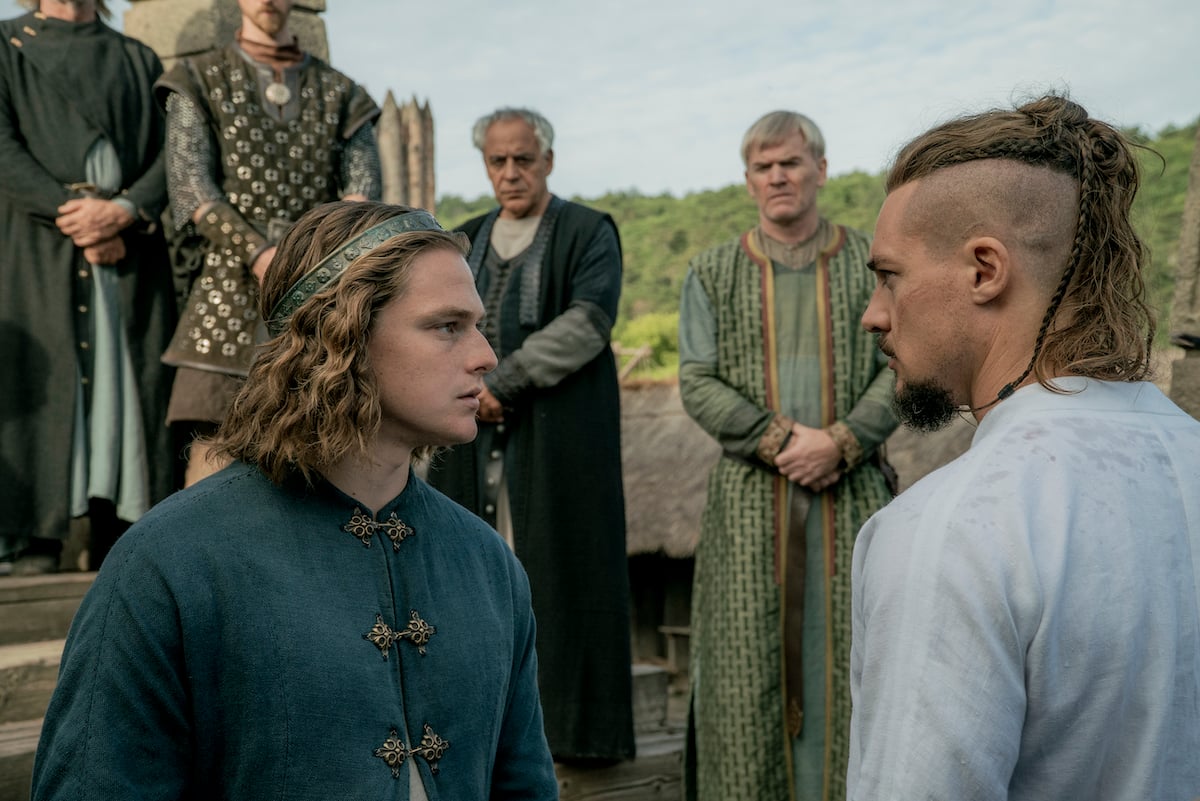 Edward in 'The Last Kingdom'
King Edward is now the King of Wessex, and he is the son of the late King Alfred (David Dawson) and his wife, Lady Aelswith (Eliza Butterworth). Edward tries to find his place as King after his father, but it's been quite difficult. It's far from smooth sailing, and it has been challenging for him. We'll have to see what season 5 holds for this king who's had to make deals with the Danes to promote peace.
Get an official look at King Edward in season 5 of 'The Last Kingdom'
On July 8, 2021, the official social media channels shared an image of Edward in the new season. In the photo, the name of the series is written in the upper left corner. Edward can be seen looking off as he wears his crown with a full beard and long hair. He wears regal robes with a clasp in the middle of his neck.
Below is a quote from Edward. "'Towns can be rebuilt. Reputations? It is not so easy…' – King Edward." The actor who plays Edward, Timothy Innes, is also tagged in the post. 
The post is captioned: "Whose reputation will survive and whose will be destroyed forever? #thelastkingdom #tlk5." Over 37,000 people liked the post, and over 500 people commented on it.
Fans react
As can be expected, fans have their own opinions about the post. Some fans mentioned Edward's new beard. "This man got a full beard now lol," one fan said.
"Woah the beard!!😮," said another fan.
While another fan also mentioned it. "Ooooo he's got a beard," they said.
Other fans made comments like, "OMG 🔥," and "🤩👏👏," and "🔥😍."
A fan calls Edward's look a "glow up." "Omggg what a glow up haha," they said.
Another fan mentions his "glow up" as well. "Ok Edward with the glow up," they said.
While a fan thinks Edward "looks all grown up." "Can't wait Eddie looks all grown up now haha," they said.
"Wait is that an older and wiser Edward from S5 👏😮," another fan weighed in.
It's always great to see looks at our favorite characters ahead of a new season of a fan-favorite show. We'll have to see what else is shared before season 5 of The Last Kingdom officially premieres.