'The Last Kingdom': Fans Reveal Their Favorite 'Male Character' in the Series (Not Including Uhtred): 'Finan and Sihtric 100%'
There are several fan-favorite characters when it comes to the popular series The Last Kingdom. Fans have been known to discuss the series on social media, and they recently did just that regarding their favorite "male character" in the series not including the main character, Uhtred (Alexander Dreymon). We have the details to know about the eye-opening poll.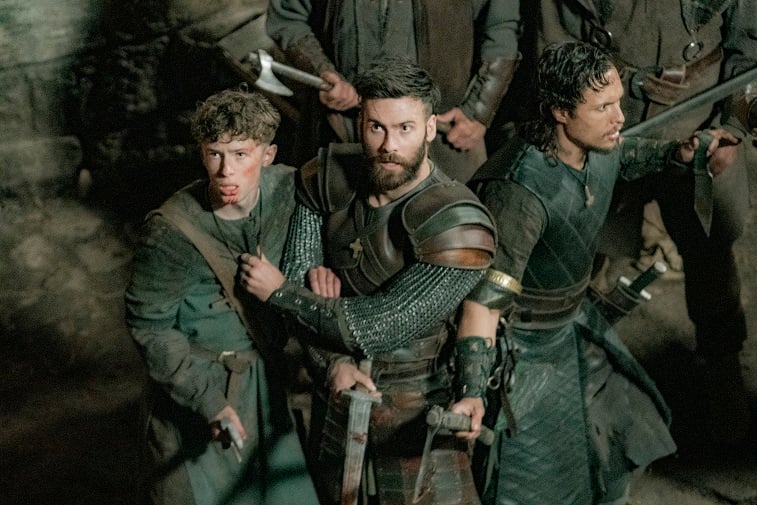 'The Last Kingdom' fans reveal their favorite 'male character' in the series (not including Uhtred)
On April 4, 2021, a fan on Reddit made a post titled, "Who is your favorite The Last Kingdom male character besides Uthred?" They included more in the post as well, "I voted for Sihtric and Finan they are my two absolute favorites, even more than Uthred."
Over 2,500 people participated in the poll with the options of King Alfred (David Dawson), Father Beocca (Ian Hart), Finan (Mark Rowley) and Sihtric (Arnas Fedaravicius), Ragnar the Younger (Tobias Santelmann), Erik (Christian Hillborg), and Leofric (Adrian Bower).
The clear winner of the poll is the option of Finan and Sihtric with 1,100 votes. They are the only ones to top over 1,000. From there, Beocca comes in second place with 523 votes. Alfred is in third with 414 votes. Leofric has 272 votes, Ragnar has 156, and Erik has 41 votes.
Fans weigh in with comments
Some fans decided to comment with thoughts as well. As can be expected, opinions are all over the place. King Alfred of Wessex is actually named the most. He was an influential character struggling to create England, and his relationship with Uhtred was always fun and interesting to watch play out on-screen.
"I think I might be in the minority who finds Alfred super compelling," a fan said.
Another fan simply puts it, "Alfred is the only correct answer."
1 fan would choose Father Beocca
RELATED: 'The Last Kingdom': Fans Weigh in on 'Theories for Season 5'
Father Beocca was also named quite a bit. He was a good friend to Uhtred and a loyal subject of Alfred's for many years. He truly cared about Uhtred, and he did what he could for him when he could. Their relationship was a bright light in the show, as well as his relationship with Thyra (Julia Bache-Wiig).
"I can't choose," a fan said. "They all bring something unique to the table. I like them all for separate but equal reasons. But if I had to choose, I would say Beocca because before them all there was Beocca."
Some fans named Uhtred's two greatest friends, Finan and Sihtric. They are warriors who are always by his side, and their friendship is an integral part of the show.
"Finan and Sihtric 100%," a fan added. Some fans added Finan into the conversation by himself as well. 
1 fan calls Leofric their 'guy'
While others named Leofric, a man loyal to Wessex and a good friend to Uhtred in the early days. He's a fierce warrior fans can't forget.
"Leofric is my guy," a fan said.
Osferth is included as well. He's the natural son of King Aflred and an important member of Uhtred's gang of warriors and friends. He's also known as Baby Monk to fans.
"Baby Monk," a fan said. "All the way."
A fan said Erik 'is being robbed' in the poll
Some fans also mentioned the Dane Erik in the post as well. He cared for Aethelflaed (Millie Brady), and his own brother killed him in a shocking turn of events.
"Erik is being robbed in this poll!" a fan said.
Other fans also mentioned Skorpa (Jonas Malmsjö), Clapa (Magnus Samuelsson), Aethelwold (Harry McEntire), Young Odda (Brian Vernel), Father Pyrlig (Cavan Clerkin), Ragnar the Younger, and Aethelred (Toby Regbo).
Fans have varying opinions when it comes to who their favorite 'male character' in the series The Last Kingdom is (not including Uhtred). However, Finan and Sihtric won the poll by a landslide.