'The Last Kingdom': How David Dawson Prepared for His Role as King Alfred
In the history of The Last Kingdom, there are a number of characters that fans consider their favorite. One of those is definitely King Alfred, played by the talented David Dawson. Alfred is a part of the series until he passes away in season 3, leaving Uhtred (Alexander Dreymon) and others to pick up the pieces.
King Alfred struggles to keep the kingdom of Wessex safe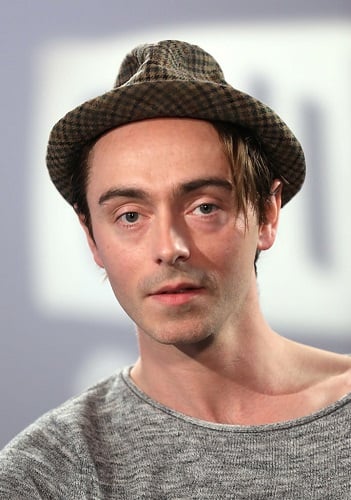 Alfred does what he can to keep his people safe in Wessex. Things don't always go his way, but he's managed to achieve a lot in his reign as king. With Uhtred on his side, things come easier than they might have without him.
Alfred's dream is to unite all the people of England under one king and even after he dies, his children try to keep his dream alive. In season 4, Alfred is dearly missed by many of the characters who are still trying to pick up the pieces after his untimely death.
How David Dawson prepared for his role as King Alfred
Variety spoke with David Dawson in 2015 and he detailed the research that went into preparing for his role as Alfred the Great. Not as much is known about such a historical figure as you might think. However, it's a popular time in history that people seem to enjoy talking about. Dawson did his research for his role as Alfred.
"I just delved into the books because that was a great way of picking out the little details about him," Dawson said. "In England, we don't really know a lot about this period of time or this man. And yet, this was the moment in history had this vision to create England and I just found that really fascinating."
King Alfred was strong in his own way
RELATED: 'The Last Kingdom': Alexander Dreymon Talks About King Alfred's 'Presence' in Season 4
Alfred was extremely intelligent and in the series, he has everything written down, especially the information he learns about his enemies. Dawson loved the "strength" from Alfred, even if it wasn't necessarily physical strength. Alfred's intelligence led him to the greatness he achieved in life and secured his legacy after his death.
"The more I read and you realize that, far from being that typical warrior king, he was this physically frail and yet fiercely intelligent diplomat," Dawson continued. "What I really loved was that strength didn't have to be physical; he could be the most dangerous man in a room because he was so fiercely intelligent and has an ability to manipulate people to get what he wants."
A major theme in the series is Alfred's relationship with Uhtred
Uhtred and King Alfred have a chaotic relationship. Uhtred does a lot for Wessex to keep it safe, but it never seems to be enough for Alfred, who doesn't trust Uhtred fully because of their religious differences. Eventually, they make peace together and forgive each other before Alfred's death. Fans consider their final talk some of the best scenes in the entire series.
King Alfred was a unique figure in the series and in history itself. His presence is still missed in season 4 of The Last Kingdom.